The Poweliks infection is a Trojan downloader for the Windows operating system that downloads and executes other malware on your computer. This infection is typically installed via exploit kits found on hacked web sites that exploit vulnerabilities on your computer when you visit them. Once the initial installer is executed, the actual Poweliks infection is stored in the Windows registry rather than as a file on your hard drive. The installer then deletes itself. This method of storing the malware files in the Registry rather than the hard drive makes it more difficult for antivirus programs to properly detect it.
While infected, there are symptoms that indicate Poweliks is installed on your computer. These symptoms include:
Task Manager will show numerous occurrences of DLLHOST.exe or a file called dllhst3g.exe running as shown in the image below. If you are using a 64-bit version of Windows, then these entries will be listed as dllhost.exe *32 and dllhst3g.exe *32.




Pages may be blocked or unreachable while you are browsing the web.


Your computer will act sluggish and programs will take a long time to start up.


Unusual disk activity.


The inability to download files using Internet Explorer. When you attempt to download a file you will receive a message that states Your current security settings do not allow this file to be downloaded. A screen shot of this alert is below.






Alerts containing PowerShell errors.

Poweliks is detected under various names depending on the particular anti-virus vendor. A list of vendors and their detection names for Poweliks can be found below.
Definition Name

Anti-virus Vendor

Win32:Poweliks-A [Trj]
Avast
Win32/Poweliks.A
Win32/Poweliks.B
ESET-NOD32
Trojan:Win32/Powessere.A
Microsoft
Trojan.Poweliks
Symantec
Trojan.Win32.Powerliks.a
Kaspersky
Trojan.Poweliks.A
F-Secure
TROJ_POWELIKS.A
Trend Micro
Trojan.Poweliks.A
BitDefender
As you can see, the Poweliks trojan is an intrusive infection that causes issues on your machine and can be difficult to remove. Thankfully, ESET has released the ESET Poweliks Cleaner tool that can be used to easily remove this infection from your computer. Instructions on how to use this program are described in the removal guide below.

Self Help Guide
This guide contains advanced information, but has been written in such a way so that anyone can follow it. Please ensure your data is backed up before proceeding.
If you are uncomfortable making changes to your computer or following these steps, do not worry! Instead you can get free one-on-one help by asking in the
forums
.
To remove Poweliks, follow these steps:
This removal guide may appear overwhelming due to the amount of the steps and numerous programs that will be used. It was only written this way to provide clear, detailed, and easy to understand instructions that anyone can use to remove this infection for free. Before using this guide, we suggest that you read it once and download all necessary tools to your desktop. After doing so, please print this page as you may need to close your browser window or reboot your computer.
To terminate any programs that may interfere with the removal process we must first download the Rkill program. Rkill will search your computer for active malware infections and attempt to terminate them so that they wont interfere with the removal process. To do this, please download RKill to your desktop from the following link.

Rkill
When at the download page, click on the Download Now button labeled iExplore.exe. When you are prompted where to save it, please save it on your desktop.
Once it is downloaded, double-click on the iExplore.exe icon in order to automatically attempt to stop any processes associated with Poweliks and other malware. Please be patient while the program looks for various malware programs and ends them. When it has finished, the black window will automatically close and a log file will open. Please review the log file and then close so you can continue with the next step. If you have problems running RKill, you can download the other renamed versions of RKill from the rkill download page. All of the files are renamed copies of RKill, which you can try instead. Please note that the download page will open in a new browser window or tab.
Do not reboot your computer after running RKill as the malware programs will start again.
Poweliks will change your Internet Explorer security settings so that you are unable to download files with it. To fix this, press the Windows key (

) on your keyboard, and while holding it down, also press the R key on your keyboard. This will open the Run dialog box as shown below.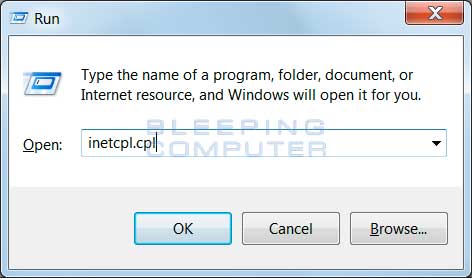 In the Open: field in the Run dialog box, type the text inetcpl.cpl, as shown in the image above, and then press the OK button. Once you press OK, the Internet Properties screen will open.
When the Internet Properties screen is open, click on the Security tab and you will be shown the security settings for Internet Explorer as shown below.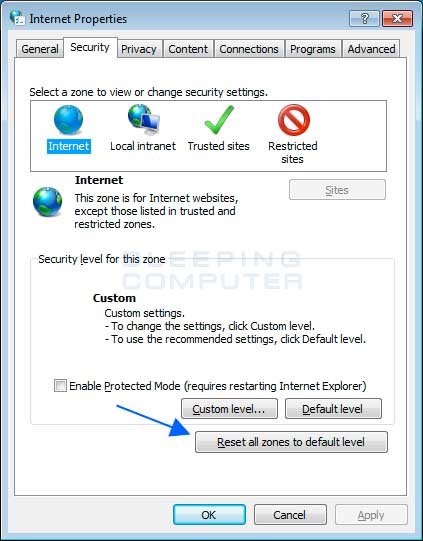 Now click on the Reset all zones to default level button as indicated by the blue arrow in the image above. After you press the reset button, click on the Apply button and then the OK button to save your changes and close the Internet Properties screen.
You can now open Internet Explorer or any other browser and download the ESET Poweliks Cleaner.

ESET Poweliks Cleaner
When saving the file, please save it to your desktop.
Once the ESET Poweliks Cleaner tool has been downloaded, look for the file called ESETPoweliksCleaner.exe on your desktop and double-click it. This will launch the program, which will then display a license agreement. Read through the agreement, and if you agree to it, click on the Agree button to continue.
You will now be shown the main screen for the ESET Poweliks Cleaner and it will begin to search for the infection. If the tool detects Poweliks, it will state that it found it and then ask if you wish to remove it. This can be seen in the image below.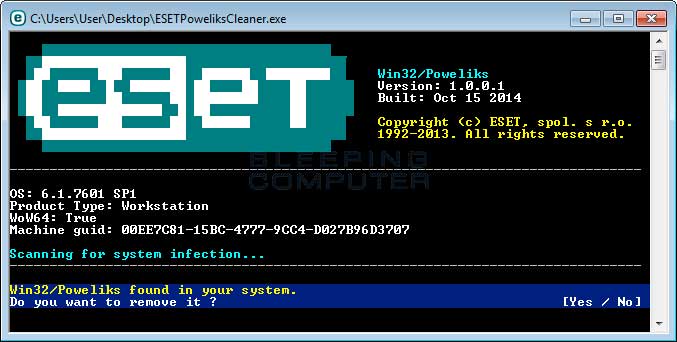 If you wish to use the tool to remove Poweliks, then press the Y button on your keyboard. ESET Poweliks Cleaner will now remove the Poweliks trojan from your computer. When it has finished removing the infection it will display a screen stating that it was removed as shown below.
Press any key on your keyboard and the program will close. If you get warnings from Windows when you close the program about it not running successfully, you can just close the messages and disregard them.
Now restart your company to finalize the removal. When your computer restarts, if you want to review what was removed by the ESET cleaner, you can review the ESETPoweliksCleaner.exe_<timestamp>.log file that will be on your desktop. Timestamp will be replaced by the time and date that you ran the program.
Now that you are back at the desktop, you should scan your computer with an anti-virus program. ESET has a free online scanner that you can use once to detect and delete infections. I suggest you use this to make sure there is no other malware present. The online scanner can be found here:
http://www.eset.com/us/online-scanner/
Now you should download HitmanPro from the following location and save it to your desktop:

HitmanPro
When you visit the above page, please download the version that corresponds to the bit-type of the Windows version you are using.
Once downloaded, double-click on the file named HitmanPro.exe (for 32-bit versions of Windows) or HitmanPro_x64.exe (for 64-bit versions of Windows). When the program starts you will be presented with the start screen as shown below.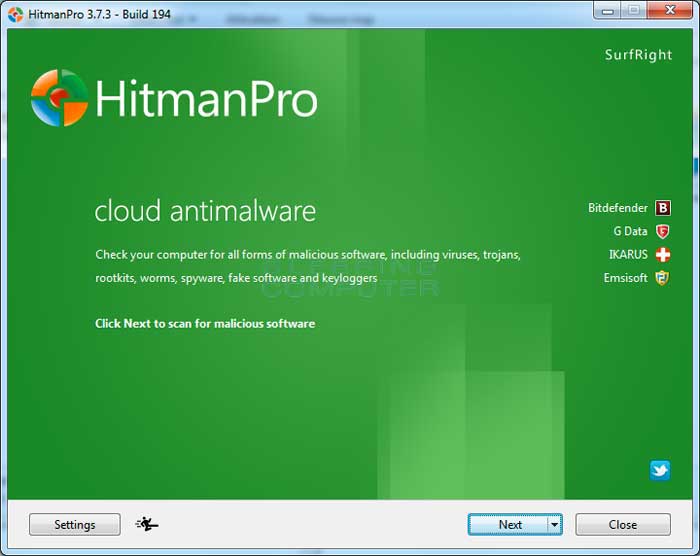 Now click on the Next button to continue with the scan process.
You will now be at the HitmanPro setup screen. If you would like to install the 30 day trial for HitmanPro, select the Yes, create a copy of HitmanPro so I can regularly scan this computer (recommended) option. Otherwise, if you just want to scan the computer this one time, please select the No, I only want to perform a one-time scan to check this computer option.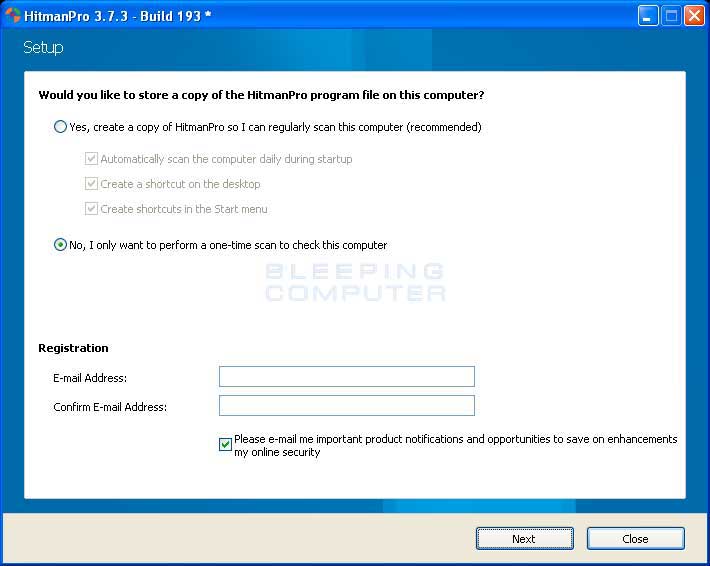 Once you have selected one of the options, please click on the Next button.
HitmanPro will now begin to scan your computer for infections, adware, and potentially unwanted programs. When it has finished it will display a list of all the items that Hitman has found as shown in the image below. Please note that the items found may be different than what is shown in the image.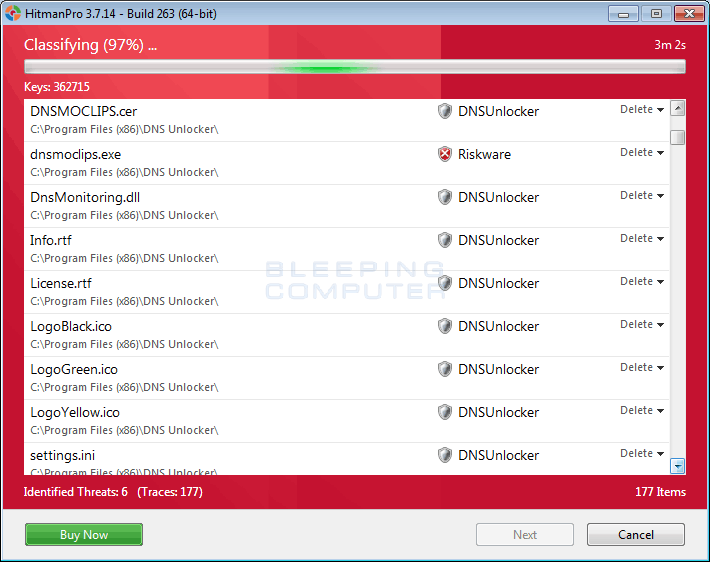 You should now click on the Next button to have HitmanPro remove the detected items. When it is done you will be shown a Removal Results screen that shows the status of the various programs that were removed. At this screen you should click on the Next button and then if prompted you should click on the Reboot button. If HitmanPro does not prompt you to reboot, please just click on the Close button.
Once your computer has has restarted or you pressed the Close button, you should now be at your Windows desktop.
Your computer should now be free of the Poweliks program. If your current security solution allowed this program on your computer, you may want to consider purchasing the full-featured version of HitmanPro to protect against these types of threats in the future.
If you are still having problems with your computer after completing these instructions, then please follow the steps outlined in the topic linked below:
Preparation Guide For Use Before Using Malware Removal Tools and Requesting Help
Are Your Protected?
While HitmanPro will scan and clean a computer for free, the free versions do not offer real-time protection. If you want to be fully protected at all times then it is recommended that you purchase a premium version.

HitmanPro
Purchase the full-featured version of HitmanPro, which includes discover viruses, trojans, rootkits, spyware and other malware on up-to-date and fully protected computers using cloud protection and behavioral detections, to protect yourself against these types of threats in the future!
Disclaimer: While we do earn a commission from the sale of the above products, rest assured we only recommend them due to their effectiveness.