Introduction
An excellent free program to include in your collection of anti-spyware programs is Ad-Aware 2007 Free. This tutorial will provide instructions on how to install, configure, and remove malware from your computer using Ad-Aware 2007. It is important to note, though, that Ad-Aware 2007 is not compatible with Windows 95, Windows 98, or Windows ME. If you are using those operating systems then you must follow the instructions on using the older Ad-Aware 6 SE Personal edition.
If you would like to learn more about Spyware and Browser Hijackers you can click here:
Understanding Spyware and Browser Hijackers
How to use Ad-Aware 2007 Free
Step 1: Download Ad-Aware 2007 Free
The first step is to download and install Ad-Aware 2007 Free from the link below. After it is installed, continue with the following steps.
Note: There may at times be programs listed above in the Google ads that seem similar to the programs we recommend. These are usually not the same program. Bleeping Computer has no real say as to what appears there and can not vouch for any of those programs. Please use only the programs directed to you by us in the forums or via these tutorials.
Please download Ad-Aware 2007 Free from Lavasoft at the following link: Download Link for Lavasoft Ad-Aware 2007 Free
Download this program to a location on your hard drive that you will be able to find later. When the download is finished navigate to that location using Windows Explorer or My Computer, and double click on the file that you downloaded. The filename for this download should be aaw2007.exe.
Once you double-click on the file, the installation screen should start. Follow the prompts to install the software and when it asks if you would like to do a Standard or Advanced Installation, select the Standard installation. Keep following the prompts and after the program has finished installing you will be presented with a screen similar to the one below.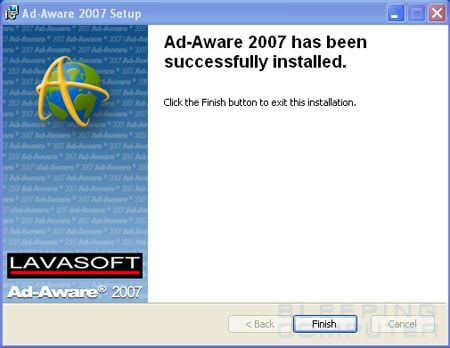 Figure 1: Ad-Aware 2007 Setup Finished
Press the Finish button and Ad-Aware 2007 will automatically start.
Step 2: Start Ad-Aware 2007 Free
If you are following this tutorial, Ad-Aware 2007 will already be started after you install this program. If you had installed the program previously, then you should double-click on the icon for Ad-Aware 2007 residing on your Windows desktop.
The Ad-Aware 2007 desktop icon looks like the following:

When the program starts for the first time, it will prompt you to enter your registration information. As we are using the free version of Ad-Aware 2007, we simply press the Cancel button at the screen asking us to enter our license information. Ad-Aware 2007 Free will now open and you will be at a screen similar to Figure 2 below.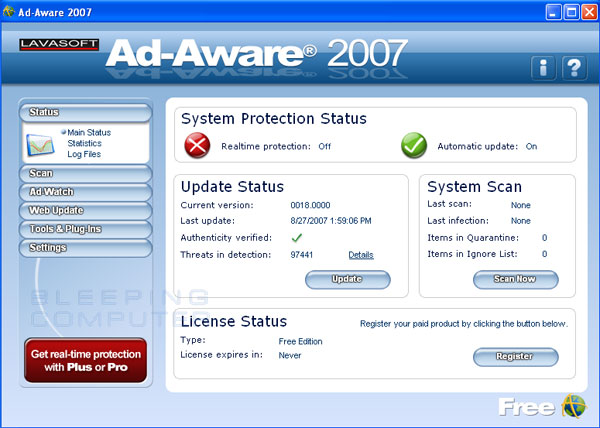 Figure 2. Ad-Aware 2007 Free Starting/Status Screen


The screen above is the status screen for Ad-Aware 2007 Free. To access the other sections of programs you would click on the section names shown on the vertical navigation bar on the left. The four sections that we are concerned with are:
Status - In this section you can see the status of your last update, when you last scanned, what the last infection was, and what items are in your quarantine.

Scan - In this section you can scan your computer for malware and see what files are in the quarantine.
Web Update - From here you can update the malware definitions that Ad-Aware will use when scanning your files. It is important that you check for new updates every time you scan your computer.
Settings - Here you can change the settings for how Ad-Aware will scan your computer.
Please continue to the next step where we will update Ad-Aware.

Step 3. Updating Ad-aware
Before running a scan, you should always make sure that Ad-Aware is up-to-date with the latest program files and malware definitions. This allows the software to recognize as much malware as it can when scanning your computer. To update Ad-Aware 2007 Free click on the Web Update section. This will bring you to a screen similar to Figure 3 below.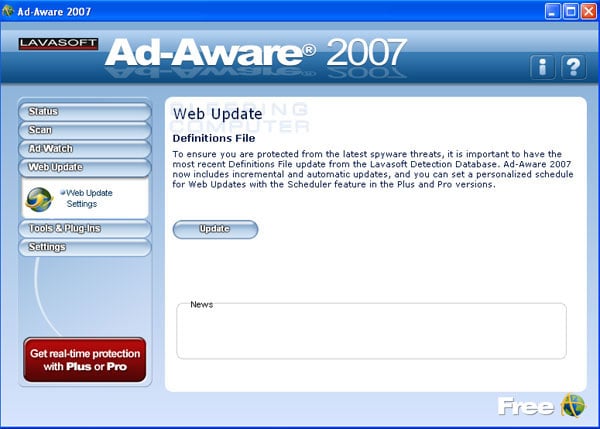 Figure 3. Ad-Aware 2007 Free Update Screen
At this screen you should now click on the Update button. Ad-Aware 2007 will now check for new malware definitions and program updates. If no new updates are found, you will see a screen similar to Figure 4 below.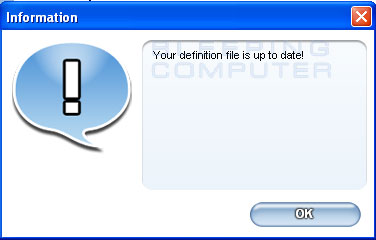 Figure 4. No Update Found
If an update is found you will see a prompt similar to Figure 5 below.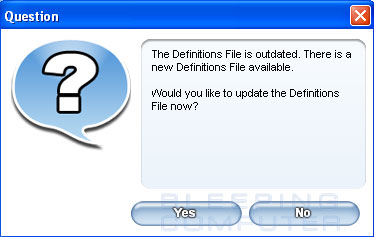 Figure 5. Ad-Aware Update Found


You should click on the Yes button and let it download the update. When it is done downloading the update you will be presented with a screen similar to Figure 6 below.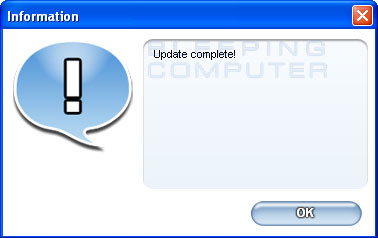 Figure 6. Ad-Aware Update has completed
You can now click on the OK button to go back to the Ad-Aware status screen. When you are checking for updates, Ad-Aware may also alert you that there are new Program updates available. If so, select Yes to download these updates. You will then be presented with a screen that shows the available program updates. Put a checkmark next to each update and download those as well.
Step 4:Configure the scan settings you want to use
As Ad-Aware 2007 Free is now up-to-date with the latest malware definitions and the latest version of the program, we will now optimize some settings so the program scans your computer more thoroughly. This is done within the Settings section. To access the Settings section, click on the Settings option in the left navigation bar. This will bring you to Browsers section of the settings section. Leave the settings in that tab alone and click on the Scanning tab. This will bring you to a screen similar to Figure 7 below.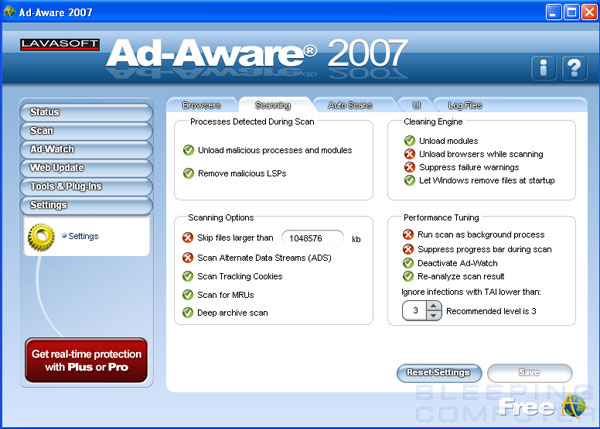 Figure 7. Ad-Aware 2007 Scanner Settings
For the thorough scan we suggest you put checkmarks next to the following settings:
Unload malicious processes and modules
Remove malicious LSPs
Scan Alternate Data Streams (ADS)
Scan Tracking Cookies
Scan for MRUs
Deep Archive Scan
Unload Modules
Unload browsers while scanning
Let Windows remove files at startup
Deactivate Ad-watch
Re-analyze scan result
We also suggest you set the Ignore infection with TAI lower than: to 3.
Please note that if you enable the Unload browsers while scanning setting, when you run a scan Ad-Aware will automatically close any open browser windows. It is recommended you enable this setting as some malware cannot be removed when a browser is open.
When you are done making these suggestions you should click on the Save button so that these settings will be set for all future scans.
Step 5: Scan your computer for malware with Ad-Aware 2007
Ad-Aware is now properly configured to scan your computer for malware. To access the scan section you should click on the Scan option in the left navigation bar. This will bring you to a screen where you can select the type of scan you would like to perform. You should select the Full Scan scan option and then press the Scan button found in the lower right hand corner of the screen. Ad-Aware will now scan your computer for malware as shown in Figure 8 below.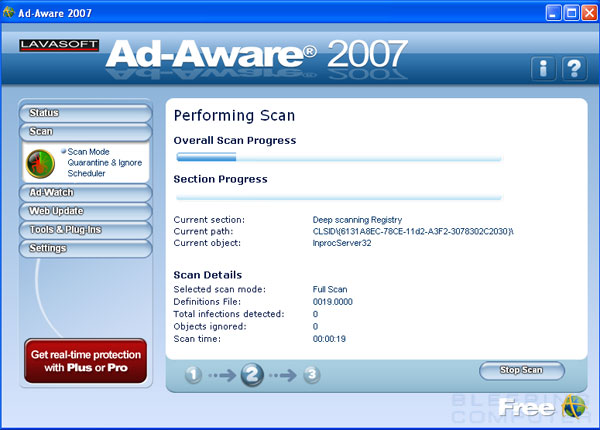 Figure 8: Scanning your computer with Ad-Aware

During Ad-Aware's scanning process, the files on your computer, the computer's memory, and the Windows Registry will be scanned for any traces of known malware. As it finds infections it will update the Total infections detected count in the scan screen. The scan process can take quite a while, especially if you have a large amount of files, so it is advised that you let Ad-Aware scan while you do something else. When the scanning process has been completed you will be presented with a screen similar to Figure 9 showing what infections were found.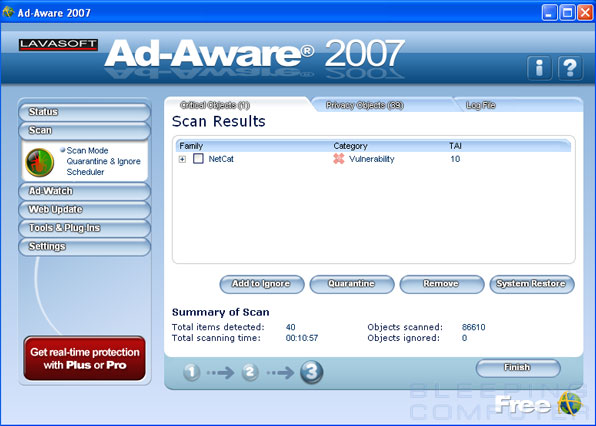 Figure 9: Scan Results
The above screen shows the infection that were found on your computer and provides you with the option to Quarantine or Remove them. If you quarantine a file, it will remove the file and store it in a special folder where it won't affect your computer any longer. At a later time, you can then delete the items in your quarantine. On the other hand, if you decide to remove the file it will automatically be deleted and not saved. I suggest that you quarantine any infections found and leave them in the quarantine for a few days while you continue to use your computer. This will allow you to make sure that the files you removed do not cause problems on your computer that you may need to restore and fix another way.
To select items to remove or quarantine you can either put a checkmark in the box next to each item or right-click on the screen and select the Select All Objects option. When all the items are selected, you should click on the Remove or Quarantine button depending on the action you would like to take. You should then click on the Privacy Objects tab in the scan results and remove all the items that are considered privacy risks. In this screen, though, you can not add the items to the quarantine, but rather only remove them. Select the items the same way you did in the previous screen, and when you are finished selecting them, click on the Remove button.
When you are done with this process, click on the Finish button to go to the Scan Summary screen which contains an overview of the infections found and what action you performed on them.
Step 5: Cleaning up the Quarantine
As was said previously, if you add items to the quarantine, Ad-Aware 2007 does not automatically delete them. Instead it stores them in a special folder in the event that you need to restore it at a later date. Over time, though, the quarantined files can start using up significant space on your hard drives and you may want to remove them. Before you remove these items, though, it is a good idea to use your computer for a while to make sure any of the quarantined files have not broken functionality in any of the programs you use. If you find that moving the files to the quarantine have had no affect, then you should continue with the rest of the instructions.
To access the quarantine you need to click on the Scan option and then select Quarantine and Ignore. This will open up the Quarantine as shown in Figure 10 below.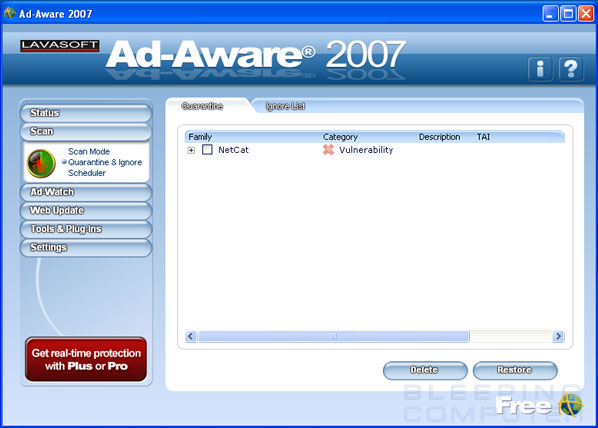 Figure 10. Ad-Aware Quarantine
When in the Quarantine, you will see a list of items that were moved there during previous scans. To remove an item, and delete it forever, simply put a checkmark in the box next to its name and then select the Delete button. Alternatively, you can restore the item by clicking on the Restore button. When you are done deleting your quarantine files, you can exit the program.
Conclusion
Now that you know how to use Ad-Aware 2007 Free you now have another tool at your disposal to combat the growing threat of Spyware and Hijackers.
As always if you have any questions or comments, please do not hesitate to ask in the computer help forums.
--
Lawrence Abrams
Bleeping Computer Internet Security & Spyware Tutorials
BleepingComputer.com: Computer Help and Spyware Removal