The Windows 7 Recovery Environment is a way to boot your computer into an offline mode where you can run various recovery and diagnostic tools that can be used to try and resolve problems with Windows. This environment is particularly helpful in resolving issues when Windows crashes, does not start, or when you have malware that cannot be removed while Windows is running. Using this environment allows you to gain access to your files and Windows Registry information even when Windows is not started.
In order to access the Windows 7 System Recovery Environment you need to boot your computer in a certain way. The easiest method is to just restart your computer and start slowing tapping the F8 key. Eventually you should get to an Advanced Boot Options screen. Using the arrows on your keyboard, select Repair Your Computer and press Enter on your keyboard. If you do not see this option, continue reading, otherwise click here to skip to the next part.
If the Repair your Computer option is not available, you will need to boot your computer off of the Windows 7 DVD by inserting it into your DVD player and turning your computer on. Your computer will start and you should see the BIOS listing the hardware on your computer as well as other information. When that information has been cleared, your computer will see that a bootable DVD is inserted and present a prompt similar to the one below. If your computer does not boot off of the DVD, and instead boots directly into Windows 7, then you can read this guide on how to configure your bios to boot from a CD or DVD.

As you want to boot the computer from the Windows 7 DVD, you need to press a key on your keyboard, and any key will do, when you see the above prompt.
At this screen you should configure the Language to install, Time and currency format, and Keyboard or input method options so that they are set correctly for your location and language. When done, please press the Next button. You will now be at the main Windows 7 setup screen where you would normally install Windows 7 on to your computer.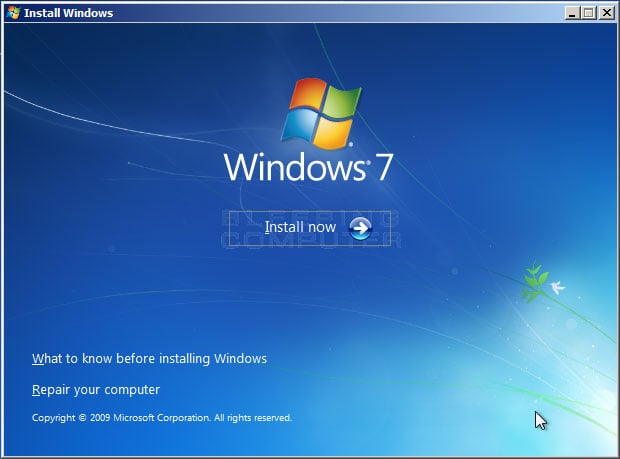 You should now click on the Repair your computer option to start entering the Windows 7 Recovery Environment.
You should now be a screen where the repair process will look for all Windows 7 installations on your computer. When done you will be presented with the System Recovery Options dialog box.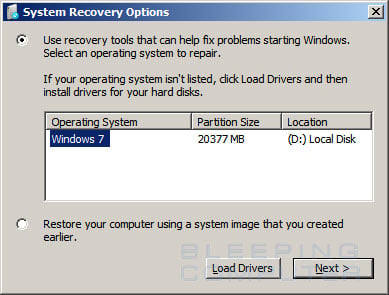 Select the installation of Windows 7 that you wish to repair and click on the Next button. You will now be shown the System Recovery Options screen.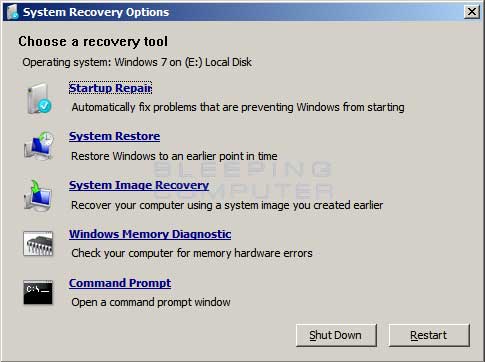 This screen lists all of the available recovery options in Windows 7. These include:
Startup Repair

Startup Repair is an automated procedure that attempts to fix common issues with Windows that may not allow it to startup properly. This tool will automatically start when Windows is unable to start after a few attempts.

System Restore

System Restore allows you to restore your computer to a previous restore point. In the event that your computer is not working properly or randomly crashing you can restore your computer to a restore point that was made when your computer was operating properly.

System Image Recovery

System Image Recovery allows you to overwrite all the information on your hard drives with a system images created at a previous date. This allows you to recover your computer in the event that Windows becomes corrupted and cannot boot. It is also a useful tool if you wish to reset your computer to a system image created right after you installed Windows.

Windows Memory Diagnostic

The Windows Memory Diagnostic tool will scan the memory installed on your computer and look for errors. This is useful when you suspect that faulty memory may be crashing Windows.

Command Prompt

The Recovery Environment Command Prompt allows you to gain access to the files on your hard drive and the Windows Registry information while Windows is offline. This tool is particularly useful when you need remove malware infection or fix corrupt Registry entries. More information on how to use this tool can be found here:

How to use the Windows 7 System Recovery Environment Command Prompt
To access one of these tools, simply left-click on it and the tool will launch.
If you have any questions regarding these tools or how to access the recovery environment, please ask us in the Windows 7 Forum.