Recently we learned that a data analytics company called Cambridge Analytica was able to access to the data of 50 million Facebook accounts, with the vast majority of these users not even knowing their data was being accessed. This was done through an app that only a couple of hundred thousand Facebook users installed, but due to the permissions of the Facebook API at the time, this app was also able to access each of these user's friends's data.
Due to this widescale inappropriate use of Facebook data, many people have decided to wipe their Facebook profiles and then deactivate or delete their Facebook accounts in order to protect their personal data.
If you enjoy Facebook, though, and want to continue using it, there is another option that you can use to restrict your personal data from being transmitted through the Facebook API to third-party companies and Apps. To access these privacy restrictions you need to go to the App Settings screen.
To access this screen, you can either go into the Facebook Settings screen and then select Apps, or even easier, you can click on this App Settings link. This will open the App Settings screen as shown below.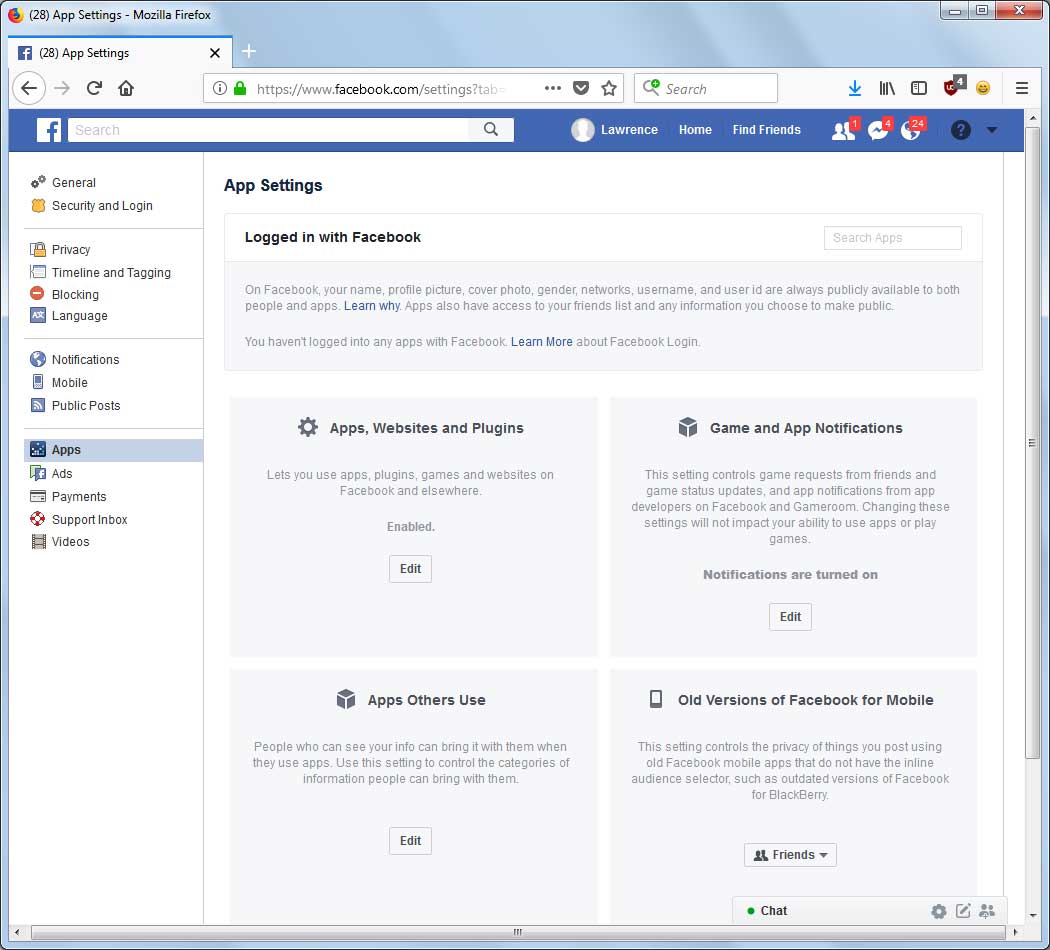 At this screen you have two choices to restrict your data through the Facebook API Platform. The first option is to completely prevent your data from being used by 3rd parties such as apps, plugins, games, and web sites and the second is to only restrict certain data.
To completely disable your data from being shared on the Facebook Platform, click on the Edit button under the Apps, Websites, and Plugins section. This will bring up a dialog box that explains the ramifications of disabling the Facebook API platform. This includes not being able to login to other websites using your Facebook account or to use Facebook data with installed apps.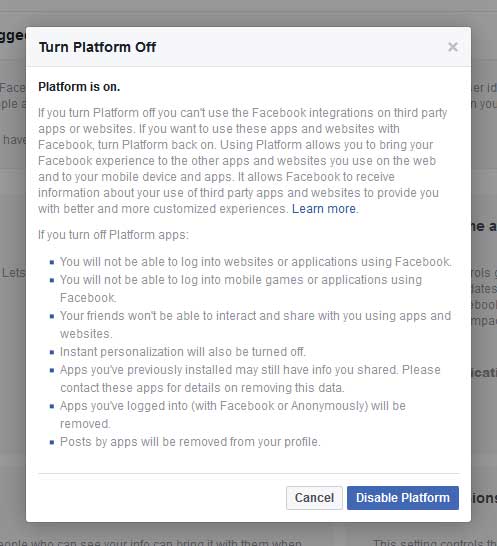 Facebook Platform Section
If you are ok with these restrictions, click on the Disable Platform button. Please note, that when you press this button it may take a few seconds for the platform to be disabled, so don't click it over and over.
If you want to continue using Facebook in your apps or to login to other sites, you can keep the Facebook Platform enabled, but restrict the types of content that can be shared with 3rd party apps, plugins, and websites. To do this, click on the Edit button in the Apps others use section instead.
This will bring up a screen that lists various types of information that you can disable from being shared.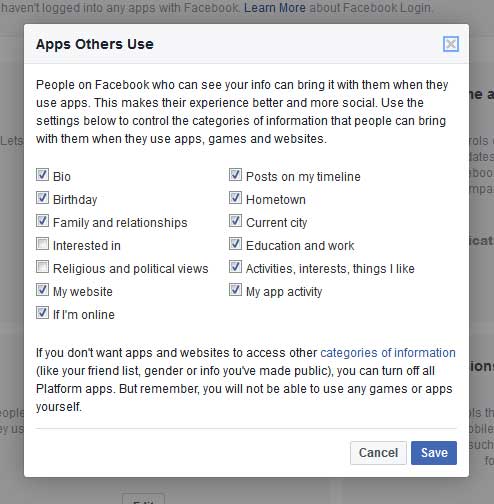 Apps Others Use Section
In this section it is strongly suggested that you disable all of the available options for the highest privacy. It should be noted, though, that even with all of the categories disabled, your friends list, gender, and any public information you have posted on Facebook will still be accessible by 3rd party programs, apps, and websites.
With companies like Facebook, Google, and Twitter generating huge amounts of revenue from your personal data, it is important to constantly monitor how it is being used and to restrict your data usage and sharing if possible. Unfortunately, in some cases this could remove some of the features of a particular site that you enjoy using.
In this economy where data is a commodity, users now have to decide what is more important to them; their privacy or the full functionality of a favorite website. While it is important to stay educated on the risks, only they can decide whats more important.