If you do not want users on a computer to be able to use the Lock option in the Windows 8 Start Screen user tile menu, you can disable it via a policy in the Group Policy Editor or via a Registry key. Please note that if you remove the lock option from the user menu it will still be available in the Ctrl+Alt+Delete screen. To remove it from there, you should follow the steps in this tutorial as well:
How to remove the Lock option from the Ctrl+Alt+Delete screen in Windows
To access the Group Policy Editor you should type Group Policy in the Start Screen and then click on the Settings category. The option for Edit Group Policy should now appear. Click on the Edit Group Policy option and the Group Policy editor will open. Under the Local Computer Policy, expand the tree to the following path:
Computer Configuration\Administrative Templates\Windows Components\File Explorer
When you see File Explorer, left click on it to select it as shown in the image below.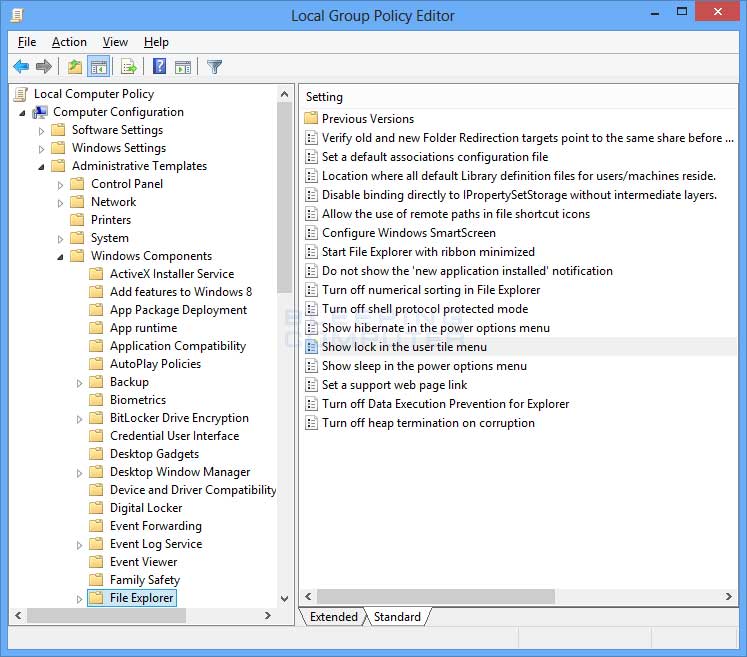 In the right-hand pane you should now see a variety of settings. Double-click on the Show lock in the user tile menu setting and its properties screen will open.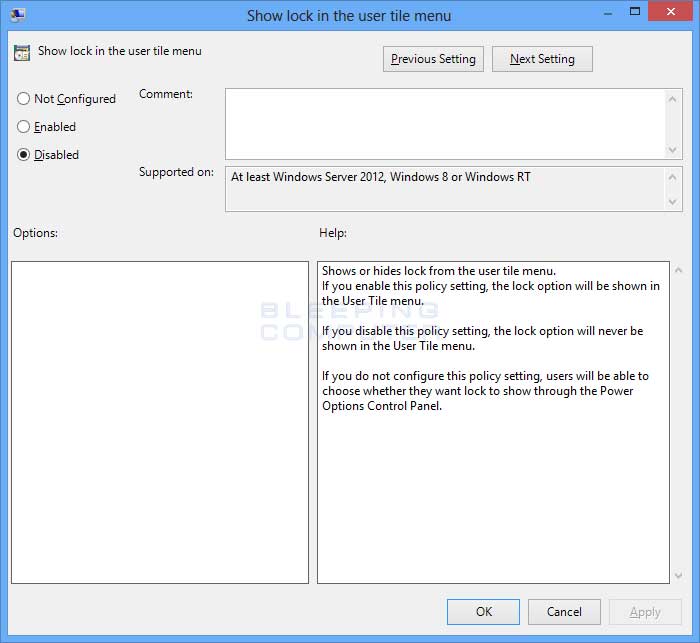 Select the Disabled radio button and then click on the Apply button. Finally click on the OK button and close the Group Policy Editor. Windows 8 will no longer show the lock option in the user menu of the start screen.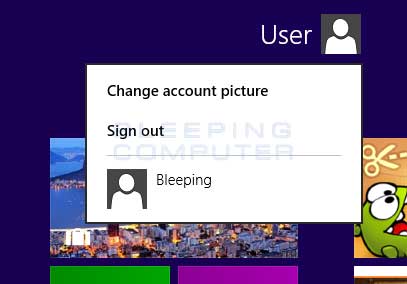 If you want to enable this feature in the future, just go back to the same setting and change it to Not Configured.
If you are not using Windows 8 Professional or Enterprise you will not have access to the Group Policy Editor. Instead you will need to enable the setting through the Windows Registry. This setting can be enabled by creating the ShowLockOption REG_DWORD value under the HKEY_LOCAL_MACHINE\SOFTWARE\Policies\Microsoft\Windows\Explorer Registry key and setting it to 0.
If you do not feel comfortable editing the Registry, you can download this Registry file that will remove the lock option from the user tile menu for you:
http://download.bleepingcomputer.com/reg/windows-8/policies/file-explorer/DisLUTM.reg
Just download the above Registry file and double-click on it. When it asks if you wish to merge the data, click on the Yes button.
If you want to add the lock option to the user tile menu again in the future you can download and run this Registry file:
http://download.bleepingcomputer.com/reg/windows-8/policies/file-explorer/EnLUTM.reg