Introduction to the PC Settings screen in Windows 8
Windows 8 has a settings screen called PC Settings that allows you to change some basic settings and Windows Start Screen preferences directly in the Windows 8 Start Screen. This screen allow you to change settings that include backgrounds, colors, synchronization preferences, and synchronization preferences. This tutorial will explain how to access these PC Settings and provide basic information about what each settings category allows you to configure. For full access to the Windows 8 Settings, you would need to use the Windows 8 Control Panel instead.
To open the PC Settings screen, press the Windows key and at the same time press the I key on your keyboard. This will open the Windows 8 Settings Charm Bar as shown below.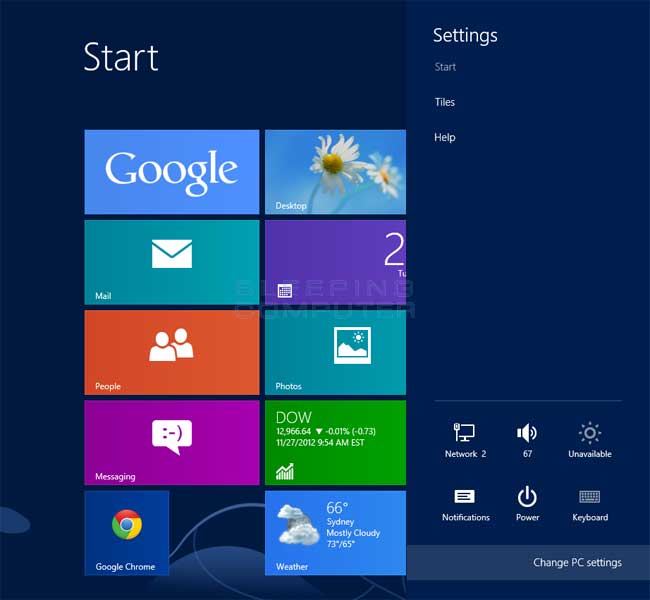 Now click on the Change PC Settings option in the bottom right hand corner of the Charm bar. This will open the PC Settings screen, which contains numerous settings categories that you can use to configure Windows 8.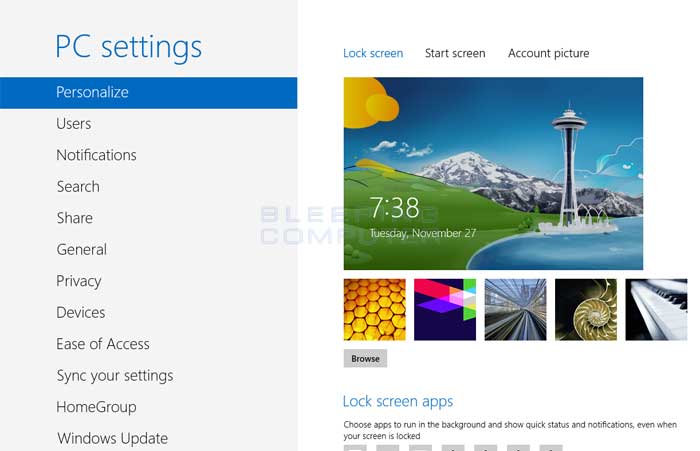 On the left side of the PC Settings screen you will find the various categories that you can customize. The settings themselves will appear on the right when you click on a particular category. Each settings category is detailed below.
Personalize Category

The Personalize screen allows you to change the following settings:

Users Category

The Users screen allows you to configure various account settings in Windows 8. These include:

The ability to switch between Local and Microsoft Accounts.
Change your password.
Create a picture password.
Add a login pin.
Specify whether a user must enter their password when waking the PC.

Notifications Category

The Notifications screen allows you to configure how notifications are displayed on the Start Screen and the apps that will display them.


Search Category

The Search screen allows you to configure how search works in Windows 8. You can also use this screen to enable or disable specific apps that you wish to use when searching.


Share Category

The Share screen allows you to configure the apps that you wish to use to share email, documents, HTML pages, or images with other people.


General Category

The General settings screen allows you to configure various settings that will be used throughout Windows. This includes the following settings:

Whether or not you wish to use Daylight Savings Time.
Configure App switching.
Configure Autocorrect.
Language preferences.
See how much storage space your apps are using.
Refresh your PC, which reinstalls Windows 8 while retaining your data.
Reset your PC, which performs a clean install of Windows 8.
Boot your computer to the Advanced Startup Option menu.

Privacy Category

The Privacy screen allows you to configure what personal or usage information can be used by Windows 8. This includes whether or not apps may use your current location, whether apps can use your name or picture, or if URLs that your apps use can be sent to the Windows Store.


Devices Category

The Devices screen displays a list of devices installed on your computer and provides the ability to remove or add a new one. You can also use this screen to specify whether certain items should be downloaded over metered connections.


Ease of Access Category

The Ease of Access screen allows you to configure settings that make using Windows 8 easier. This includes changing the contrast or text size for those who may be visually impaired or who find the text size too small.


Sync your settings Category

The Sync your settings screen allows you to configure what information will be synchronized between your Windows 8 account and your Microsoft Account.


HomeGroup Category

The HomeGroup screen allows you to specify what files and devices you wish to share with the rest of your HomeGroup. It also provides the ability to leave an existing HomeGroup or create a new one.


Windows Update Category

The Windows Update screen allows you to check for new updates for the Windows operating system.
As you can see their are quite a few settings that be configured directly from the Start Screen that will allow you to personalize your user experience in Windows 8. If you have any questions about these settings, please ask in the Windows 8 Forum.
Users who read this also read: