Table of Contents

Firefox supports small programs, or plug-ins, that add extra functionality to the browser. These programs are called Add-ons. These programs can add a myriad of features ranging from a new toolbar button, a menu option, or even add games to the browser. A large benefit of this Add-on model is that it allows the web browser itself to stay small and efficient, while allowing the end user to add new programs to it as they are needed. If a user wants a new feature that is supported in an Add-on, they simply download it and install it into their browser. If they no longer want this Add-on then they can easily remove it.
If an Add-on does not exist for the particular purpose you require, then create your own! Remember that Firefox is an open source application, so the source code for the entire application is freely available allowing you to modify and enhance, or destroy, as you will. This does require advanced programming knowledge, but there is nothing stopping you from going out and learning these skills. Mozilla.org has a tutorial on creating Add-ons here: Building an Extension.

Finding and Installing Add-ons

In order to install Add-ons you need to find them first. You can find a list of most Add-ons that are available at the Mozilla Add-on site below.
To install an Add-on simply visit the site above and browse through the available Add-ons. If you find one that you want to install into Firefox you can either click on the Install link underneath the description or click on the home page for this particular Add-on to learn more about it. For this example we will install the popular Google Toolbar Add-on. When I am at that Add-on information page and click on the Install link, Firefox will download the Add-on to your computer and display information about it as shown in the figure below.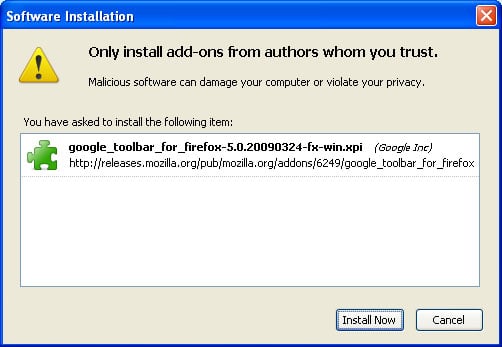 Installing the Google Toolbar Add-on
The figure above shows that we are about to install the Google Toolbar Add-on. Next to the name of the Add-on you will see the company name that has digitally signed the Add-on with a certificate that states they are who they say they are. If you see the word unsigned that means that it does not have a digital signature attached to it and therefore you can not verify for sure it can be trusted. This is an important thing to take into account as you do not want to install something that you do not know comes from a trusted source. We know that the Google Toolbar is a legitimate application, so we are going to make the assumption that it is a safe application to install. If you still feel unsure about it, simply click on the Cancel button to stop the installation, otherwise click on the Install Now button to install the Add-on. It is important to note that most of the Add-ons listed on mozilla.org are currently unsigned Add-ons. When the installation is completed you will be presented with a screen similar to the one below: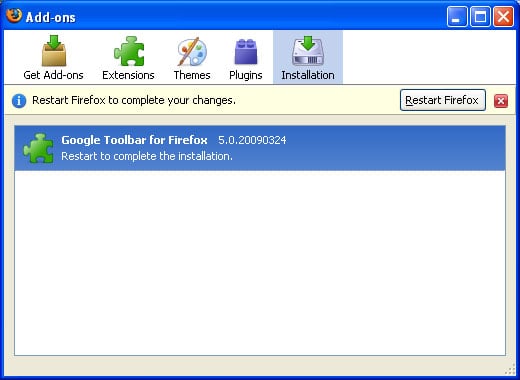 After Installing the Google Toolbar Add-on

As you can see in the figure above, the Google Toolbar is now listed as an installed Add-on. It does state though that before you can use it, you must restart Firefox. Simply click on the Restart Firefox button to have the installer restart all open sessions of Firefox. You should now see a new toolbar at the top of your screen that represents the GoogleBar Add-on that you had just installed. Pretty easy right?


Using the Add-on Manager to Configure and Remove Add-ons
Firefox has a built-in Add-on manager that allows you to remove, configure, and get more information about the Add-ons installed on your computer. To access the Add-on manager you simply click on the Tools menu and then click on Add-ons. You can see this process in the figure below.

Accessing the Add-ons Manager from the Tools menu

Once you click on the Add-on menu option you will be presented with Firefox's Add-on manager. The Add-on manager will look similar to the figure below.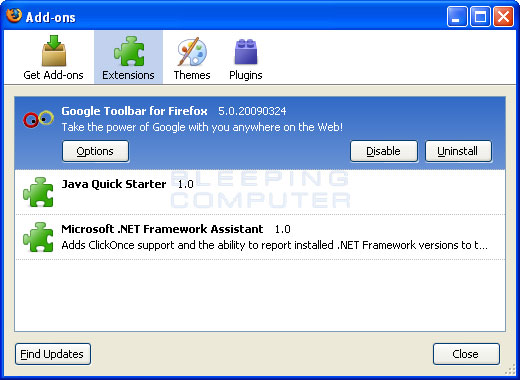 Firefox Add-on Manager

As you can see from the figure above, the Add-on manager will list all the installed Add-ons on your computer. Each listed Add-on will contain the name and version of the Add-on, a brief description, and the author of the Add-on. When you click on an individual Add-on you will see three buttons labeled Options, Disable, and Uninstall. If you click on the Options button you can configure the settings of the Add-on. The disable button will make it so the Add-on will no longer load, but will still be available for future use if you wish to enable it again. Finally, the Uninstall button will remove the Add-on from your computer. If you choose to uninstall an Add-on you will need to restart Firefox before it is completely uninstalled.
At the bottom of the Add-on manager window you will also see a button labeled Find Updates. If you click on this button, Firefox will check the Internet for any updated versions of your installed Add-ons. If any are found it will then prompt you as to whether you want to install them or not.

Now that you know how to use Add-ons, go out there and find some that will suit your needs. There are some really excellent Add-ons that can enhance the functionality of the browser and make your browsing experience that much more enjoyable.
--
Lawrence Abrams
Bleeping Computer Internet Applications Tutorial
BleepingComputer.com: Computer Support & Tutorials for the beginning computer user.