With the release of Firefox 12 for Windows, Mozilla has introduced a new feature called silent updates. This feature will allow Firefox to install updates without first displaying a User Account Control (UAC) dialog. This feature is made possible through a Windows service named Mozilla Maintenance Service that is located at %ProgramFiles%\Mozilla Maintenance Service\maintenanceservice.exe. This service is not running all the time, but is started via command line arguments when a new Firefox update is available. Though, the Mozilla Maintenance Service is currently only installing updates, Mozilla has stated that it may include other command line arguments for this service that could clear the Windows prefetch, defrag a user's profile, and perform other actions that are not yet discussed.
For security reasons, if you are concerned about a program updating itself without your permission or knowledge, it is possible to disable Firefox's silent update feature. By disabling the silent updates Firefox will still be able to update itself, but you will now be prompted with a UAC dialog so that you are aware that an update is occurring. You can disable silent updates using two methods, which are described below.
It should be noted, that if you disable silent updates, that does not mean that you should not install new updates when they become available. If you do not install the updates, you could put your computer at significant risk due to potential security vulnerabilities that these updates may be fixing.

Method 1: Disable silent updates via the Update options dialog
Start Firefox and click on the Tools menu and then select the Options menu item. When the Options dialog opens, click on the Advanced category and then select the Update tab.
In the Firefox updates: section, select Check for updates, but let me choose whether to install them. Then uncheck the checkbox labeled Use a background service to install updates. When you are done, your Update options should look the same as the image below.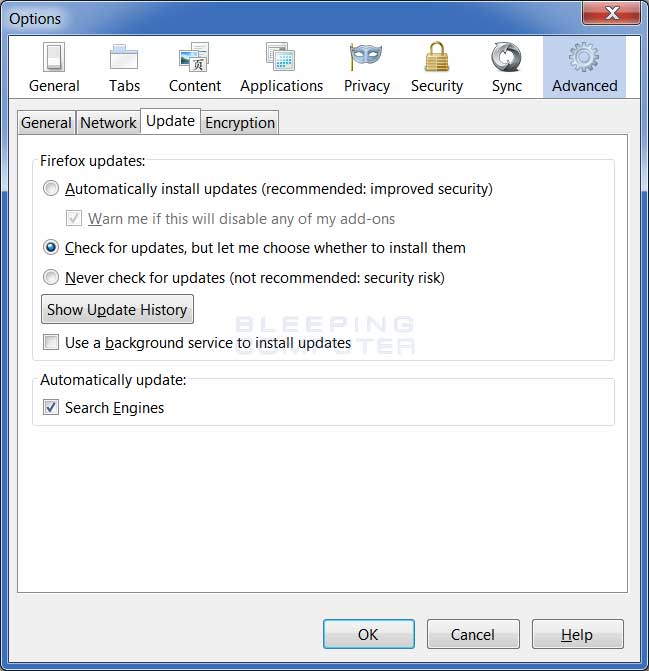 Mozilla Firefox Update options dialog

Now click on the OK button to close the Options dialog box.
Firefox should now be configured to prompt you when you new updates are available and to display a UAC prompt before installing them.
Method 2: Disable silent updates by uninstalling the Mozilla Maintenance Service
It is also possible to disable silent updates by simply uninstalling the Mozilla Maintenance Service. If you uninstall this service, though, future updates will not install it again. In order to install the service again you will first need to do a full reinstall of the program.
You can uninstall the service by uninstalling the Mozilla Maintenance Service entry from within the Add or Remove Programs or Uninstall a Program control panel. You can also uninstall this service directly by running the "C:\Program Files (x86)\Mozilla Maintenance Service\uninstall.exe" command.
With the service uninstalled, you will now always be prompted with a UAC dialog regardless of how your Update settings are configured.