Watch the tutorial's companion video here!
Some programs provide the ability to add arguments when executing it in order to change a particular behavior or modify how the program operates. As an example lets look at the command line argument for Firefox called safe-mode. If you start Firefox with the command line firefox.exe -safe-mode Firefox will start without any extensions or themes. As you can see adding a command line argument to the program's executable changed its default behavior.
Now that we understand what command line arguments are, how do we determine what command line arguments a process was started with when we personally did not launch them? This guide will explain how to determine this information for all running processes on your computer. To accomplish this, we will use the Process Explorer utility created by Sysinternals.
To begin, you need to download Process Explorer from the following site:
Process Explorer Download Link
Download the file and save it to your hard drive. When it has finished downloading, extract the file and it will create a Process Explorer folder. Double-click on this folder and then double-click on the procexp.exe file to start the program. If this is your first time running the program, it will display a license agreement that you should agree to in order to start the program. When it is finished loading you will be presented with a screen containing all the running processes on your computer similar to the figure below.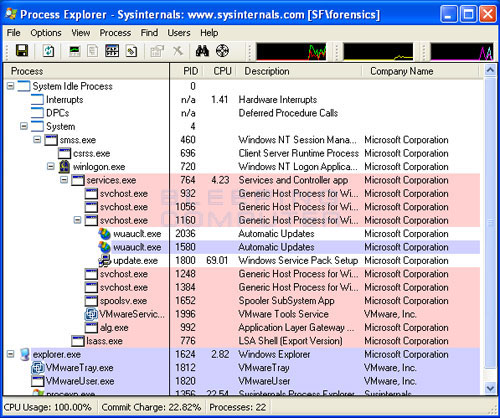 Process Explorer
The Process Explorer window is now open and listing all the processes currently running on your computer. In order to see the command line arguments each of these programs were started with we need to add an additional column to the display. To do this click on the View menu and then click on the Select Columns option. This will bring up a screen similar to the one below where you can select the columns of information that will be shown about each process in the main display.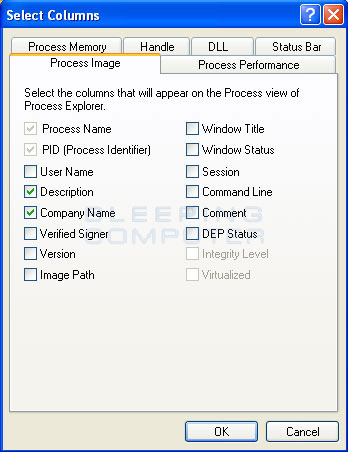 Process Explorer - Select Columns Screen
Put a checkmark in the Command Line checkbox and then press the OK button. You will now be back at the main Process Explorer window, but now with an additional column. In order to see the command line you may have to maximize the screen and increase the width of the Command Line column seen as illustrated below.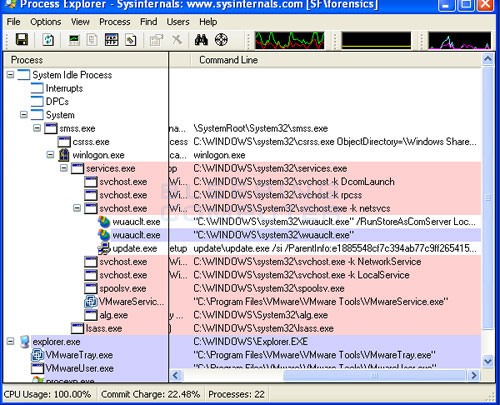 Command Line arguments screen in Process Explorer
Using the information shown in these columns, you can now determine what arguments the various processes were started with and diagnose the function of the programs further.