Windows comes with a built-in repair environment called the Recovery Environment. Unfortunately, it is possible for the recovery environment to become inaccessible. The same tools can be accessed by using the Windows DVD that came with your computer, but unfortunately not many computer manufacturers actually provide the Windows media anymore. Therefore, it is suggested that you create the bootable Windows System Repair disc, which you can boot off of to access these troubleshooting and recovery tools when you need them.

The first step is to insert a blank DVD or CD into the DVD drive you wish to create the disc with.
Then, if you use Windows 7, click on the Start button and type recdisc. At the top of the start menu you should see the recdisc filename appear and should then double-click on it.
Otherwise, if you are using Windows 8, type recdisc at the Windows Start Screen and then click on the recdisc search result when it appears.
The Create a system repair disc screen should now be open.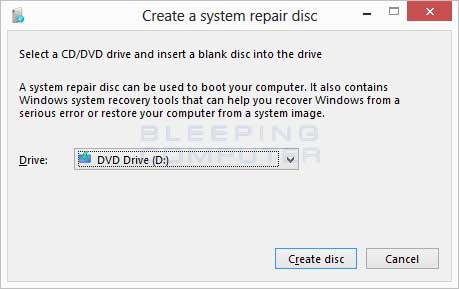 Select the drive that has the blank media inserted into and then click on the Create disc button.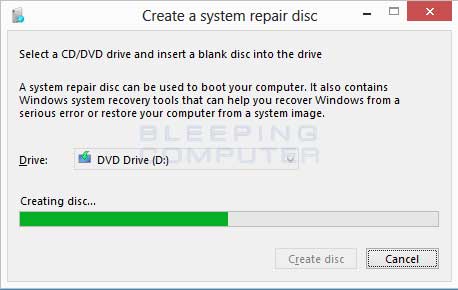 Windows will start to create the repair disc, and when finished, display one of these dialogs depending on the version of Windows you are using.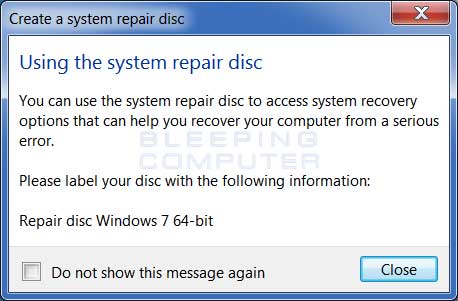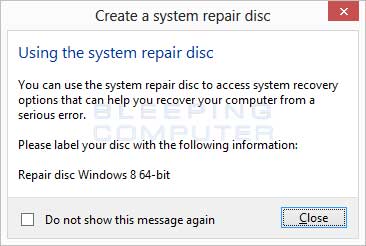 You can now click on the Close button and then remove the disc from your drive. Please label the disc and store it in a safe location. When you are ready to use it, simply insert it into your computer and reboot. Your computer should detect it as bootable media and ask if you wish to boot off of it. Follow the instructions it gives in order to boot your computer with the repair CD. Once the recovery environment is loaded, you can then access the recovery options that are available.
For more information about the various tools that you can use in the Windows Recovery Environment, please see these tutorials for your particular operating system.
Windows XP

Windows Vista

Windows 7

Windows 8