How to use the Bleeping Computer Front Page
Table of Contents
First and foremost, I would like to welcome you to Bleeping Computer. Our community is devoted to teaching you how to use your computer and to solve computer problems in an easy to understand manner. While many of our members originally came to the site with a computer problem, many have decided to stay after their problem was solved to help take part in and further develop our community. From computer support and education, to forums games, or to just helping others, Bleeping Computer has become a warm and welcome spot on the Internet that I am proud to say many people call home.
If you are reading this tutorial then you are most likely new to BleepingComputer.com and/or this type of online message forum. I have created this tutorial so that you can quickly and easily become a participating member of our community. Whether you are here to help others, receive help, or to just chat about everyday life, after you read this tutorial you will easily be able to achieve your goals.
Every web site has a front page of a web site. A front page is simply the first page you see when you reach a web site. In the figure below you will see a screen shot of the front page for BleepingComputer.com. The different sections of the page are marked with red numbers and are explained below the image.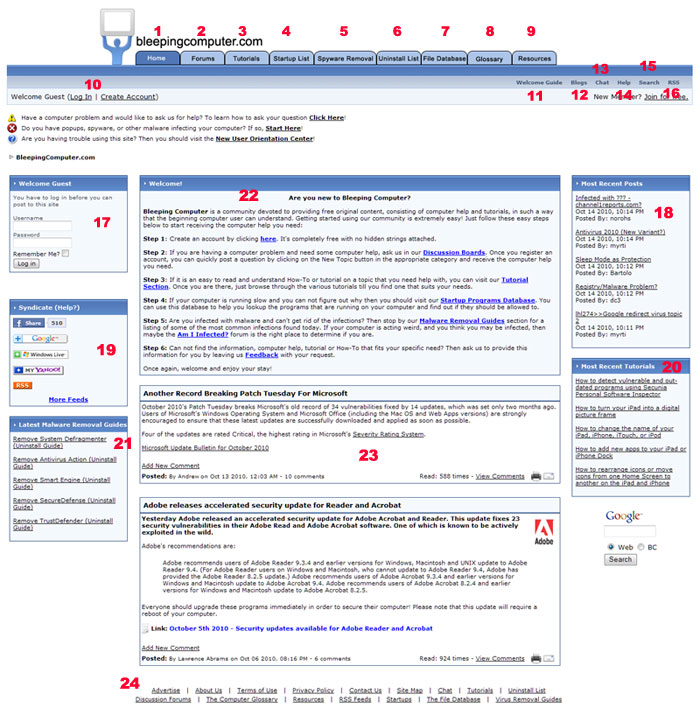 Figure 1: Front Page Screen shot

The front page is broken up into 20 sections which are described below:
Home Tab - Clicking on the Home tab will bring you back to this page. This tab will appear on every page on the site and if you ever want to go back to this page, you would click on that tab.

Forums Tab - Clicking on the Forums tab will bring you to the Discussion forums. Here you can leave messages about computer problems, tips and tricks, or to just chat with other members.

Tutorials Tab - Clicking on the Tutorials tab will bring you to our tutorial section. It is in this section that you can find guides on how to use your computer and on learning basic computer concepts. As a matter of fact, you are reading this tutorial right now from the Tutorials section.

Startup List Tab - Clicking on the Startup List tab will bring you to our startups databases where you can research the various programs that are starting automatically in Windows.

Spyware Removal Tab - This tab will bring you to our virus removal section, which contains self-help guides on removing various malware infections.

Uninstall List Tab - This tab will bring you to our uninstall database that contains a list of entries that may appear in Add or Remove Programs in Windows.

File Database Tab - The file database is a list of files that you can find on your computer. Each file entry will contain information about the particular file.

Glossary Tab - Clicking on the Glossary tab will bring you to our glossary of computer terms.

Resources Tab - Clicking on the Resources tab will bring you to a section devoted to links where you can download software or visit other useful sites.

Login In and Create New Account Link - This section contains the Log In link and the Create New Account link. If you are already a registered member, then you simply need to click on the Log In link and you will be presented with a page where you can enter your Username and Password. If on the other hand you do not have an account already, then simply click on the Create New Account link and you will be presented with a form to fill out. An account on our site is free so there should be nothing stopping you from signing up!

Welcome Guide - Read the welcome guide to learn how to get started at BleepingComputer.com.

Blogs - Click here to view other BleepingComputer.com members blogs or create one for yourself!

Chat Link - Click on this link to start chatting with other members in real-time. No extra software is necessary. Just click the link and read the instructions to start chatting on the Bleeping Computer chat channel.

Help Link - Clicking on the Help link will bring you to a section with commonly asked questions on how to perform various functions on this site.

Search Link - Clicking on the Search link will present to you a form that you can enter in keywords that you would like to search for in our discussion boards.


RSS Link -

The RSS Link will bring you to a listing of our RSS feeds that you can read in a 3rd party piece of software. For more information on RSS you can read this tutorial:

Introduction to RSS

Login Form/Status Information- You can enter your username and password directly into this form and press the Login button to log into the site. If you are already logged into the site it will show who you are logged in as and whether or not you have any personal messages.

5 Most Recent Posts List - This is a listing of the 5 most recent posts in our discussion forums. Clicking on the title of a post will bring you to that actual post.

News Syndication Box -This box contains links that allow you to syndicate the news feed to various services.

5 Most Recent Tutorials - This is a listing of the 5 most recently created tutorials. Clicking on the title of a tutorial will bring you to that actual tutorial.

5 Most Recent Virus Removal Guides - This is a listing of the 5 most recently created virus removal guides. Clicking on the title will bring you to that actual guide.

Welcome Text - This contains the welcome text which provides information about the various sections of this site.

Beginning of Site News - After the welcome text is the site news which consists of interesting news stories and topics that we feel our members would enjoy hearing about.

Site Map - These links are a text based site map for those people not using a graphical web browser. It also contains links to our policies on how we run this board.

Advertise - Learn how to advertise at BleepingComputer.com.

About Us - This link will bring you to a page that tells you a little bit about the site and what our mission is.

Terms of Use - This link will bring you to a page that covers the rules and terms that people must abide to when using this site.

Privacy Policy - This page will discuss what information we collect from our members and how we use that information.

Contact Us - Need to contact us about something? Then fill out the form on this page.

Site Map - A map of our entire site

Chat - A link to our real-time Chat page.

Tutorials - A link to our Tutorials section.

Uninstall List - A link to our Uninstall database.

Discussion Forums - A link to the forums.

The Computer Glossary - A link to our Glossary section.

Resources - A link to our Resources section.

RSS Feeds - A link to our RSS Feeds.

Startups - A link to the startups database.

The File Database - A link to the files database.

Virus Removal Guides - A link to the virus removal guide section.

Now that you know how to use the front page it is time to start read the tutorials on how to use the various of portions of our site.
--
Lawrence Abrams
Bleeping Computer How to use Bleeping Computer Tutorial
BleepingComputer.com: Computer Support & Tutorials for the beginning computer user.
Users who read this also read: