Table of Contents:
DriveImage XML is my program of choice for backing up and protecting my data. When I first began using this application, though, I had some difficulties restoring my backup image on my test boxes using the instructions found in other tutorials. Due to this, I pooled info from a variety of available tutorials, and with some work, I was able to figure out how to restore my data. With this in mind, I have put all of the information I researched into one guide so that others can properly restore their data without running into the problems that I encountered.
With this tutorial you will be able to accomplish the following tasks:
Create a complete cloned image of your entire computer. This consists of all data, applications, the operating system, and files.
Restore a backup image to your existing hard drive or another one in the event of total hard drive corruption or loss.
Restore selected data if you do not need the entire OS restored.
In order to follow the steps in this tutorial, you will need an external hard drive or other removable media, CD-ROM burner, and a blank writeable CD.
Create a clone of your hard disk
The first step is to download DriveImage XML to the desktop of the computer that you wish to backup. When the file has finished downloading, double-click on the dixmlsetup.exe icon to start the installation program. Follow the prompts while selecting the default settings until you get to the last screen. Then press the Finish button to close the DriveImage XML installation program.
Once the program has been installed, there will now be an icon for the program on your desktop. Double-click on the DriveImage XML icon to start the program. When the program starts you will be greeted with a screen similar to the one below.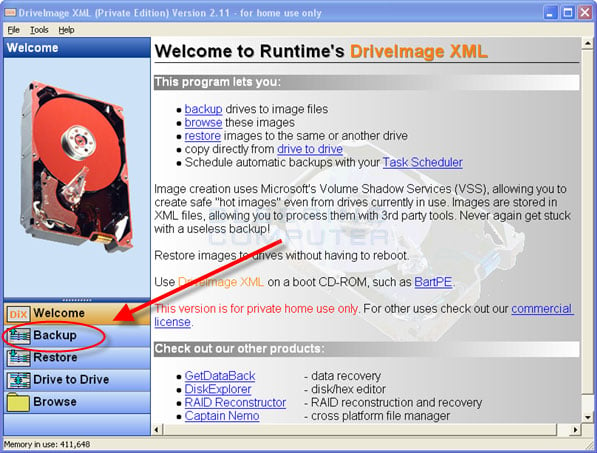 DriveImage XML Start Screen
Now press the Backup button as designated by the red arrow in the image above.
You will now be at a screen where the program asks you what drive you would like to backup as shown in the image below.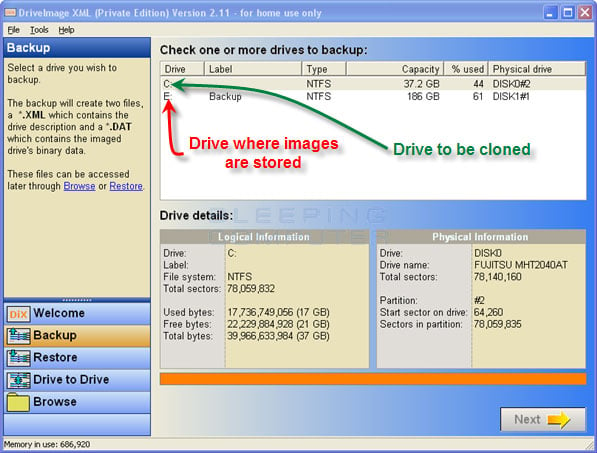 Select drive to backup
Select the drive you would like to backup by left-clicking once on it and then press the Next button.
You will now be at the Drive backup wizard as shown in the image below.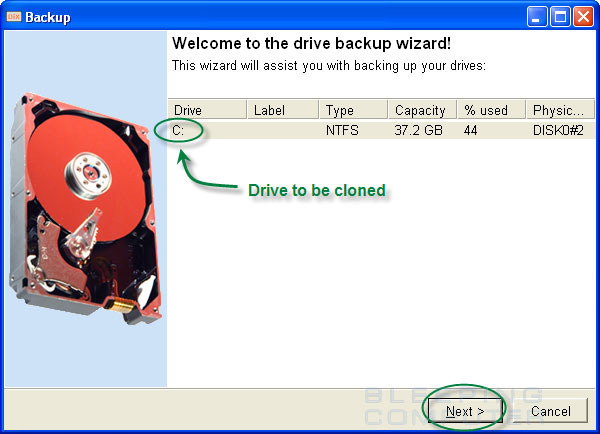 Drive backup wizard
Make sure the drive you want to backup is listed and then press the Next button.
You will now be at the Backup options screen where you can configure various options as to how you want your backup to be created and where to save it to.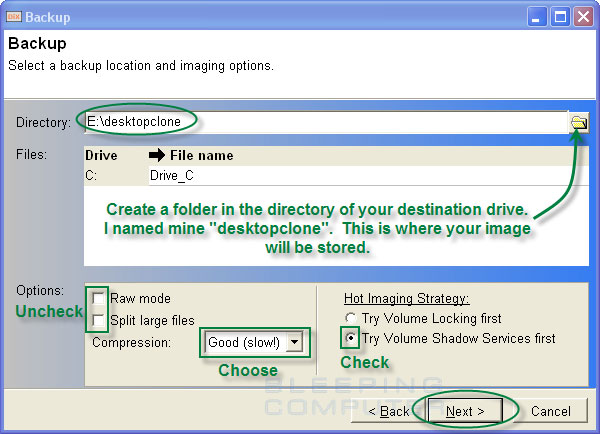 Backup option screen
For the purposes of this tutorial, I created a folder in my E:\ drive named desktopclone and set that as the directory where my backup image will be created. In the Options category you should set Compression to Good (slow!), to make the backup image smaller, and then uncheck all of the other items. Then in the Hot Imaging Strategy: category select Try Volume Shadow Services first. These suggested settings are shown in the image above. Once you have the options screen setup like you want it press the Next button to continue.
DriveImage XML will now start backing up your hard drive to the folder you specified in the previous screen as shown in the image below. This process can take a long time depending on how much data it has to backup. So please be patient while the backup proceeds.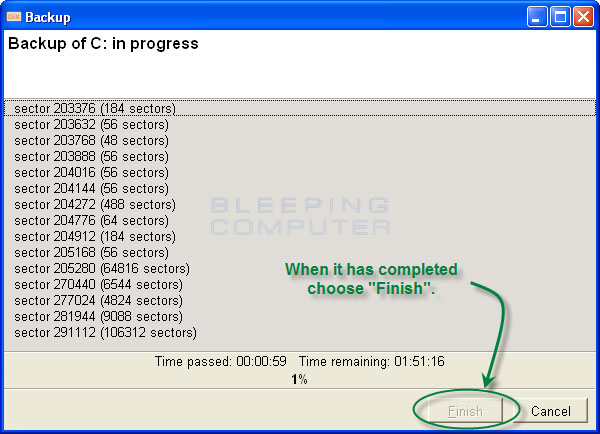 Your hard drive being backed up
When the backup has finished, you should press the Finish button and then close the DriveImage XML program. You have now created a duplicate copy of your entire OS and stored it in a compressed manner. You can now do several things with that image. You can open it up and restore individual files or folders or you can restore that image to another drive.
Now that you know how to backup your computer using DriveImage XML, you should make sure you perform backups regularly on your computer. Having these backup images of your computer will make a hard drive malfunction or loss of data easier to manage as you will be able to easily restore your data using these instructions. Just make sure you do your backups onto a media other than the drive where the original data is stored! Otherwise, if your hard drive fails, you will not only lose your original data, but all of your backups. If you have any trouble using this tutorial, please ask us in the forums.
Kind regards,
thcbytes