With so much of Computer use these days revolving around the Internet and communicating with others, its important that you understand what exactly a network is. Without networks, all communication between your computer and other computers whether it be instant messaging, email, web browsing, or downloading music could not be achieved. This tutorial will strive to teach you about networks and their importance. We will also explain the equipment necessary for you to set up a network in your home. When you are done with this tutorial, you will hopefully have a much greater knowledge of how the world of computers work.
The definition of a network in its most basic concepts is at least two independent devices having the ability to communicate with each other. Networks can range in size from two computers with a cable between them, to an office network consisting of 100's or 1000's of devices.
Most home networks consist of 2 or more computers with network cards built into them. They are then connected with an RJ45 cable, or other medium, to a Hub or Router that has a built in hub. This hub or router is then connected to your Cable modem or DSL modem allowing your computers on the network to access the Internet. Below, on Figure 1, you will see a basic network that consists of exactly what is discussed above.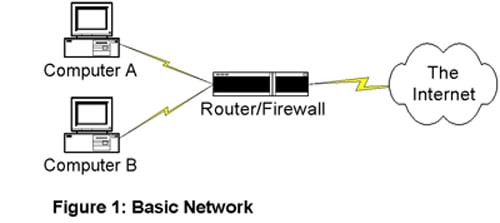 Let us summarize what we see above and define some of the individual items. We have two computers, labeled Computer A and B, which are both connected to a router with a built in hub. The computers are connected via RJ45 cabling that can be bought in various lengths at almost any computer store. One end of the RJ45 cable plugs into the network card on the back of your computer, and the other end plugs into an empty port on the Router.
The Router contains a 4-port hub that you will find is common in almost all the brands out on the market at this time. This Hub/Router is what allows all the devices on your network to connect to each other because anything that is plugged into the Hub/Router also has the ability to talk to each other. The Router is then connected to the DSL Modem or Cable modem which allows your entire network to reach the Internet.
As you can see creating a home network is not has hard or expensive, as you may have assumed. Lets go over all the pieces again and I will give you general costs for each item.
| | |
| --- | --- |
| Item | Cost |
| 10' RJ45 Cable (1 Cable per device) | $7.00 |
| Router with Built-in 4 Port Hub | $50.00 |
| Network Card if not built in (per PC) | $30.00 |

This can also be accomplished with wireless networking as well, and the concepts are all the same. You would just need wireless network cards and a wireless router. You even save a few dollars because you dont need the RJ45 Cables. The only differences are that the wireless network cards and wireless routers are more expensive.
Now that you know what a network is, let's build upon some of these concepts. Now that you know that a network is a bunch of interconnected devices, what do you think a lot of inter-connected networks are? Yes, you guessed it right, your actually using one now, it is something called the Internet. Lets look at the word Internet. Inter means between and Net is short for the word network. Internet therefore, means between networks. That is exactly what the Internet is , it is the connection between a vast amount of networks. When you are connected to the Internet, and you request information whether that be through a website or email, your data is actually traversing many networks that are all independently owned and operated before your data reaches its final destination.
All these networks are able to talk to each other through something called routing, which we will discuss in another tutorial. As you can see, the Internet is not an entity unto itself, but rather comprised of many small parts. Now that you know how to set up a home network, why not set one up so you and your family can both be on the Internet at the same time. Not only will it increase the efficiency of your Internet connection, but also your network will actually make the Internet grow a little bit larger.
I hope you enjoyed this segment of BleepingComputer.com Basic Concept Tutorials.
Feel free to let us know what you think in the forums or email us.

--
Lawrence Abrams
Bleeping Computer Basic Networking Series Tutorial
BleepingComputer.com: Computer Support & Tutorials for the beginning computer user.