I am a little late to this deal, which I apologize for because I am a big fan of this program. A deal that is ending today is for 70% off the Glasswire Pro for PC network utilization and monitoring utility. This program normally costs $99, but has been discounted 70% to $29. This deal is for the Pro version which allows allows you to install Glasswire on 3 PCs, monitor 10 other computers from one location, and provides 1 year of network history. For those interested, you can view the deal here.
Glasswire Pro is a network utilization and monitoring tool that displays how much bandwidth your computer is using, the applications that are talking over the network, who they are communicating with, and how much bandwidth is being used. It also displays alerts when any new network device is connected to your network. For those who are serious about security and want to know exactly what is being used on their network, this utility can definitely help you there.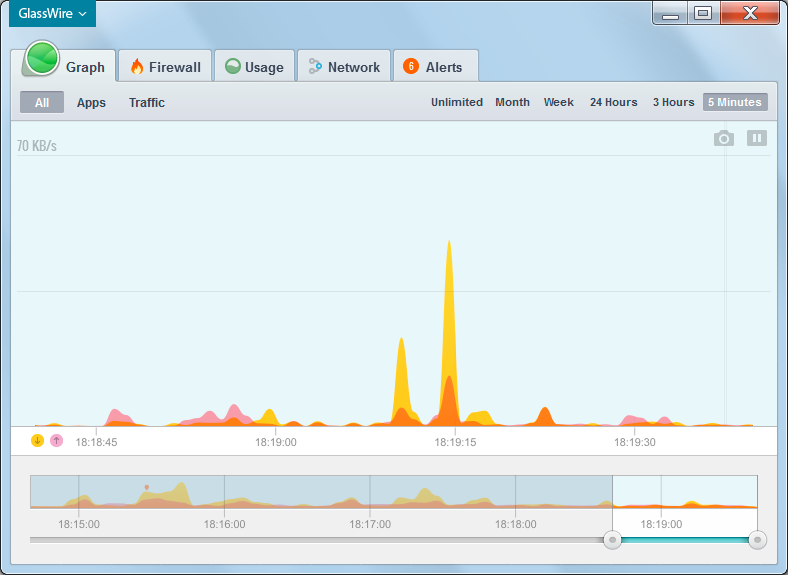 Furthermore, Glasswire allows you to disable network connective to any process you want. So if there is a program that you want to run, but don't like it calling back to home base, then you can lock it down so it cannot communicate on the network. This is also very useful if you find a suspicious process that you want to lock down until you investigate.
In full disclosure, we will make a commission if you purchase this product, but we have been a fan of this product since it was released. We are NOT affiliates with the product itself and were one of the first sites to host the program. I was very excited to hear that StackCommerce was offering this deal because it allows people to get this product at a very good price.
Disclosure: This is a StackCommerce deal in partnership with BleepingComputer.com. In order to participate in this deal or giveaway you are required to register an account in our StackCommerce store. To learn more about how StackCommerce handles your registration information please see the StackCommerce Privacy Policy. Furthermore, BleepingComputer.com earns a commission for every sale made through StackCommerce.