Ahead of the upcoming U.S. midterm elections, Twitter has issued new information on how it will protection the integrity of the elections and handle perceived election interference on their network.
In a blog post released yesterday, Twitter has stated that they are making updates to their "election integrity" initiatives, which include updated Twitter rules, better detection and enforcement, and updates to the social network.
Updated Twitter rules
Twitter has updated their rules to more clearly delineate what activity would be considered a violation and would lead to having an account suspended.
Twitter's rules already prohibit the distribution of hacked content that contains private information, trade secrets, or could harm users. Doxing, which is the online documenting of a person's personal information, is also already against the rules.
The existing rules have been expanded to also make requests to hack other's accounts a violation.
"Threats to expose / hack: You may not threaten to expose someone's private information or intimate media. You also may not threaten to hack or break into someone's digital information or attempt to incentivize others to do so (e.g., through setting a bounty or reward on such actions)."
Twitter is also expanding their rules regarding fake accounts. If a profile is using stock or stolen avatars, stolen or copied profile bios, or use intentionally misleading information in order scam or spread misinformation, the account will be removed.
Finally, Twitter has expanded their rules to remove accounts that are created to mimic or circumvent previous policy violations. So if an account has been suspended and that user creates a new one, if detected, the new account will be suspended as well.
Detection and enforcement
In this announcement Twitter also calls out the work they have done in removing fake accounts. Over the summer, Twitter had suspended 50 fake accounts that were pretending to be members of the Republican party. Twitter also banded 770 accounts that were based out of Iran and were involved in a campaign of spreading divisive social commentary.
Twitter product changes
Twitter pointed out new changes in their product that aim to secure candidate's accounts and allow users to easily identify a candidate's profile.
In May, Twitter had rolled out "Election Labels" that appear under a candidate's name on their Twitter profile as shown below. This allows users to easily identify legitimate candidates in upcoming elections.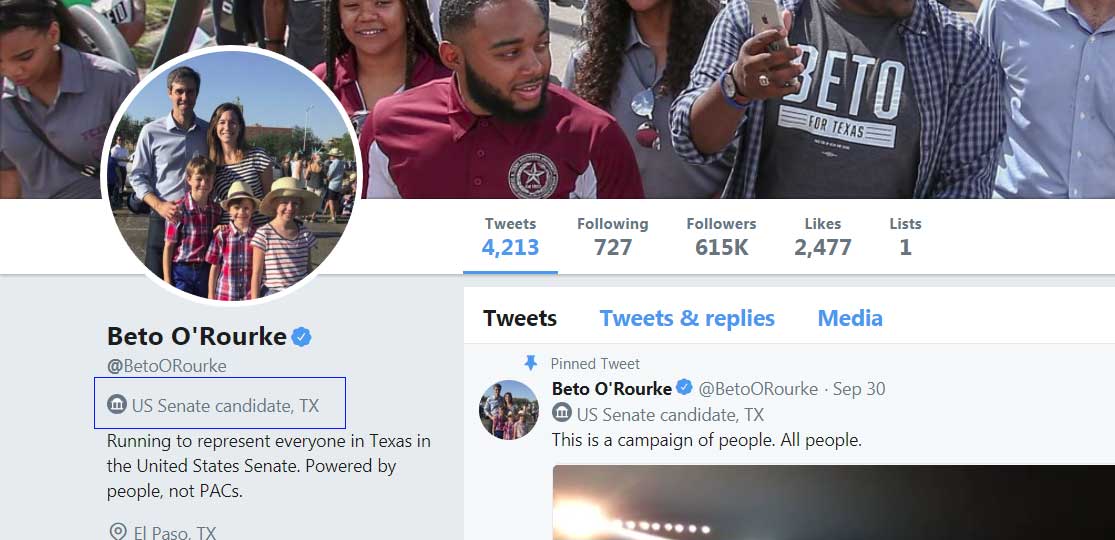 In order to secure candidate's accounts from being hacked, Twitter will be sending messages to identified candidates with information on how to enable 2-factor authentication. By enabling this feature, attackers would need access to their mobile devices or other authentication device in order to access the candidate's account. BleepingComputer recommends all Twitter users enable 2-factor authentication and not just candidates.
Finally, Twitter is setting up a dedicated election support portal for electoral organizations to send feedback to Twitter that can quickly be reviewed and acted upon.