Episode 6 of Game of Thrones season 7 has leaked online on streaming, torrent, and file-sharing portals after HBO accidentally broadcast the episode via its on-demand streaming platform.
The colossal blunder took place last night when HBO España and HBO Nordic accidentally made available the episode via their local HBO On-Demand platforms.
Episode was available only for about an hour
The episode was available online only for about an hour, but it was enough for torrent release groups to make a copy and release it via other platforms.
The episode, in full high-definition glory, is currently available via a plethora of online services, from The Pirate Bay to YouTube, and from Twitch to Mega.nz. Links to the unaired episode are shared on all social media sites, from Reddit to Twitter, and from Instagram to Facebook.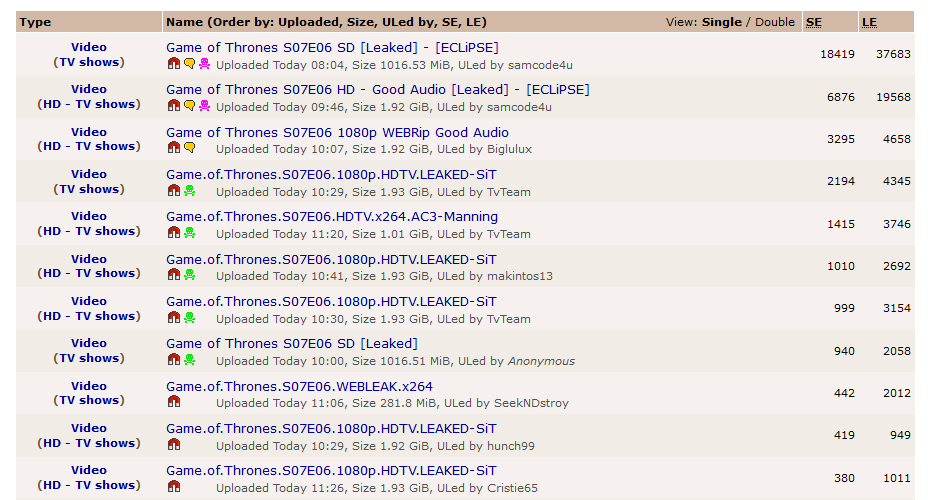 The episode is titled "Death is the Enemy," and was scheduled to air on Sunday, August 20. The episode is next to last in season 7. HBO blamed the episode's early release on an unnamed contractor.
Second episode to leak
This is the second season 7 episode to leak early. Two weeks ago, episode 4 also leaked online from an HBO contractor in India. The leak was intentional and not an accident. Earlier this week, Indian authorities announced the arrest of four suspects in connection with the leak.
In addition, a group of hackers who goes by the name of Mr. Smith has been leaking content from HBO servers each Sunday for the past three weeks. Hackers didn't leak Game of Thrones episodes, but they leaked a bunch of unaired episodes from other HBO productions, internal emails, scripts, internal network passwords, and others [leak 1, leak 2, leak 3]. The hackers are looking for a ransom payment of nearly $6 million to stop their leaks.
In spite of the season 7 leaks, ratings for Game of Thrones episodes have been as high as ever.
Image credits: HBO