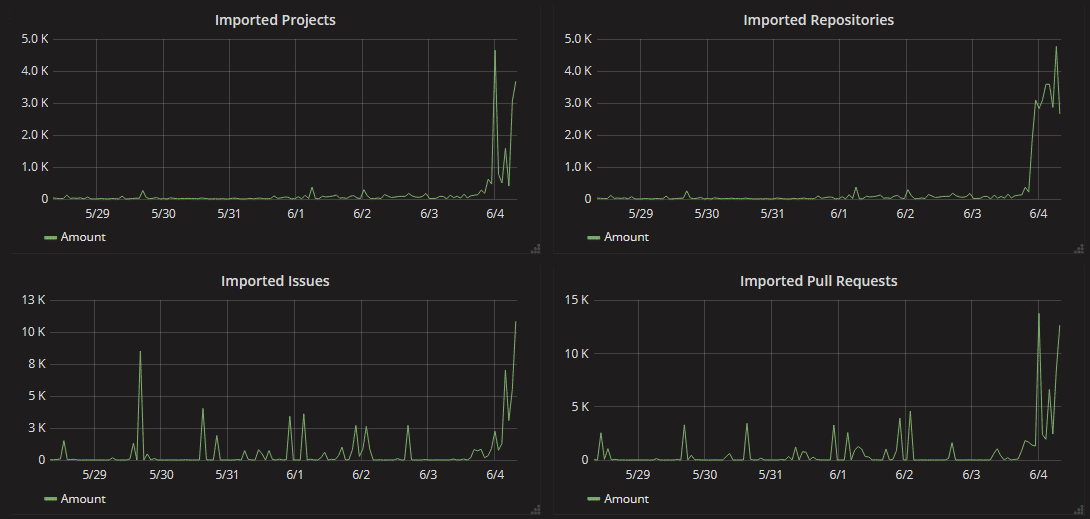 Code hosting service GitLab has seen a massive traffic spike after news broke over the weekend that Microsoft has agreed to acquire GitHub, the world's largest code repository.
According to Grafana, GitLab's statistics portal, thousands of projects and code repositories are being imported every hour. These numbers are only expected to grow as Monday comes around and most developers get back to work.
The number one fear expressed by companies and developers is that by buying GitHub Microsoft now gets full access to the millions of private projects that companies are currently hosting through GitHub's premium service.
GitLab is a dual free-commercial source code hosting service, similar to GitHub, but which also provides an open source version of the software that runs its platform.
Fellow code hosting services BitBucket and SourceForge are also trying to cash in on the mass GitHub exodus. GitHub allegedly hosts over 80 million code repositories and 27 million developer accounts.
Microsoft-GitHub deal to be announced today
Rumors of Microsoft looking to buy GitHub started popping up online on Friday. On Sunday, citing internal sources, Bloomberg reported that the deal was already done, and set to be announced on Monday.
The report said that GitHub execs opted to sell the company instead of attempting an IPO. GitHub was valued at over $2 billion in 2015, a sum that is now considerably larger.
Terms of the deal were not known on Sunday. Microsoft previously paid $26.2 billion for LinkedIn in 2016, and GitHub's price tag is expected to be in the same $10 billion - $20 billion range.
GitHub acquisition makes a lot of sense
Since Satya Nadella took over as CEO at Microsoft, the OS maker has been refocusing its efforts on strengthening its cloud-based services and having a larger presence on the open-source market.
The Redmond-based company has been slowly pulling out of the mobile and desktop software market, with clear signs that its abandoning tools like Windows, Skype, and others, in favor of Azure, Office 365, and its developer-centric services.
While devs and companies may be panicking because Microsoft has a track record of buying products that it doesn't necessarily need and then lets them die, GitHub actually fits in Microsoft's vision for the future of its business, where cloud and development tools have a primary role.
Microsoft has recently integrated several Linux distros to run on Windows 10 as virtual machines, has open-sourced its new scripting language PowerShell, has open-sourced parts of the Visual Studio code editor, and has become a behemoth on the open-source market.
But some users will never be convinced. That's why some of them started a petition to stop Microsoft from buying GitHub.
UPDATE [Monday, June 4, 09:00 ET]: The acquisition is now official. The price tag is $7.5 billion.