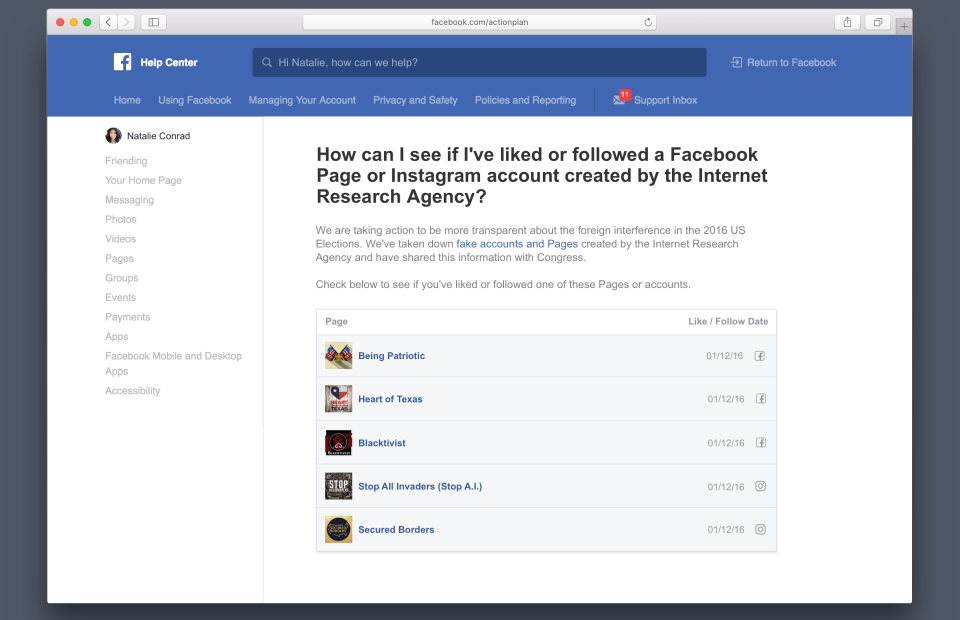 Facebook announced yesterday they would let users see what Facebook pages and Instagram accounts they followed that are linked to supposed Russian propaganda efforts.
By the end of the year, Facebook plans to create a Help Center page that will display a list of these now-suspended accounts. The page will be customized for each user and will list only the accounts he personally followed. The company released a mock-up of this page (image above).
This is a response to a request from Congress
The company took this step as part of a request from the US Congress. Facebook, Google, and Twitter have recently testified in front of the US Senate regarding Russia's meddling in the 2016 US presidential election.
All companies admitted that Russia-linked parties bought ads and created fake accounts on their networks to push divisive and incendiary topics such as race relations, religion, immigration, and gun rights. Some of the topics, ads, and discussions led to real-world protests, while others clearly skewed the voter's opinion towards Trump, albeit some ads also pushed users to vote Clinton.
The three companies also handed over some of the propagandistic ads to Congress, which later released the data to the public [1, 2].
Pages, accounts, and ads linked to Russian organization
Facebook said that as many as 126 million users were served posts on Facebook and 20 million users on Instagram. The company traced back a large portion of these ads to the Internet Research Agency, a Russian organization that is believed to have created fake accounts under US names to push Facebook pages, discussions on groups, and controversial ads.
The Facebook Help Center page the company is releasing will let users see what accounts linked to the Internet Research Agency they followed between January 2015 and August 2017.
The mockup doesn't reveal if users will be able to see exactly what posts they liked or ads they've seen.
"This is part of our ongoing effort to protect our platforms and the people who use them from bad actors who try to undermine our democracy," Facebook said. "It is important that people understand how foreign actors tried to sow division and mistrust using Facebook before and after the 2016 US election."
There are no details on how Google and Twitter are going to respond to Congress' request to inform users they've been manipulated.