Cloudflare has announced that they are expanding their domain registrar services so that all of their customers can register or renew a domain at cost. You heard me right. No more paying extra fees to register a domain. You pay what Cloudflare pays for a domain registration or renewal.
Cloudflare already acts as a registrar for their enterprise clients, but have now expanded their service so that all of their customers can use them to register new domains or manage existing ones.
"When we looked at the marketplace for domain registration, we were shocked at the deceitful pricing around a service that is really just a commodity," said Matthew Prince, co-founder and CEO of Cloudflare in a blog post. "We realized that the one thing every Cloudflare customer needs is a domain, so they needed a registrar they could trust. With Cloudflare Registrar, we're promising to offer our customers the best security practices at the best possible price. Our goal is simply to create the first domain registrar you can love."
As a registrar, for each domain that is registered, Cloudflare needs to pay a price to the company that manages the particular TLD. For example, when someone uses Cloudflare to register a .com domain, Cloudflare pays Verisign, who manages the .com TLD, $7.85 plus an ICANN fee of $0.18. This brings the total cost of a .com domain to $8.03.
While most registrars would then add some extra money to make a profit, Cloudflare has stated that they will only charge a customer what they themselves have to pay. So if they have to pay $8.03 for a domain, that is all their customers will have to pay as well.
Cloudflare has released the costs for registering .com, .net, .info, and .org domains. A .com domain would cost $8.03, a .net would cost $9.95, a .info would cost $11.02, and a .org would cost $10.11.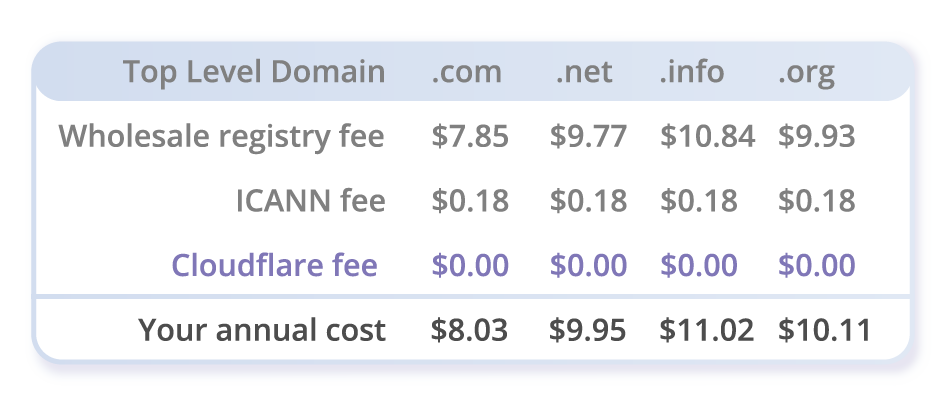 While saving money is always great, Cloudflare is also offering increased security for their customers. This includes two-factor authentication, DNSSEC, automatic domain lock, and free whois privacy.
For those who are interested in registering new domains or transferring domains to Cloudflare Registrar, Cloudflare is opening up their service to existing customers first to give them a chance to take advantage of these savings. As time goes on, this service will also be opened to others. For those who are interested in trying Cloudflare Registrar, you can sign up here.