Around 9% of today's most popular websites deployed or are deploying anti-adblock scripts in an effort to maintain advertising revenues and fight off the rise in the adoption of ad-blocking extensions.
The percentage comes from a research project carried out by academics from the University of Iowa and University of California-Riverside that reviewed the use of anti-adblock scripts in the past five years.
Researchers looked for two of the most popular anti-adblock solutions, namely Anti-Adblock Killer List and the Combined EasyList (Adblock Warning Removal List + Anti-Adblock sections in EasyList).
These are scripts that are loaded on a website that try to detect if the user is employing an ad-blocking extension and allows sites to show a notification through which they ask the user to allow ads on the site by disabling the ad blocker or by whitelisting the site.
5.2% of Alexa Top 100,000 sites using anti-adblock scripts
For their project, researchers scanned cached website copies stored in the Internet Archive's Wayback Machine for today's Alexa Top 5,000 Websites, looking for the two anti-adblock scripts named above.
We find that the Anti-Adblock Killer List triggers on 8.7% websites and the Combined EasyList only triggers on 0.4% websites currently. We further test both anti-adblock filter lists on Alexa top-100K live websites. We find that the Anti-Adblock Killer List triggers on 5.0% websites and the Combined EasyList only triggers on 0.2% websites.
The purpose of this research was to help academics understand how anti-adblocking scripts evolved over time.
The results showed an incremental rise in anti-adblocking scripts, in tune with the slow rise of ad blockers among Internet users, proving that the online advertising industry reacted immediately to the losses in revenue caused by ad blockers. Experts believe that between 30 and 40% of all Internet users are now using ad-blocking technologies.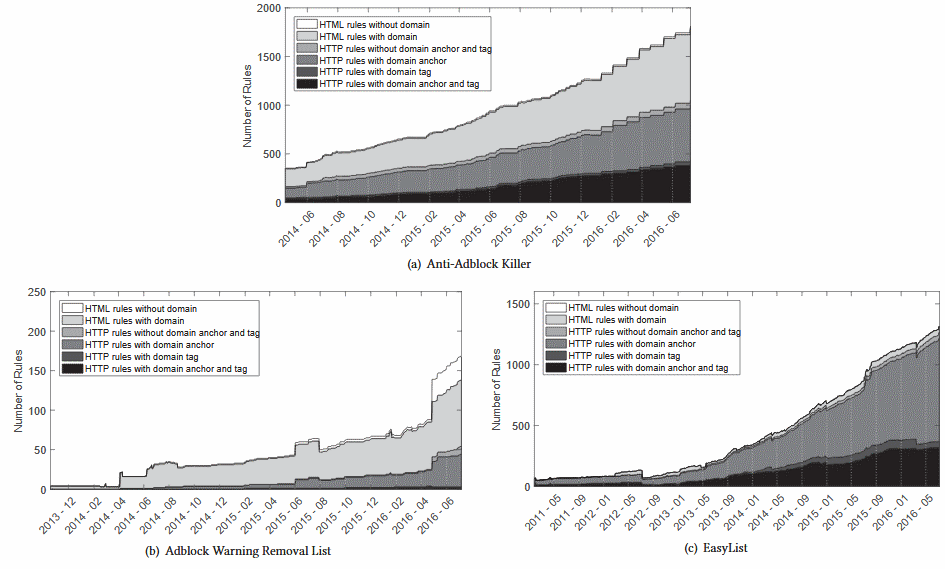 Previous research on the use of anti-adblock scripts
The research comes to complement previous work by the same research team on the subject of anti-adblock scripts. In a study released in 2016, experts found that 686 out of Alexa Top 100,000 websites visibly reacted to ad blockers and modified the HTML code they sent to users' browsers, altering their normal content.
Other research on the subject of anti-adblocker scripts has also been carried out by other research groups. For example, research published in May 2016 discovered that 6.7% of the Alexa Top 5,000 websites used anti-adblocking scripts.
Another research paper also published in 2016 discovered that 16.3% of the Top 1,000 most popular free live streaming sites used anti-adblocking scripts.
Browsers moving to incorporating ad blockers by default
The rising popularity of ad-blocking technology is also one of the reasons that browsers such as Brave, Cliqz, and Opera come with a built-in ad blocker component, and why Chrome will be shipping one next month, in February 2018.
Furthermore, ad blockers are also very popular because, besides ads, they also block ad tracking scripts, but also cryptojacking services such as Coinhive, Crypto-Loot, Minr, and others.
With revelations such as "Mobile Ads Can Be Weaponized to Track Desired Users for Less Than $1,000," "Popular Websites Are Recording Your Every Move," and "Web Trackers Exploit Flaw in Browser Login Managers to Steal Usernames," ad blockers —which are capable of thwarting these issues— are bound to become more popular as time goes by.
The technical details of the researchers' work are detailed in a paper named "The Ad Wars: Retrospective Measurement and Analysis of Anti-Adblock Filter Lists," presented at the Internet Measurement Conference (IMC) 2017, held in London in November 2017.