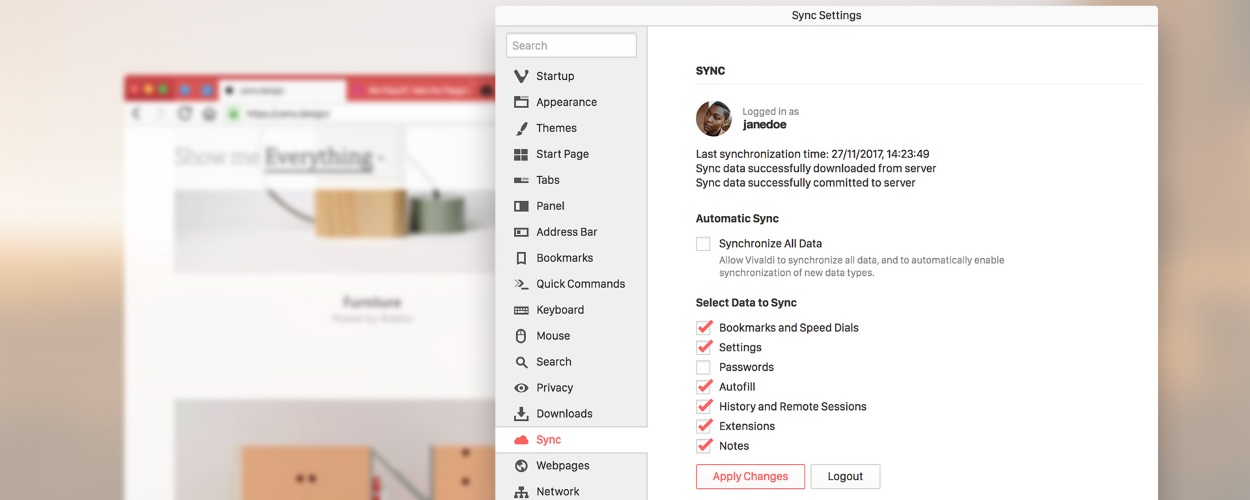 The developers of the Vivaldi browser have finally rolled out support for user data syncing in the browser's latest Snapshot version.
The feature, expected to land in the stable version of Vivaldi 1.14, has been the browser's top requested feature for quite some time.
Currently, the Vivaldi Sync feature can back up user data such as:
Bookmarks
Passwords
Browser settings
Browser extensions
Form autofill data
Browsing history
Remote sessions
Personal notes
Speed dial items
Vivaldi Sync is no way inferior to what Chrome and Firefox's synchronization systems also provide.
Synced data is encrypted with a separate password that users will have to set up, and then transferred to Vivaldi Software's servers.
To use the feature, users must own a Vivaldi Community account, which readers can get here. You can gauge Vivaldi's popularity among users by the fact that the registration page is currently flooded and spewing an error at the time of writing, a few hours after the Vivaldi team announced Sync support.
Albeit not a powerhouse on the browser market just yet, Vivaldi already has a rabid fanbase, mainly due to the browser's plethora of customizable settings and built-in features that no other browser can rival.
Work on the Vilvadi browser started in early 2015, and a first 1.0 stable version was released in the spring of 2016. The latest stable version is 1.13. The Vivaldi browser runs on the Chromium open-source project.
The Vivaldi team also recorded a video explaining how they built their Sync service.