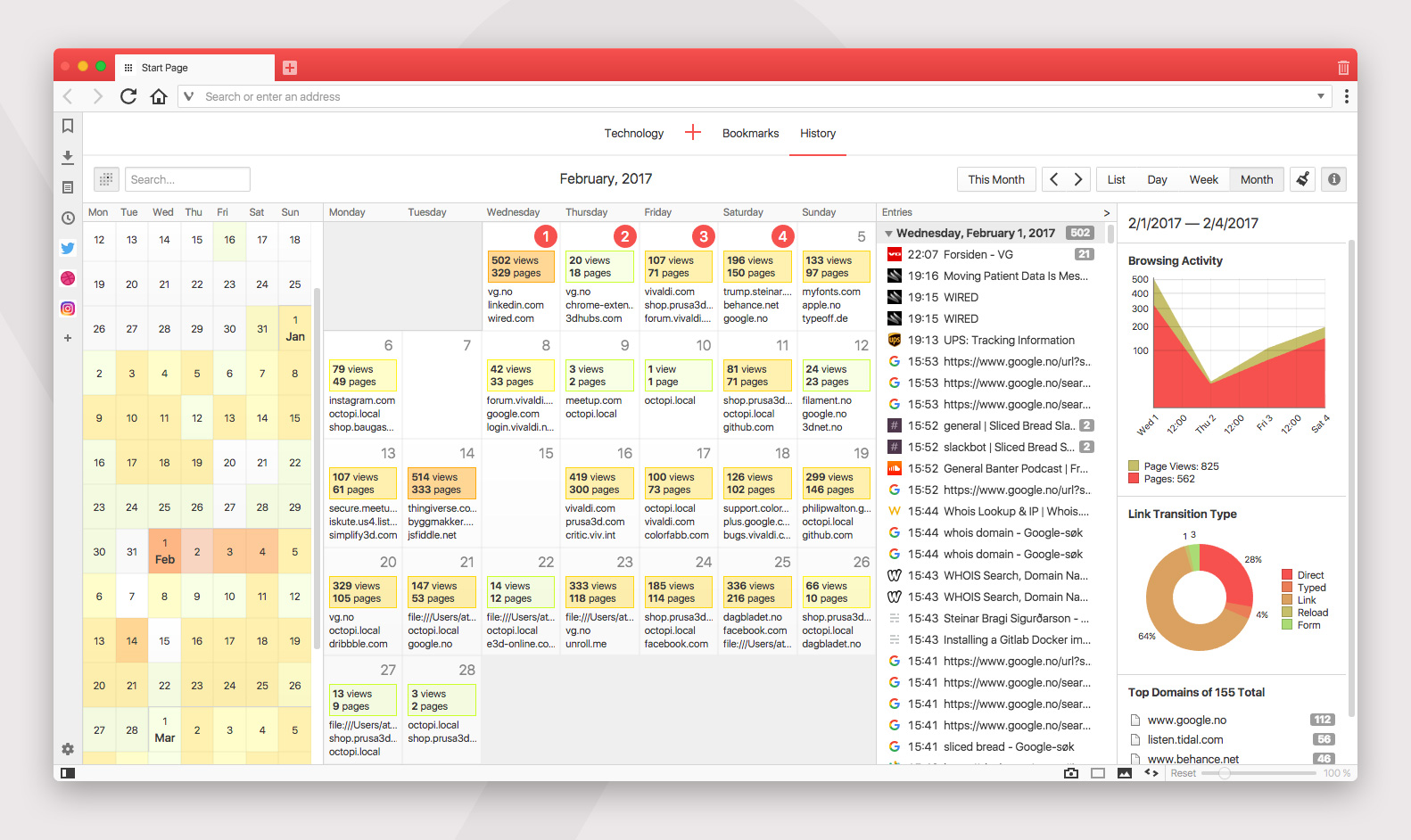 Once more, Vivaldi broke the classic browser model with the release of Vivaldi 1.8, its latest version, which now features a one-of-a-kind History panel, unlike anything you've seen in other browsers.
From Firefox to Chrome, and from Edge to Opera, feature a vertical list for their History sections. Using this vertical list is sometimes cumbersome, and rarely gets anything done.
While the History section in Chrome and Opera are somewhat acceptable, the History feature in Firefox, Edge, or IE is just unusable, forcing many users to use Google or Bing to find sites they visited in the past. This, in turn, generates revenue for the browser vendor, part of search deals signed with search providers.
Vivaldi 1.8 History panel features a calendar layout
The History section delivered with Vivaldi 1.8 is the Taj Mahal of all other History panels. There are vertical lists, a classic calendar layout, activity charts, statistics, several filters, a powerful search function, and support for drag&drop selections, which users can use and search for links only on specific days or weeks.
Overall, Vivaldi makes it comfortable to navigate links without creating bookmarks, as there will always be a way to rediscover those links in the History section. Below is a video presenting Vivaldi's new History feature.
"As a rule, browsers don't really want you to use [the] history [panel]," said Jon von Tetzchner, founder of Vivaldi Technologies. "They want you to search and find things multiple times because search royalties are part of their business model."
With the launch of this new feature, von Tetzchner also took the opportunity to remind users that "Vivaldi doesn't collect your history data."
The Vivaldi exec is trying to lure Opera users to Vivaldi after Opera Software sold its browser unit to a consortium of Chinese companies. Many Opera users now fear the new Chinese leadership might collect their browsing history and sell it to advertisers, albeit the company officially denied any such plans.
Von Tetzchner founded Opera in the 90s but later left the company to found Vivaldi.
Other Vivaldi 1.8 improvements:
Preference to enable or disable auto-updates on Windows.
Option to set the home page to Start page.
Ability to open links in the current tab from the right-click menu.
An option to display hibernated tabs in grayscale.
Matches are highlighted in the address bar drop-down menu.
Translation improvements for Chromium.
Image search from the right-click menu.
Create notes with drag-and-drop.
Advanced tab muting.