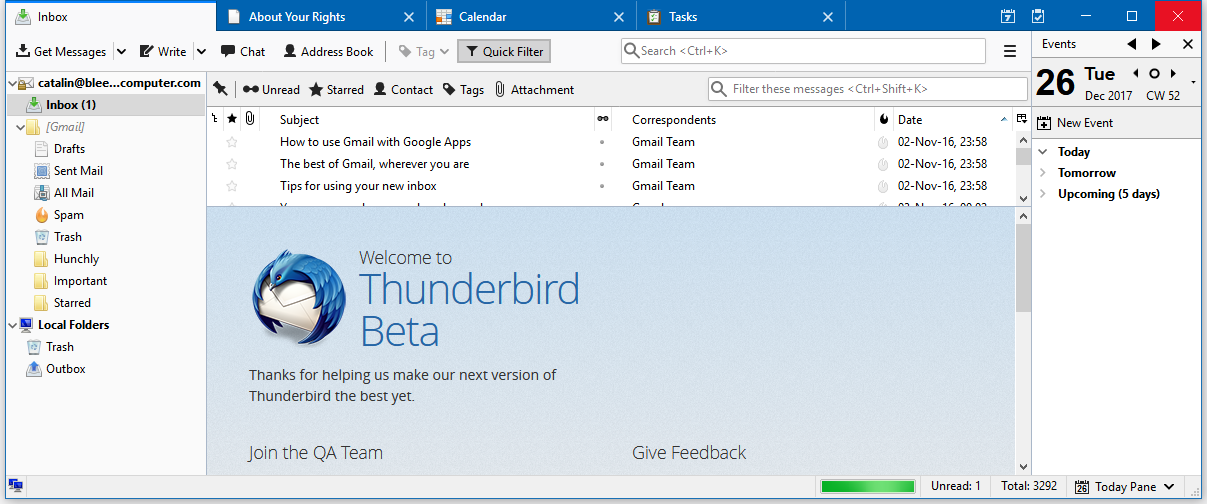 Mozilla announced last week plans to modernize Thunderbird's codebase, plans that include fixing some "technical debt" by incorporating the recent changes in the Mozilla engine into Thunderbird, adding a new user interface (UI), and phasing out old legacy add-ons that are built on the XUL and XPCOM APIs.
The changes are part of Mozilla's new plan for Thunderbird development, a project that it left for dead in 2012, but later decided to reinvigorate in 2016.
Back then, Mozilla tried to find Thunderbird a new home with three other open-source foundations but later decided in 2017 to spin it off into a separate legal entity that will be run and financed separately from the main Mozilla Foundation.
After setting all things in order on the management side, Mozilla has now announced how things are going to go on the technical side. According to information published last week, three things are going to take place in the upcoming months.
Upcoming Thunderbird changes
First, the new Thunderbird project will be hiring developers to catch up with all the recent updates added to the Mozilla engine, the core technology at the heart of Firefox and Thunderbird.
"The project is currently in the process of hiring developers to address some technical debt, fix some sore points in the software and transition the codebase from a mix of C++, JavaScript, XUL and XPCOM to be increasingly based on web technologies," said a Mozilla spokesperson.
Second, upcoming Thunderbird releases will feature the new Firefox user interface —named the Photon UI— that was recently launched with Firefox 57.
Third, because Mozilla is moving to the new core where web APIs play a more primordial role and where old C++-based systems play a smaller role, Thunderbird will have to follow on Firefox's footsteps and phase out the old XUL and XPCOM-based add-ons system.
Mozilla engineers have already started work on adding support for WebExtensions in Thunderbird, albeit there's no concrete deadline when this feature will land in a stable release, nor when Thunderbird will stop supporting legacy add-ons.
Mozilla engineers are currently providing information to add-on developers on how to migrate their add-ons to the new WebExtensions API, similar to how they've mentored Firefox add-on devs before the release of Firefox 57 (the first Firefox version that dropped legacy add-ons).
Thunderbird finally gets its own domain name
The current Thunderbird version is v52.5.2. Thunderbird will skip many stable branches when the new revamped version will be released. Thunderbird 58 Beta is the latest development version, and users can download it to test the new Thunderbird right now.
Furthermore, after years of being available for download only via the Mozilla Foundation website, as part of its move to a new legal entity, Thunderbird has now migrated to its own domain at thunderbird.net.