Users of the Firefox Xmarks bookmark syncing add-on are reporting various problems with the plugin, some of which include corrupted bookmarks, failed sync operations, or popup spamming.
According to user reports — and your reporter's own experience — the problems arose when Xmarks updated the add-on to version 4.5.0.4, the first version to work on the new WebExtensions API, Firefox's new add-on technology.
New add-on version failing to sync bookmarks
Since then, Firefox users have reported a wide range of problems, but among which the biggest was the fact that Xmarks was not syncing bookmarks as it should.
The problems did not manifest the same way for all users. Some users said the add-on stopped syncing new bookmarks altogether, some reported corrupted links, others said they lost all bookmarks, while other reported that only a small portion of new bookmark URLs was being added to their Xmarks account.
Other users had different gripes. For example, some users complained the new Xmarks being an inferior version that removed features compared to the old Xmarks add-on built on Mozilla's former XUL-based technology.
"Settings are horrible," said an anonymous user. "There is no more any option to clearly specify only bookmarks upload during everyday sync!"
Add-on is now spamming users
In addition, other users reported receiving an unending wave of popups asking users to log in.
"It asks me to log in all the time. By the time I have finished browsing for the evening, I have around 15 popup windows from Xmarks asking me to log in," said another Firefox Xmarks user.
This reporter experienced the same wave of interminable login popups — even if logged in — last week. Below is a screenshot with the popups that appeared in a 30-minute interval.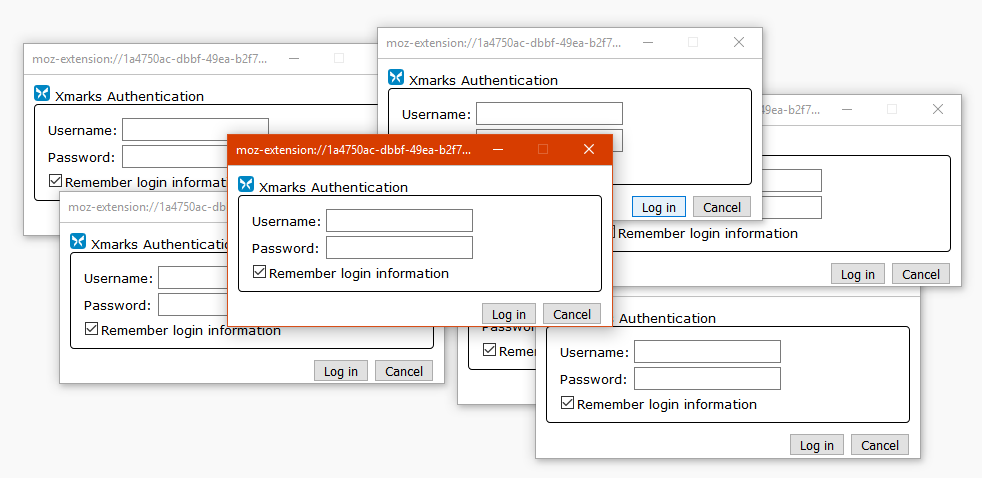 Xmarks could not be reached for comment. The Xmarks service provides cloud-based bookmarks synchronization services among different browsers such as Firefox, Chrome, Safari, and Internet Explorer.
The add-on was formerly known as Foxmarks and was acquired by LastPass in 2010. LogMeIn bought LastPass in 2015, and indirectly the bookmark syncing service.
Xmarks for Firefox has around over 163,000 users, while Xmarks for Chrome has over 427,000 users. While some Chrome users reported issues in the last few days, the number of complaining Chrome customers is nowhere near the number of disgruntled Firefox users.
Although we have no confirmation from Xmarks just yet, common sense dictates that the issues are most likely due to the add-on's first WebExtensions-based codebase, issues that will most likely be fixed.
In the meantime, Xmarks users can use Firefox's built-in Sync tool to synchronize and back up their bookmarks, a feature Mozilla added to Firefox after seeing Xmark's popularity, and after Google added a similar feature to Chrome.