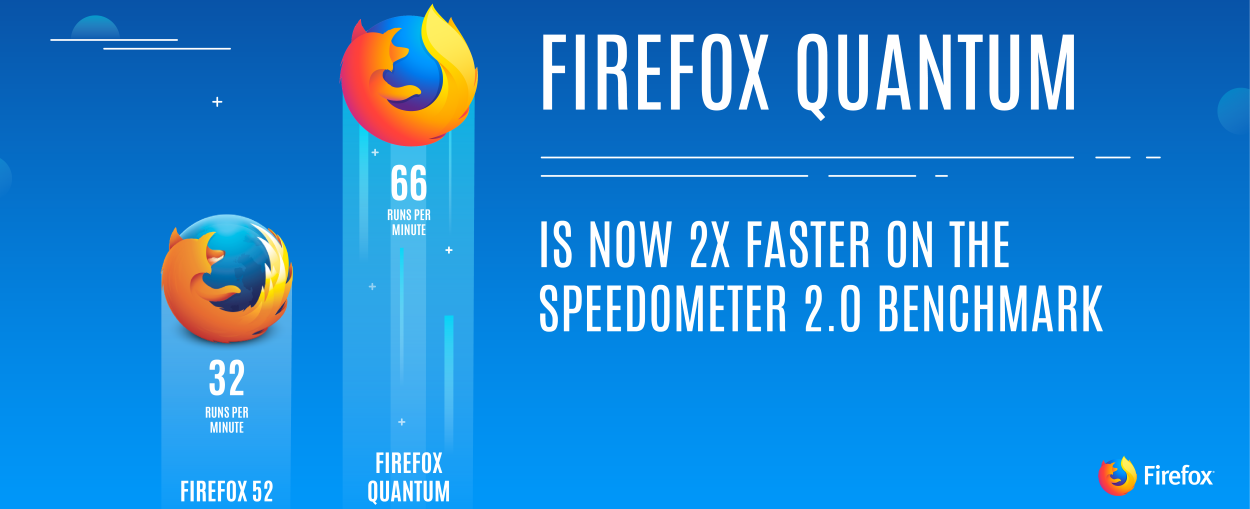 Mozilla released earlier today the first beta versions of Firefox 57 that come with a new user interface — codenamed Photon — and a new core engine — codenamed Quantum.
For the people who lost track of Firefox releases, version 57 is the Firefox release that will make or break the browser's future.
There are many new features scheduled for the stable version of Firefox 57, and many features introduced in previous releases will now be used at their full potential.
New browser core engine
For starters, the biggest update is under the hood. Firefox 57 will feature a new core engine that has slowly replaced parts of the ancient Gecko engine in previous Firefox releases.
This new engine is named Quantum and was announced last year as a savior for Firefox's sluggish Gecko engine that was built two decades ago, in 1997, for the now dead Netscape browser.
The new Quantum engine is coded in C++ and Rust, just like Gecko, but Rust is Quantum's main language, not C++.
Mozilla tested Quantum's performance inside an experimental browser called Servo, and during the past year, it has taken small parts and replaced Gecko's components with Quantum equivalents.
For example, Mozilla replaced Firefox's Gecko CSS engine with Quantum CSS (aka Stylo) last month in August. This has been happening all last year, and Firefox engineers have described the process as "replacing a jet engine while the plane is still in flight."
According to Mozilla, Quantum's addition has made Firefox 57 Beta and Firefox 57 Developer Edition twice as fast as Firefox 52, the Firefox version released a year ago.
Mozilla attributes the speed boosts in Firefox 57 to previous features it added last year, such as support for multiple processes, which has allowed to split processes across all cores and cut down on RAM use by 30%.
In addition, Mozilla engineers said they fixed 468 small bugs in the past year alone, bugs which engineers claim were insignificant but were hampering overall performance, akin to death by a thousand papercuts.
"Today's release is a major milestone in Project Quantum, but we're not done," said Dan Callahan, Engineer with Mozilla Developer Relations.
"Future releases of Firefox will include Quantum Render, a brand new, GPU-optimized rendering pipeline based on Servo's WebRender project, and Quantum DOM Scheduler, a new technique that ensures that tabs in the background can't slow down your active tabs."
Firefox gets a facelift
The second main feature added in Firefox 57 Beta and Developer Edition is the Photon user interface, a new look for the entire browser.
Mozilla announced the Photon UI last year, and early sketches came to light in April this year. Since August, the Firefox Nightly edition provided an early look at Firefox's new UI, but now Photon has been added to the Beta and Developer Edition releases.
According to Mozilla, the new UI comes with support for High DPI displays and better handling on touch-enabled devices.
Right now, Firefox 57 — set for release on November 14 — looks like a groundbreaking and highly anticipated release. Unfortunately, things aren't that rosy, and some users look at the November 14 release date with fear.
The reason is that Firefox 57 will replace the old Add-ons API with the new WebExtensions API. This means that legacy add-ons that have not been ported to Firefox's new add-ons technology will stop working.
At the time of writing, there are only 4,609 Firefox add-ons marked as supporting Firefox 57 on the Mozilla Add-ons portal from a total of nearly 19,000. That's only around 25% of all legacy plugins, meaning that nearly 75% of all Firefox add-ons won't be available to users on the new version.
Fortunately, not all user use add-ons. According to anonymous telemetry data, 40% of Firefox users do not have add-ons installed on their browser.