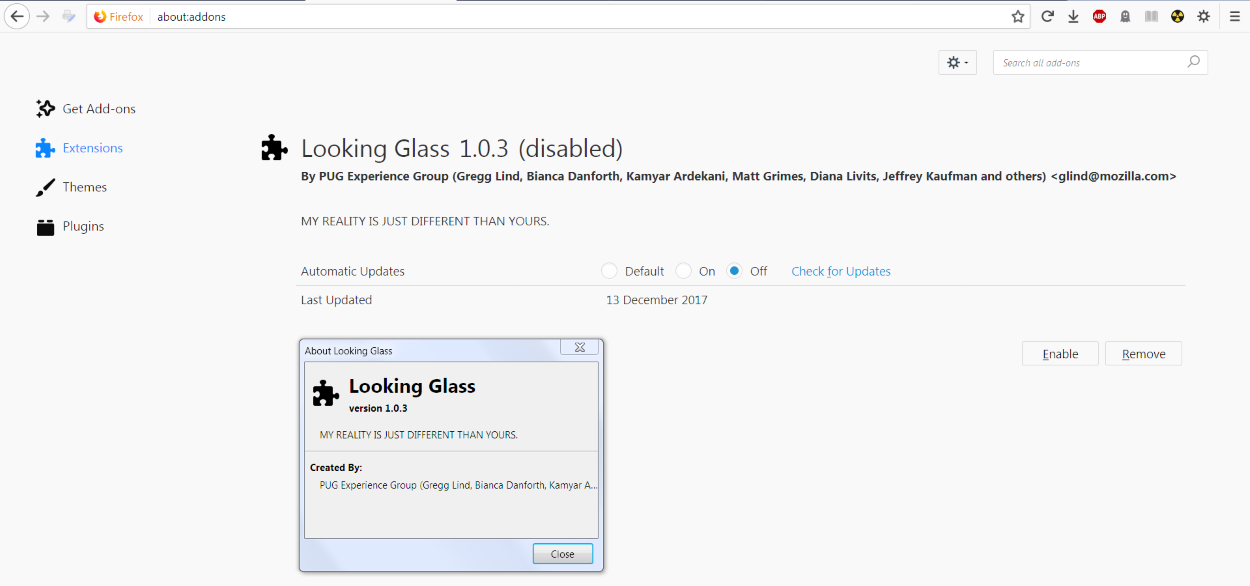 Mozilla took a bit of heat this week after the organization force-installed a Mr. Robot promotional add-on in some Firefox browsers.
The add-on, called Looking Glass, was intended to promote the season 3 finale of Mr. Robot that aired on Wednesday, December 13, but the whole media stunt failed miserably.
Instead, users were extremely ticked off that Mozilla had the audacity to push a promo add-on without permission in their browsers [1, 2, 3].
The ones that weren't pissed off were confused, as the add-on had a cryptic name and description, and it took a lot of googling to figure out what the new add-on was about.
Mozilla admits to media stunt
"Firefox and Mr Robot have collaborated on a shared experience to further your immersion into the Mr Robot universe, also known as an Alternate Reality Game (ARG)," Mozilla explained in a knowledge article.
"The Mr. Robot series centers around the theme of online privacy and security. One of the 10 guiding principles of Mozilla's mission is that individuals' security and privacy on the internet are fundamental and must not be treated as optional. The more people know about what information they are sharing online, the more they can protect their privacy," Mozilla also added, trying to explain its decision.
It is unclear what the add-on did, as most users disabled and removed it from Firefox right away. Looking at its source code, available on GitHub, the add-on was supposed to trigger only on three very obscure URLs.
"https://www.red-wheelbarrow.com/forkids/*",
"https://www.whatismybrowser.com/detect/*",
"https://red-wheelbarrow-stage.apps.nbcuni.com/forkids/activitysheet/"
Mozilla force-installed this add-on via Firefox Studies, a Firefox feature that allows Mozilla to run experiments in users' browsers. According to a test carried out today by Bleeping Computer, the Firefox Studies feature is turned on by default for all new Firefox installs.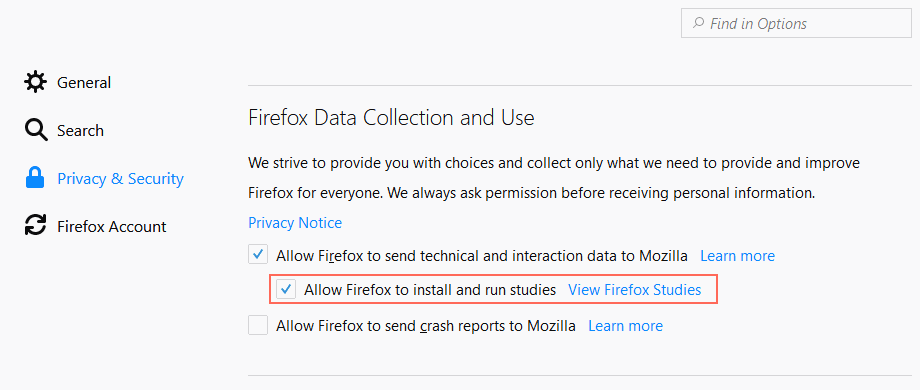 At the time of writing, the study that shipped the Looking Glass add-on is marked as "complete" in the Firefox about:studies section. This was most likely disabled after Mr. Robot season 3 completed on Wednesday night.

Users who don't agree with Mozilla's abusing the Studies feature to deliver ads should disable it in their Firefox browser's settings panel.
We can't blame Mozilla for running ads in its browser. Nothing is actually free. But we do expect better execution and a little bit more clarity. All that the recent media stunt achieved was to tick off a lot of Firefox users, most who probably never watched Mr. Robot and wouldn't have been able to make the connection that the add-on was a promo and got a scare believing they got infected with malware.