In less than a week, Mozilla will flip the switch on a completely new browser with the release of Firefox 57, a version that's been rebuilt with a new browser engine core, a new user interface, revamped settings panel, and with a new add-ons API.
Firefox 57 is the end of the road of a few Mozilla internal projects that aimed to fix most of Firefox's previous problems, such as speed and frequent crashes that have driven users to other browsers.
But all these internal changes will also create some strife and problems for some Firefox users. Before users update, they'll need to know some of the issues Firefox 57 fixes ... and inadvertently causes.
The "add-ons" problem
The biggest issue that's bound to arise next week is related to Firefox's new add-ons system — the WebExtensions API.
The new WebExtensions API is compatible with the WebExtensions standard support by all Chromium-based browsers (Chrome, Vivaldi, Opera), and the new Microsoft Edge browser, meaning developers of some Chrome extensions may soon port their add-ons to work on Firefox.
Mozilla announced support for the WebExtensions API in the summer of 2015, and it shipped the new API into production with Firefox 48, released in August 2016.
Starting with version 57, Firefox will only support add-ons built on this new API and will drop all support for the old XUL-based add-ons technology that it inherited from the old Netscape project.
Mozilla's change to supporting only WebExtensions add-ons means that next week, Firefox users will have to find alternatives for all the legacy add-ons build on the old Add-ons SDK.

Mozilla will make things more helpful next week as it will change the Mozilla Add-ons portal to list only WebExtensions-compatible add-ons by default.
Currently, only about 6,000 of Firefox's estimated 20,000 add-ons have been ported to the new API, meaning some hardcore users will be left out in the cold without an alternative for their current add-ons.
These users will be put in the unfortunate situation of having to choose between running Firefox without their favorite add-ons or finding a new browser where similar add-ons exist.
You can sift through a list of WebExtensions add-ons and look for alternatives right now by accessing the Firefox57 tag on the Mozilla Add-ons portal.
As for the actual migration process, when users update to Firefox 57, they'll only see WebExtensions-based add-ons in the add-ons section, while a old legacy add-ons will be moved to a new section called "Legacy Extensions." The screenshots below show what users will see next week.


New browser engines
Firefox 57 will also be the first Firefox version to support the new Quantum engine. Announced last year, the Quantum engine replaces some parts of the old Gecko engine with new components written in a mixture of Rust and C++.
The process of slowly replacing parts of the Gecko engine started last year, in a situation that Mozilla engineers described as "replacing a jet engine while the plane is still in flight."
For example, Mozilla shipped its first Rust component last summer, replacing Firefox's media stack with a Rust-based module, and later replaced Firefox's Gecko CSS engine with Quantum CSS (aka Stylo) in August this year.
Firefox 57 will include more Project Quantum code, such as Quantum Render, a brand new, GPU-optimized rendering pipeline based on Servo's WebRender project, and Quantum DOM Scheduler, a new technique that ensures that tabs in the background can't slow down the user's active tabs.
Mozilla claims that all these changes have resulted in considerable speed boosts to Firefox's boot-up and browsing behavior, although this claims should be taken with a grain of salt, as all browser makers say the same thing when they launch a new version.
New browser UI
Besides a new engine under the hood, Firefox 57 will also sport a new user interface. This new UI is the product of Project Photon, a project started about the same time with Project Quantum.
The new Photon UI features a new browser UI, a new settings panels, a new tab page, and new sidebar panel UIs.
Also starting with Firefox 57, new Firefox installations will disable the search widget that used to appear in the top right corner of the old Firefox UI, an iconic part of the browser's old interface. The good news is that users can re-enable the old search widget if they wish from the settings panel.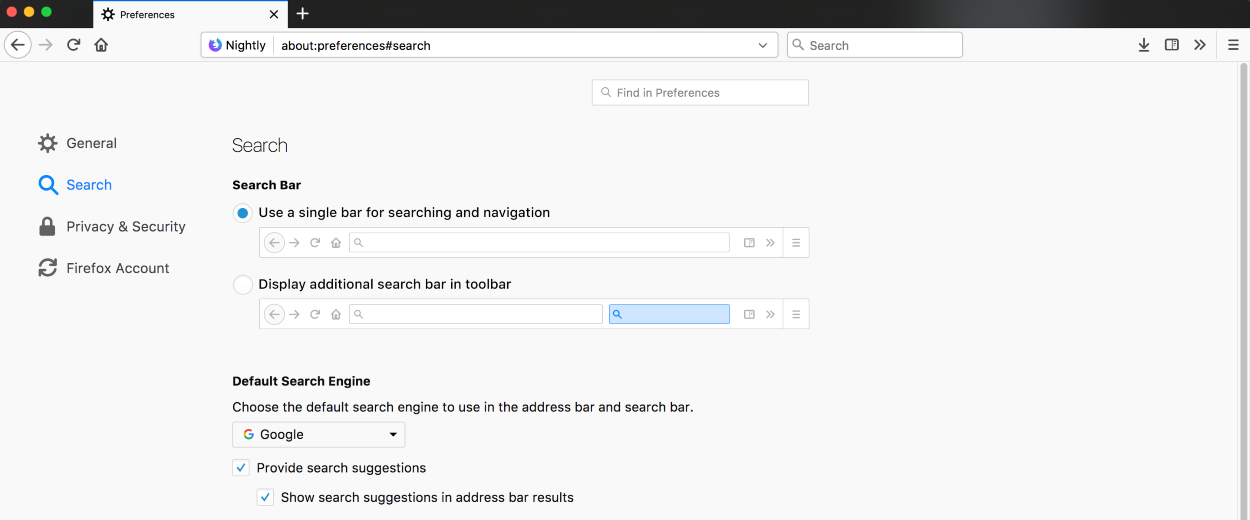 The planned UI changes are most likely to annoy some Firefox users because the Classic Theme Restorer Firefox add-on will also stop working, meaning users won't be able to control how their browser UI looks.
If you're not a fan of the new UI, better start looking at other browsers today. Users can preview the new UI by installing Firefox Nightly.
On top of the above groundbreaking changes, there are also smaller modifications being added in Firefox 57, like the option to enable Tracking Protection all the time, and security improvements that prevent malicious apps from spying on Firefox users via accessibility services.
Mozilla plans to release Firefox 57 — codenamed Firefox Quantum — next week on Tuesday, November 14.