Mozilla developers are working on an improved Tracking Protection system for the Firefox browser that will land in version 63, scheduled for release in mid-October.
Tracking Protection is a feature that blocks Firefox from loading scripts from abusive trackers. It was first launched with Firefox's Private Browsing mode a few years back, but since Firefox 57, released in November 2017, users can enable it for normal browsing sessions at any time.
But Tracking Protection is not enabled by default, and to enable the protection for normal browsing sessions, users must visit Firefox's Settings >> Privacy section, and press an on/off button.
Firefox moves Tracking Protection centerstage
Because it's buried deep in Firefox's settings, very few people even know it exists, let alone that they can use it outside of Private Browsing windows.
To promote this feature with users, Mozilla engineers are currently working on changes to the Firefox user interface to allow anyone to enable Tracking Protection at any time from various areas of the Firefox UI.
These include the drop-down security panel that shows HTTPS information or the drop-down menu that can be triggered from the top-right side of the browser.
Cryptojacking protection arrives in Firefox 63
But besides the changes to the UI, Firefox devs have also worked at improving its capabilities. The Firefox browser's Settings >> Privacy section now features an enhanced Tracking Protection panel that also allows users to select what anti-tracking features they can enable.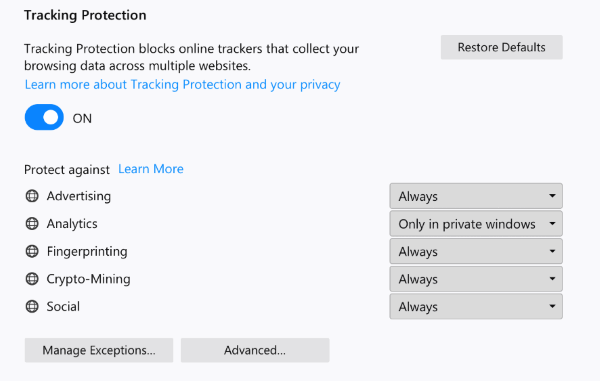 While Tracking Protection has always blocked advertising, analytics, and social sharing scripts, with Firefox 63, Tracking Protection will also receive support for blocking user fingerprinting scripts and in-browser miners (also called cryptojackers).
Mozilla told Bleeping Computer in an interview in March that anti-cryptojacking protection was coming to Firefox, but now we know when —Firefox 63.
An easier way to clear cookies
Last but not least, Mozilla engineers have also simplified the process of clearing cookies in Firefox. Starting with Firefox 63, you can now clear cookies and site data for a website directly from the security panel that appears whenever a user clicks the info/lock icon in the address bar.
The new button will read "Clear Cookies and Site Data..." and it will show up at the bottom of the security panel —the panel used to show SSL certificate information.
These features are also detailed in a Firefox design doc embedded below, and anyone can preview the UI changes right now by installing and using Firefox Nightly.