Mozilla announced this week plans to show sponsored content to US users starting with the release of Firefox 60.
The sponsored content will appear as suggested stories inside Firefox New Tab page. The stories will be pulled from Pocket's recommendation list.
The Mozilla Foundation acquired Pocket (formerly known as Read It Later), a service for managing article reading lists, in February 2017.
Mozilla has been testing sponsored content in Firefox Nightly and Beta versions for a few months.
Mozilla won't share any data with advertisers
In a blog post this past week, Mozilla's Nate Weiner said the organization plans to roll out sponsored content without sacrificing users' privacy.
"All personalization happens on the client-side, without needing to vacuum up all of your personal data or sharing it with others," he said.
Mozilla said advertisers promoting stories this way won't receive any user data, such as age, gender, location, etc., but only story impressions and user clicks.
Users will be able to turn off sponsored content. All they have to do is press the cog wheel icon in the upper-right corner of the Firefox 60 New Tab page, and then uncheck the option that reads "Show Sponsored Stories."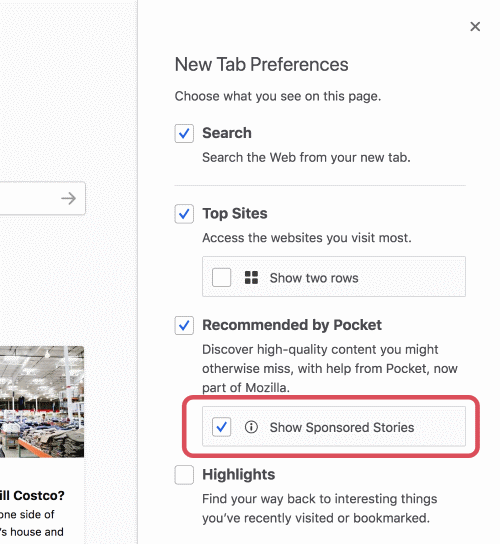 Firefox 60 is scheduled for release next week, May 9, 2018.
This is not Mozilla's first rodeo at showing sponsored content. The organization had previously shown "sponsored tiles" from 2014 to 2015, when it dropped the feature without an explanation.