The Mozilla Foundation has made Firefox 58 files available for download on its official FTP servers. An official announcement will be made later today when the organization will also release the final changelog.
Firefox 58 marks the first major release since mid-November last year, when Mozilla released Firefox 57, a version that overhauled large parts of the Firefox codebase, including its old add-on system, with Mozilla choosing a new system based on the Chromium-compatible and standardized WebExtensions API.
Work has continued on improving Firefox performance
These changes have continued two months later, in today's Firefox 58 release. Except for a few changes to Firefox's settings panel, most of the new Firefox features are under the browser's hood.
For example, Firefox 58 comes with a new feature called Off-Main-Thread painting, which are improvements to Firefox's built-in graphics engine.
There is also a new system called the JavaScript Startup Bytecode Cache (JSBC) for improving the browser startup time, and the integration of WebRender, a new web-rendering engine initially developed for Mozilla Servo testbed browser, and which has now been integrated into Firefox. Other under-the-hood feature improvements are detailed here.
Changes on the UI side
On the UI side, Firefox 58 includes support for auto-filling credit card details, a feature that users can disable or enable from the Privacy section of the browser's settings panel.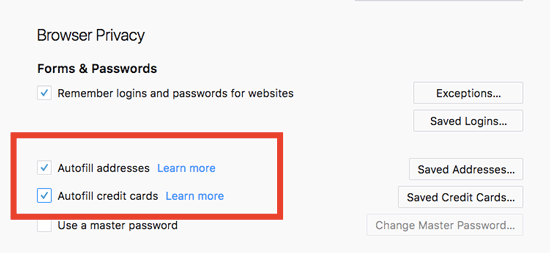 Changes have also been made to the Firefox screenshot tool, which can now copy-paste screenshots directly to the OS clipboard, and the screenshot tool (aka Firefox Screenshots) now also works in Private Browsing mode.
Firefox 58 is also the version where Mozilla scheduled to block user fingerprinting attempts via the HTML5 canvas element. More details are available here.
Engineers also rolled out a security-related change: Firefox 58 being the first Firefox version that blocks users from accessing "data:" URLs in certain conditions, to safeguard users from a well-known phishing attack scenario.
Other changes:
Added Nepali (ne-NP) locale
Fonts installed in non-standard directories will no longer appear blank for Linux users
User profiles created in Firefox 58 (and in future releases) are not supported in previous versions of Firefox. Users who downgrade to a previous version should create a new profile for that version. Learn about
alternatives
to downgrading on our support site.
Added a warning to alert users and site owners of planned security changes to sites affected by the
gradual distrust plan
for the
Symantec certificate authority
Implemented the
PerformanceNavigationTiming API
Added
PerformanceResourceTiming.workerStart
so sites can measure service worker startup time
Users running Firefox for Windows over a Remote Desktop Connection (RDP) may find that audio playback is disabled due to increased security restrictions.
Learn how to mitigate this issue
until it is corrected in an upcoming release.
Users running certain screen readers may experience performance issues and are advised to
use Firefox ESR
until performance issues are resolved in an upcoming future release
Security related changes
.
Article updated with link to official announcement.