Firefox 57, scheduled for release next week, will add a new option to allows users to turn on the browser's Tracking Protection feature all the time, not just in Private Browsing mode.
Tracking Protection is a feature that Mozilla added to Firefox Desktop and Firefox Android in the summer of 2015, with the release of Firefox 42.
The feature works by blocking the loading of known tracking scripts, and is similar to an ad blocker, with the only difference that it may allow ads to show if they don't track users.
Despite being very popular among users, Mozilla never made Tracking Protection available for everyone, but only kept it bottled inside Firefox's Private Browsing mode.
Always-on Tracking Protection already live in Firefox Nightly
According to a thread on the Firefox bug tracker closed over the weekend, Mozilla engineers have added an option in the Firefox settings section that will allow users to enable Tracking Protection at all times, even in normal browsing mode.
This new options page is already available for testing in Firefox Nightly (screenshot below).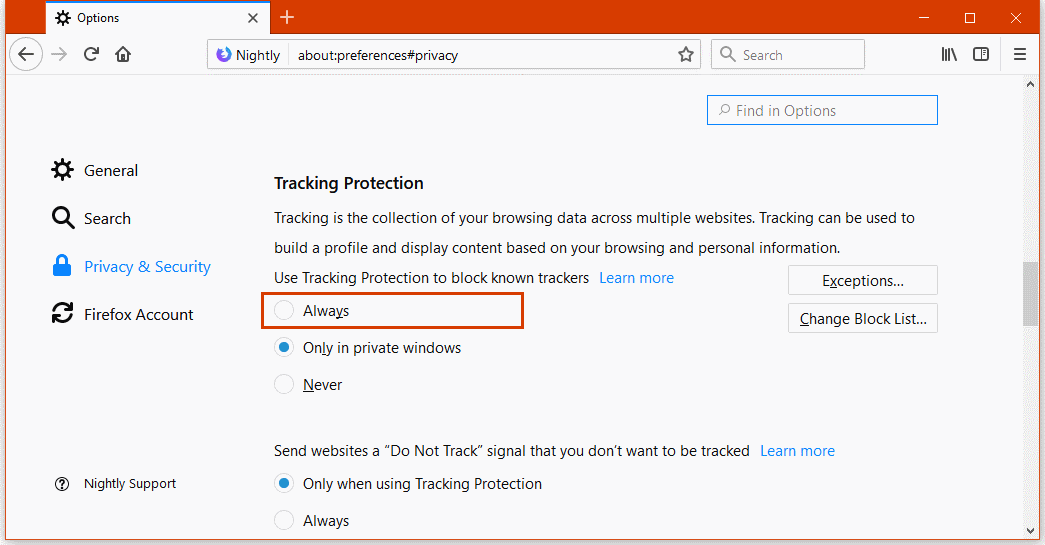 If users don't want to wait for Firefox 57, they can enable the new UI right now by typing "about:config" into their URL bar, searching and double-clicking on the "privacy.trackingprotection.ui.enabled" option.
Tracking Protection already plays a big role at Mozilla. For example, the new Firefox Focus lightweight privacy-first browser (for iOS and for Android) is built around an having Tracking Protection always on.
Mozilla slowly switching to a privacy-first state of mind
According to a Mozilla developer who spoke with Bleeping Computer, the move to enable Tracking Protection comes as the Mozilla Foundation tries to reposition itself as a privacy-first organization, similar to the Tor Project.
In fact, Mozilla has already implemented two privacy enhancing features from the Tor Browser, such as the ability to block websites that try to fingerprint users using fonts (added in Firefox 52), and HTML5 canvas (to be added in Firefox 58).
Mozilla's switch to becoming a privacy-first organization comes as the Foundation is trying to regain some of its lost userbase through a complete overhaul of its Firefox browser.
The option to always use Tracking Protection will be part of Firefox 57, the groundbreaking Firefox release that also replaces a large part of Firefox's internal engine and deprecates old legacy add-ons in favor of the new Chrome-compatible WebExtensions add-on technology.