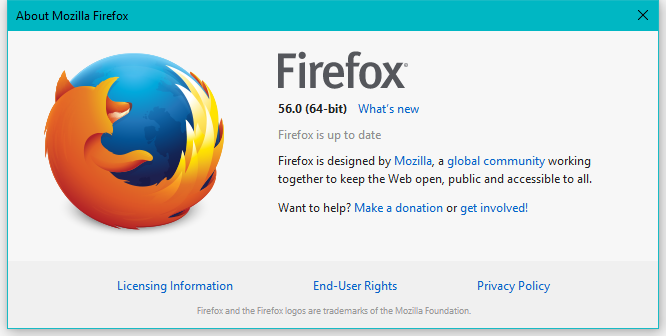 Later today, Mozilla is scheduled to announce the public availability of Firefox 56, its latest browser release. As is its custom, the Foundation made available Firefox 56 on its FTP servers a day earlier.
Based on previous beta changelogs and a manual inspection, this version comes with changes to the browser interface, while changes for the browser's internals have been left for the next release, Firefox 57, to be released on November 14.
You can read about the major breaking changes scheduled for Firefox 57 in our article about Firefox 57 Beta, here.
Screenshot tool is finally available to everyone
As for Firefox 56, the first thing that's going to jump out of the page is the addition of a new icon in the browser's UI. This new icon is for Firefox's built-in screenshot utility.
Technically speaking, Mozilla officially released the Screenshot tool in Firefox 55, but it never made it available to all users. Only a few received it via version 55, as engineers tested its performance. Now, the feature is available to everyone.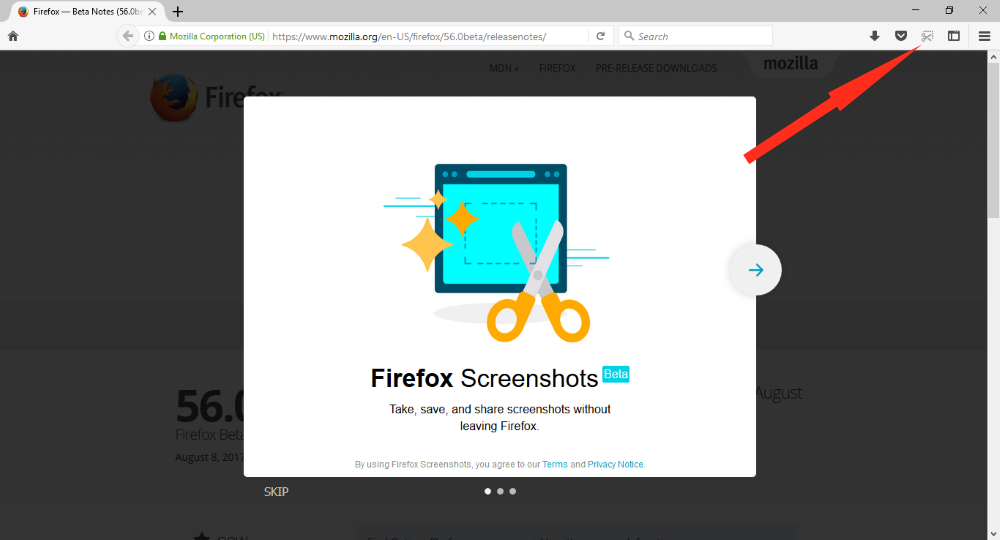 On a side note, Opera released version 48 yesterday, which also features a built-in screenshot utility. Vivaldi also has a built-in screenshot tool since version 1.7, released in February.
New settings panel
The second major change is harder to spot. This is because it's in the options panel, where Mozilla re-organized all settings. From the previous eight, users now have four: General, Search, Privacy & Security, and Firefox Account.
Mozilla also added a "Search" field in the settings panel, similar to the one used by Chromium-based browsers, which allows users to find the settings they want much faster and without blindly opening all sections and panels.
In Firefox 57, Mozilla will also release a new UI for this panel, and the whole browser for that matter, codenamed Photon.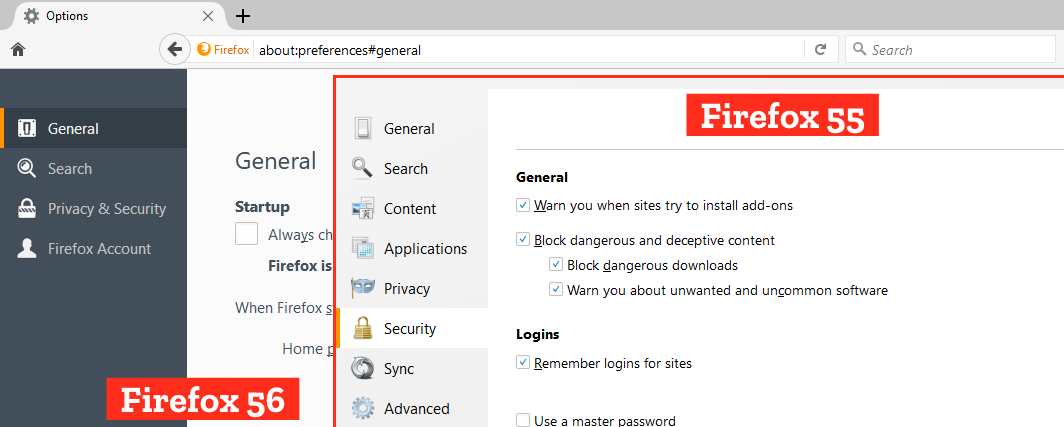 Last but not least, Mozilla will start blocking all media when opening background tabs. Google recently announced a similar decision to mute all sites with auto-playing sound by default, but this feature will be added to Chrome Stable at the end of January 2018.
Firefox 56 will also come with security fixes, but a detailed list of issues will be published in the following days, as most Firefox users are moved to the latest stable version.