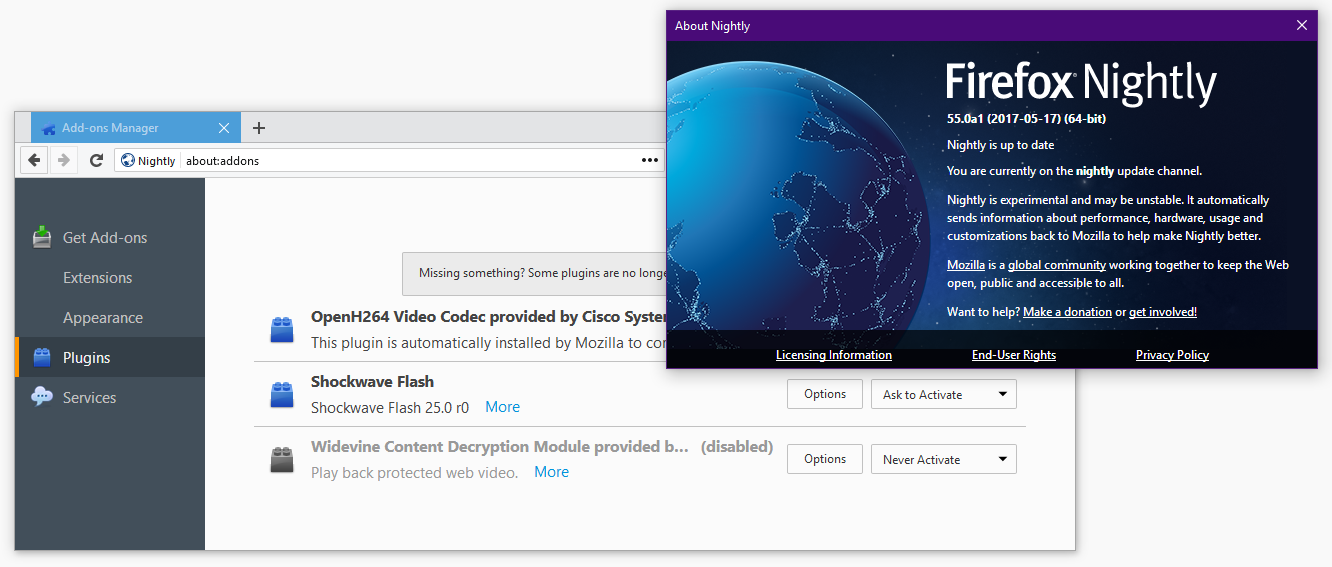 Starting with the release of Firefox 55, the Adobe Flash plugin for Firefox will be set to "Ask to Activate" by default for all users.
This move was announced in August 2016, as part of Mozilla's plan to move away from plugins built around the NPAPI technology.
Flash is currently the only NPAPI plugin still supported in Firefox, and moving its default setting from "Always Activate" to "Ask to Activate" is just another step towards the final step of stop supporting Flash altogether.
This new Flash default setting is already live in Firefox's Nightly Edition and will move through the Alpha and Beta versions as Firefox nears its v55 Stable release.
By moving Flash to a click-to-play setting, Firefox will indirectly start to favor HTML5 content over Flash for all multimedia content.
Other browsers like Google Chrome, Brave, or Opera already run Flash on a click-to-play setting, or disabled by default.
Furthermore, also starting with Firefox 55, Mozilla will block Flash from loading content from any other URL scheme outside HTTP and HTTPS. This means Flash won't load and play local file:// SWF files or SWF files loaded from FTP or other protocols. Mozilla said this was a security improvement, a move to prevent browser exploits.
According to a release plan on the Mozilla wiki, Firefox 55 is currently scheduled to be released on August 8, 2017.