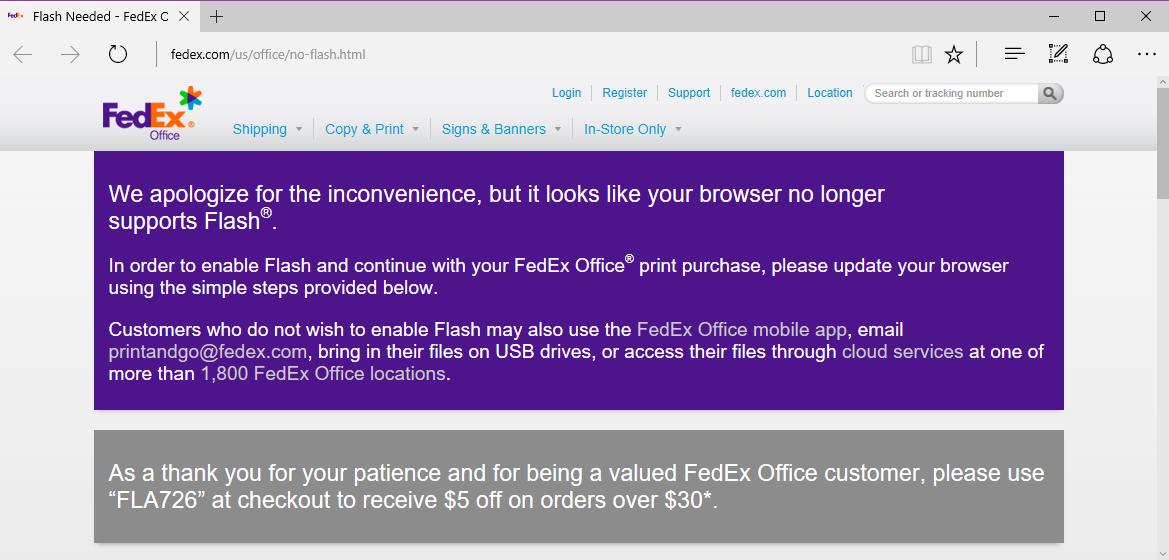 In an era of the Internet when most browser vendors are taking steps to migrate away from Flash and all security experts recommend you blast that piece of insecure junk software off your computer, the nice people at FedEx are giving you a $5 promo code to (re)install or reactivate it in your browser.
Since last week, the FedEx online printing portal sports a new message that reads:
We apologize for the inconvenience, but it looks like your browser no longer supports Flash®.

In order to enable Flash and continue with your FedEx Office® print purchase, please update your browser using the simple steps provided below.
The website then goes on to present instructions on how to install or activate Flash in Chrome and Safari on macOS.
More prepostorous, FedEx is recommending that users select the "Always allowed to run" option, which will automatically turn Flash on for all websites users visit.
"Flash lovers" get a $5 discount
As a thank you for their efforts, FedEx says customers can use the "FLA726" promo code on the website's checkout page to receive a $5 discount on orders over $30. FedEx started offering this offer on March 15, and will expire on April 14.
FedEx's offer comes after sites like YouTube, Vimeo, or Twitch have migrated to HTML5-first video players, relying less and less on Flash.
Browser makers like Google, Microsoft, and Mozilla have also taken steps to minimize Flash's footprint in their browsers. Starting with Chrome 55, released at the start of December 2016, HTML5 has replaced Flash as Chrome's default video-playing technology.
Marketing ploy?
We certainly don't think FedEx's IT department is full of idiots, and that's why we think this is a clever marketing ploy.
The same page also quietly mentions alternative services that customes can use, if they don't want to install Flash, such as its mobile apps and a generic email inbox.
Further, users can come into stores with files on their USB storage drives, or have them stored somewhere online in a cloud storage service. What better way to promote all these options than pulling a short media stunt while Flash is still alive.