Stylish, an add-on for browsers such as Chrome, Firefox, Opera, and Safari, announced this week through the voice of its new owner a new data collection partnership with SimilarWeb, a digital market intelligence company.
According to Justin Hindman, Stylish's new owner as of October 2016, the add-on will share anonymized user data with SimilarWeb, a company that provides data analytics and market insight for various online services.
Hindman says that he needed to partner with SimilarWeb due to a lack of resources and need to improve suggestions for the type of "styles" users could apply to a web page.
"When I first started working on Stylish, I understood that this product is incredible, but in order to bring it to its full potential, it would require a tremendous amount of resources I just don't have," Hindman explained. "Realizing this made me start looking for a partner that would be a natural fit with Stylish, adding value and helping me achieve my vision for this amazing Product."
"SimilarWeb has a lot of experience with web products and offers much-needed resources, experience, and data including visibility into which are the most popular websites in each country, information that can help us decide which styles to create," Hindman added. "On top of that, SimilarWeb sees the great value of the Stylish community, helping it to better understand the digital world. I believe that together we will bring Stylish to its full potential!"
Vague announcement leads to user panic, criticism
In his announcement, Hindman didn't specify what type of data Stylish will share with SimilarWeb. A diff of the Privacy Policy doesn't offer any insight either.
The good news is that Hindman provided an opt-out option in the extension's settings panel. The anonymous data collection system comes turned on by default in all new installations.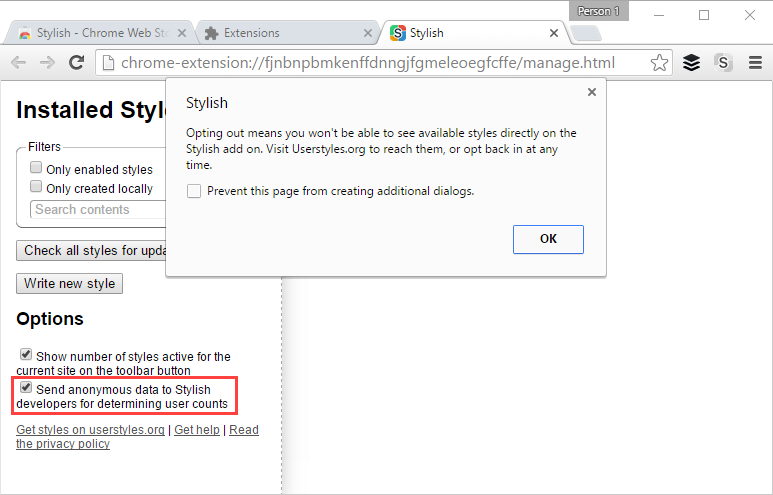 According to Hindman and the new privacy policy, unchecking this option in the extension's settings panel will stop the data collection system, but will also break the "Suggested Web Styles" feature and won't include the user's installation in the total "install count."
Tech journalist Martin Brinkmann noticed that the new data collection system appears to be in place only in the Chrome extension, and not the Firefox add-on, which hasn't been updated since the summer of 2016. The Safari and Opera extensions have not received this update either.
Other do it too, but with more transparency
Stylish is a browser extension that allows users to superimpose custom CSS styles on top of websites and create custom skins. The Chrome and Firefox add-ons are currently deployed on nearly 2 million browsers, making Stylish one of the most popular add-ons today.
Web organizations, such as Chrome, Firefox, and many other more often collect anonymized user data to improve their services. The difference is that these organizations have in-depth reports [1, 2] about what type of data they collect.
A request for comment has been sent to Hindman on behalf of Bleeping Computer. Mr. Hindman has provided the following statement regarding Stylish's new privacy policy and data collection measures.
To answer your question, as written in the privacy policy, Stylish collects data that helps it provide and improve services to its users:

One type is the install count for each style. This helps users understand which styles are more popular, and it helps the style creators receive quantitative feedback on their work.

The second type is visited web pages. This helps us show the available styles for each page, as well as the styles that the user has already installed for that page. The 'Visited Pages' data is non-identifiable, aggregated and entered into a marketing panel that will help SimilarWeb in its analysis of the digital world. It's important to emphasize that no personal information is collected at any point, unless shared by the user voluntarily (e.g. during registration, contacting support, etc.), and in that case it is used solely for the purposes of communicating with and supporting the user. Regardless, no personal information is ever shared with third parties.

In order to be fair and transparent with Stylish users, there is an easy-to-find opt-out from joining the marketing panel straight from the Stylish extension Settings page, as described in the privacy policy.

I'm personally very excited about this cooperation with SimilarWeb, as it brings great value to Stylish with regards to reaching wider audiences, categorizing websites, and adding R&D and Product resources that will help us improve Stylish. For instance, there will be a Product Manager working closely with the Stylish community. The idea is to get the community more involved, asking for their input, creating a beta group and even integrating tools that members of the community create into the product. The real power of Stylish lies in its community of talented developers who give from their own time and are happy to share their work with others, and we believe the partnership with SimilarWeb will encourage that.

On top of that, we're planning to rely more on data and use it to show more relevant results to Stylish users when they're looking for their next theme for Facebook, Google, Baidu or any other site. As of today hundred of thousands of styles were shared by the Stylish community, and the number is growing every day.
Article was updated on January 5 with Mr. Hindman's response.