Windows 10 October 2018 Update, otherwise known as Build 1809, has been having trouble with bugs since it was released. While most of the bugs have since been fixed, reports of a new bug related to extracting zip files using Windows built-in zip functionality has popped up.
Normally when you extract a zip file in Windows, and the contents already exist at a location, Windows will prompt you as to whether you wish to overwrite the files. You can see an example of the normal overwrite confirmation prompt below.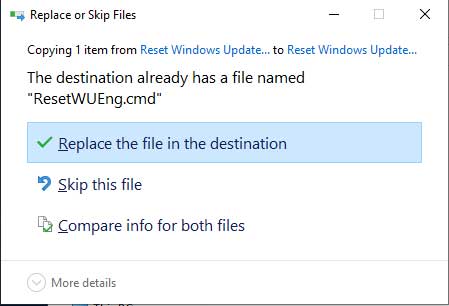 With this new build 1809 bug, when you extract a zip archive or drag a file from a zip archive to a location where the same files exist, Windows will not display a confirmation prompt. Instead it will either automatically overwrite the file or simply do nothing.
As reported in a Reddit thread, some people are stating that their files are being overwritten, while others, including myself who tested this, do not have their files overwritten and nothing appears to happen.
According to tests with current Windows 10 19H1 builds, this bug has bix fixed. A user on Twitter has stated it was fixed in build 18234.
For now, though, be careful when extracting zip files as you may find your files overwritten without realizing it.