Mozilla Firefox Quantum was released today and while it provides a better browsing experience, it also caused many popular add-ons to no longer work. This is because Quantum, or Firefox 57, switched to only supporting extensions designed under the WebExtensions API, which caused older extensions designed using other APIs to no longer be compatible.
If you installed Firefox 57 Quantum and can't find some of your add-ons, they were most likely deactivated and now listed under the legacy extensions screen. To access this screen, go to about:addons or click on the Firefox menu and select Add-ons. This will open a screen listing all of the working add-ons installed in Firefox.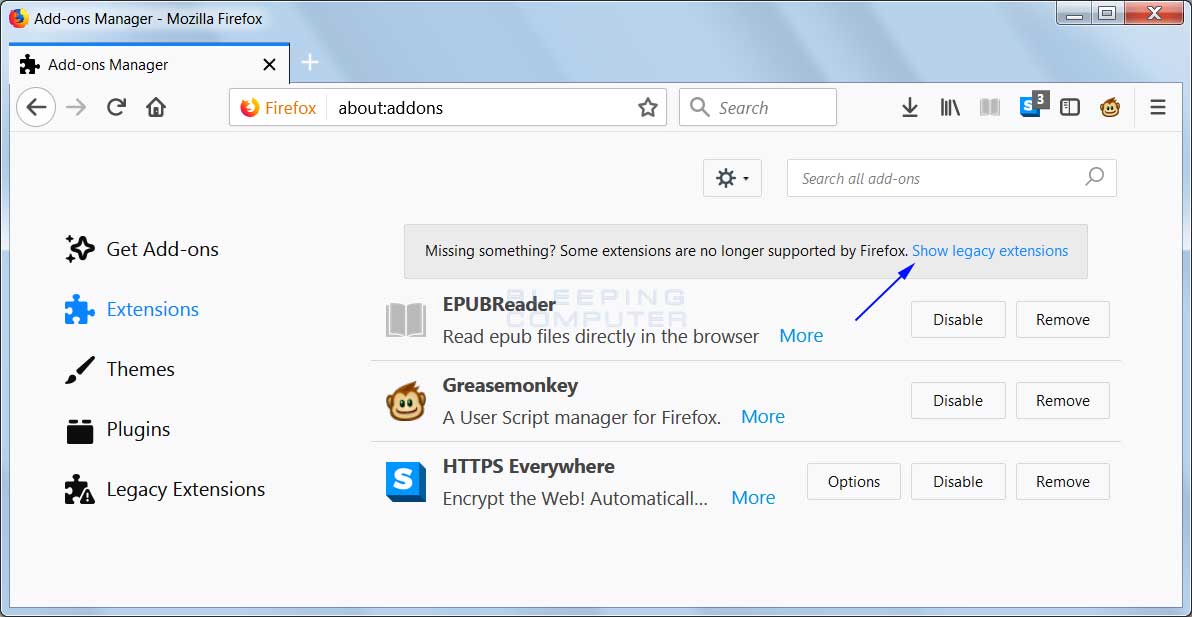 Any unsupported add-ons will now be categorized as legacy extensions. To view these legacy add-ons, click on the Show legacy extensions link as indicated by the arrow in the image above. This will open a new screen that lists all add-ons/extensions that were deactivated because they are not supported in Firefox 57.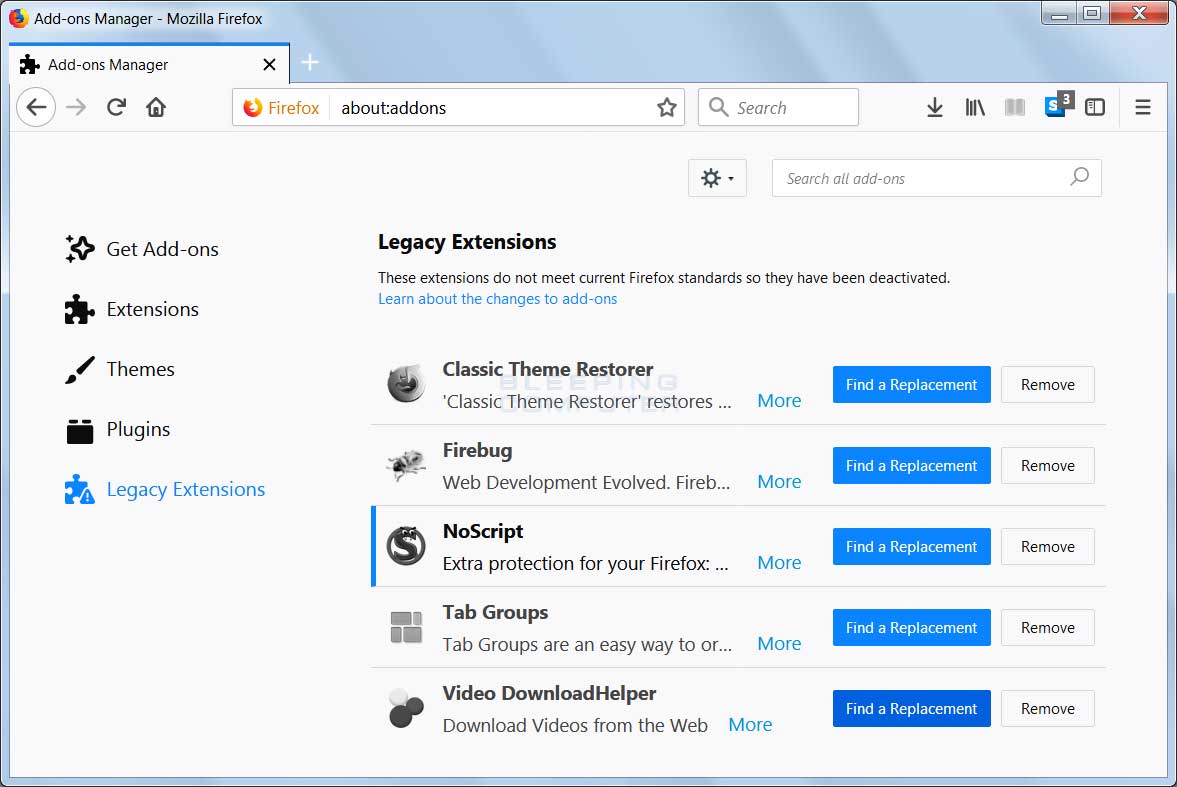 As you can see from the screen above, there are quite a few popular extensions that are no longer supported.
So what should you do? Unfortunately, you have two options, with both of them probably not being what you want to hear. You can either wait till the developer updates their extension to make it comptabile with the WebExtensions API and thus Firefox 57 or you can switch to another add-on.
If your willing to switch, then Mozilla included a new button called Find a Replacement that will display add-ons that can be used to replace the legacy one that is disabled. For example, if we use the button to find a replacement for the Tab Groups extension, a page will open up that displays a list of other add-ons that may be a good replacement.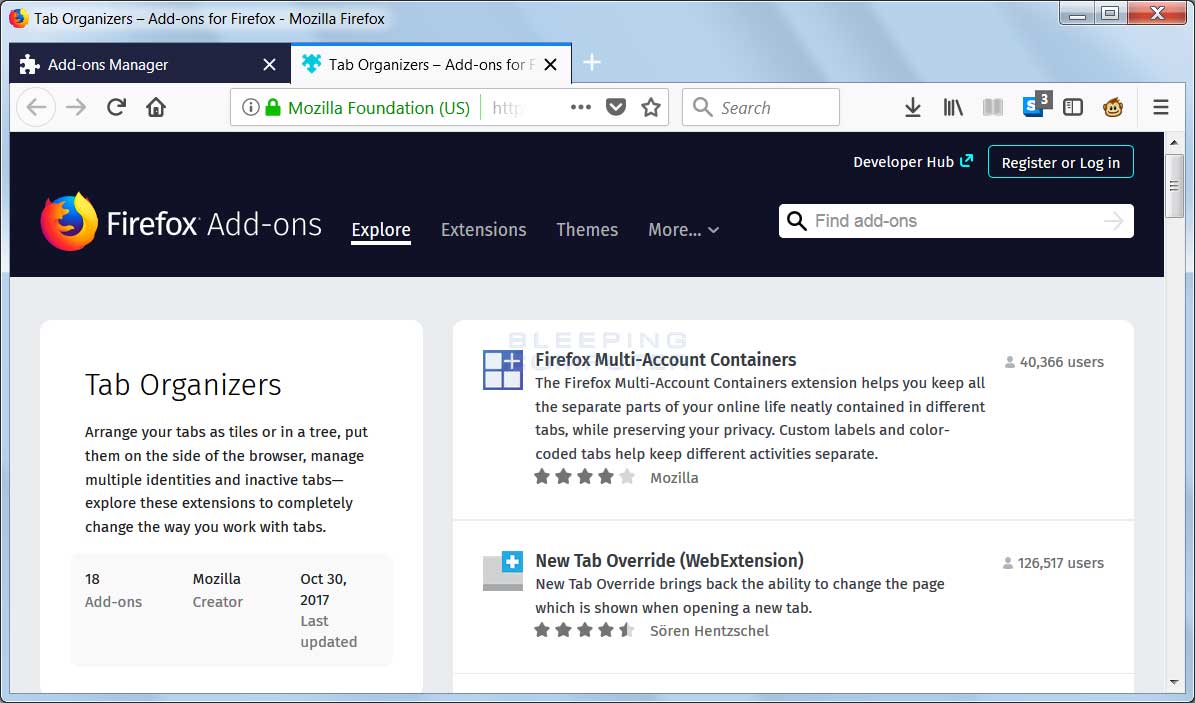 Some popular add-ons that are not currently supported in Firefox 57 Quantum are NoScript, Tab Groups, Classic Theme Restorer, FireGestures, MinimizeToTray revived, QuickNote, Session Manager, Tab Groups, Video DownloadHelper, DownThemAll!, Tab Mix Plus, and FlashGot Mass Downloader.
For those who absolutely need their installed extensions to continue working, you may want to hold off switching to Firefox 57 Quantum until your extensions have been updated. Most popular ones will be updated and just need a bit more time to finish and publish them.
Update 11/16/17: Crossed out Video DownloadHelper as it is now updated to support Quantum.