Twitch is warning users of a bug in one of its recently retired features that may have exposed some of their messages to other users.
"On May 5, 2018, Twitch removed a legacy feature called Messages and provided users the ability to download an archive of past messages," the game streaming company informed users via emails last week.
"Due to a bug in the code that generated the message archive files, which we have since fixed, a small percentage of messages were included in the wrong archives," Twitch added. "As a result, some users who downloaded their message bundle may have one or more of your messages in their archive."
Twitch said the issue only affected Twitch Messages, and there were no private messages sent via the Twitch Whisper systems included in these archives.
Bleeping Computer obtained a copy of the email sent by Twitch last week to users: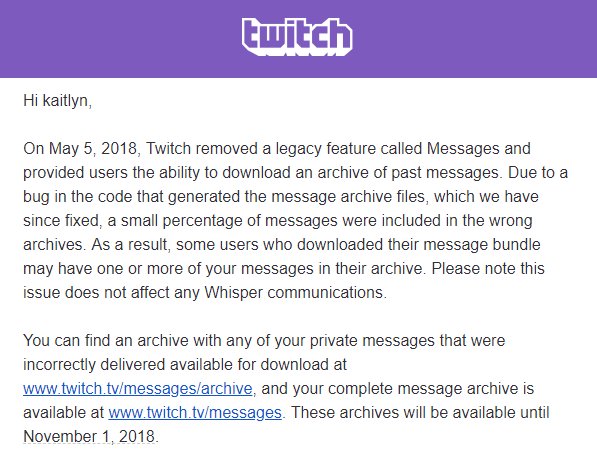 Users can visit twitch.tv/messages/archive and see if Twitch has accidentally included one or more of their messages with other people's archives.
A Twitch spokesperson was not available to comment on the issue. Nonetheless, a quick Twitter search revealed that quite a few Twitch users found messages in their archive belonging to other users.
Some messages contained nonsense, while others contained quite sensitive information.
Twitch is a live streaming video platform owned by Twitch Interactive, a subsidiary of Amazon. The service launched in 2011 as a spin-off to video streaming platform Justin.tv and currently has over 140 million monthly active users.