As of yesterday, Dutch owners of Counter-Strike: Global Offensive and Dota 2 are being greeted with a news message on Steam stating that they are no longer allowed to trade or perform marketplace transfers for items related to these games. This is due to Dutch law that found certain Loot Boxes to be considered gambling.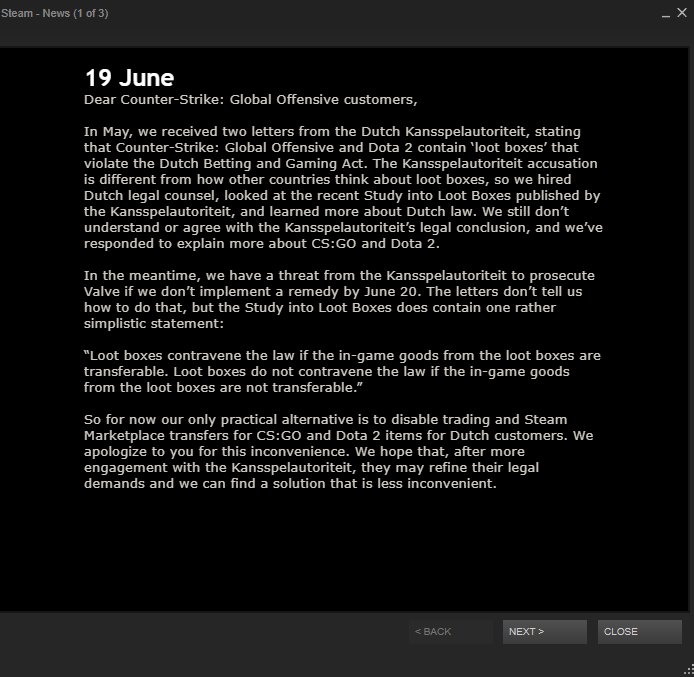 In this message, Valve has stated that they have received letters from the Kansspelautoriteit, which is the Dutch Gaming Authority, that stated that the loot boxes in CS:GO and Dota 2 were in violation of their laws. More recently they received a threat from the Kansspelautoriteit stating that Steam must resolve these issues by June 20th or they would face legal action..
Due to this Valve has decided to temporarily disable trading and selling of these items until the issue can be resolved.
"So for now our only practical alternative is to disable trading and Steam Marketplace transfers for CS:GO and Dota 2 items for Dutch customers," stated the news on Steam. "We apologize to you for this inconvenience. We hope that, after more engagement with the Kansspelautoriteit, they may refine their legal demands and we can find a solution that is less inconvenient."
April study by Netherlands Gaming Authority found lootboxes to be gambling
In April 2018, the Netherlands Gaming Authority released a report stating that 4 out of 10 loot boxes that they studied were considered gambling and broke Dutch law. This is because the contents of the loot boxes were determined by chance, can be traded outside of the game, and have a market value.
"The study revealed that four of the ten loot boxes that were studied contravene the law," stated the study by the Netherlands Gaming Authority. "The reason is that the content of these loot boxes is determined by chance and that the prizes to be won can be traded outside of the game: the prizes have a market value. Offering these types of games of chance to Dutch consumers without a licence is prohibited."
The study went on to further state that there were concerns that these loot boxes could become addictive to certain players, especially young players.
"The analyses that are currently available indicate that all of the loot boxes that were studied could be addictive," stated the study. "Loot boxes are similar to gambling games such as slot machines and roulette in terms of design and mechanisms. There are, however, no indications of loot boxes being opened on a large scale by problem players and/or addicted players. Socially vulnerable groups, such as young people, are being encouraged to play games of chance
Publishers violating this law had until today, June 20th, 2018, to resolve these concerns within their games or face legal action by the Dutch Gaming Authority.