Since Stampado was discovered being sold on the darkweb for the cheap price of $39 USD, no samples were available. That changed today when I discovered two samples of Stampado on VirusTotal. It is currently unknown if these samples are from a live distribution campaign or were submitted by the distributor/developer to test how well they are detected by security programs. The best part is that it really doesn't matter as from these samples a decryptor has already been made by Fabian Wosar.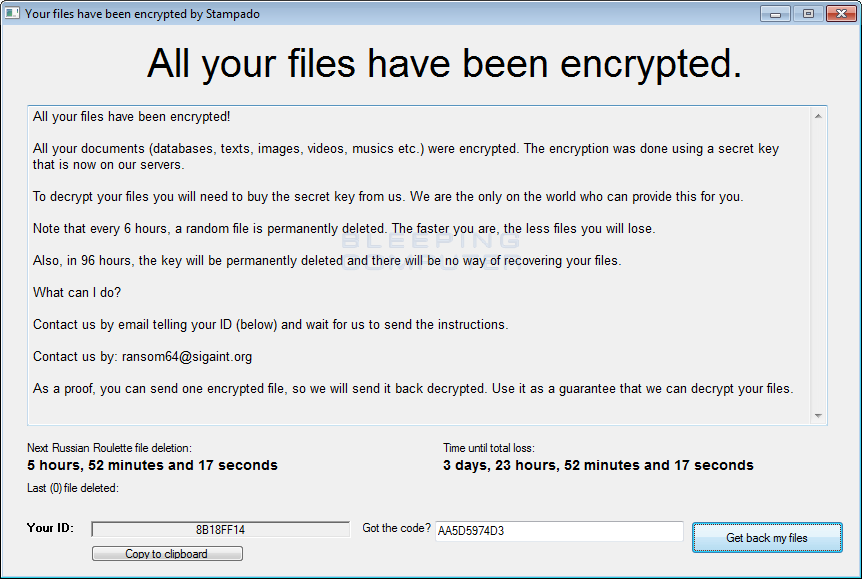 What we do know, though, is that Stampado is fully functional and written in the AutoIT scripting language. When installed, it will encrypt a victim's files using AES encryption and then demand a ransom in order to get your files back. The two samples I have discovered have the names kek.exe and WifiHack.exe. At this time the ransom amount is currently unknown and you need to email the specified email address in order to get payment instructions.
How to Decrypt files encrypted by Stampado
Fabian Wosar, of Emsisoft, was able to analyze the Stampado samples and create a decryptor for the infection. To use Fabian's decryptor, simply download it from the following URL: https://decrypter.emsisoft.com/stampado. Once downloaded, execute it and go into the options screen, where you will need to enter your ID and the email address found on the lock screen.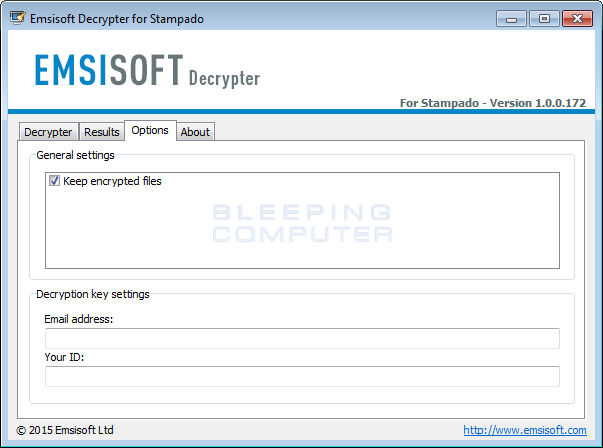 Once you enter in the required information, you can go back to the Decryptor tab and begin decrypting your files.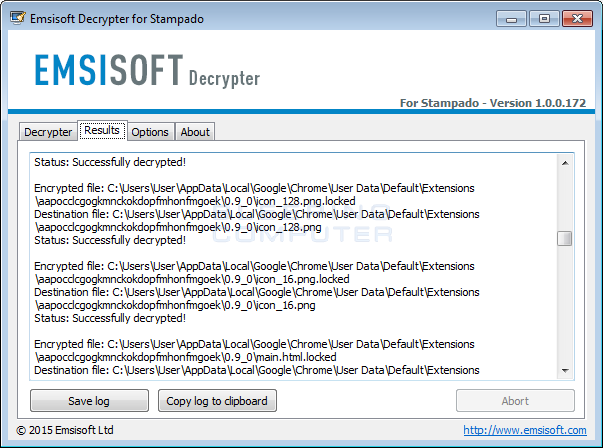 When the decryptor finished decrypting the files, you can close the program.
Possible link between Stampado and Jigsaw?
There are some interesting correlations, though possibly weak, between the Jigsaw ransomware and Stampado.
One of the nastier "features" of Stampado is its Russian Roulette, which will randomly delete an encrypted file every 6 hours. Each time this roulette countdown reaches 0, the amount of files are doubled. This is the same incrementing file deletion behavior is also exhibited by Jigsaw during its countdown. As file deletion in ransomware is very rare, it is interesting to see a similar behavior between the two ransomware infections.
Coincidentally, Michael Gillespie found a variant of Jigsaw yesterday that included the email address stampado@narod.ru. Coincidence or not?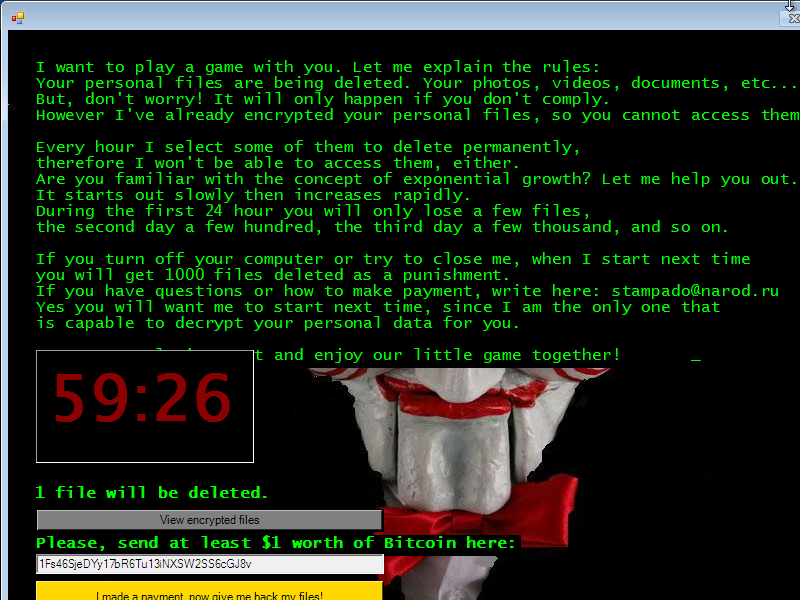 Last, but not least, Stampado is being sold on the same darkweb site as Jigsaw. Granted, these connections are weak at best, yet I felt it was worth mentioning.
How Stampado encrypts a victim's Files
When Stampado is installed it will copy itself to %AppData%\scvhost.exe and encrypt specific file types found under the victim's %UserProfile% folder using AES encryption. When it encrypts a file, it will append the .locked extension to it. This means that a file called test.jpg, will be named test.jpg.locked. The files currently targeted by Stampado are:
.jpg, .jpeg, .gif, .bmp, .c, .doc, .docx, .ppt, .pptx, .xls, .xlsx, .mov, .mp3, .cpp, .au3, .pas, .php, .wav, .wma, .wmv, .mp4, .rar, .zip, .7z, .001, .html, .pdf, .txt, .ai, .dmg, .dwg, .ps, .flv, .xml, .skp, .aiml, .sql, .cdr, .svg, .png, .ico, .ani, .m4a, .avi, .csv, .d3dbsp, .sc2save, .sie, .sum, .ibank, .t13, .t12, .qdf, .gdb, .tax, .pkpass, .bc6, .bc7, .bkp, .bak, .qic, .bkf, .sidn, .sidd, .mddata, .itl, .itdb, .icxs, .hvpl, .hplg, .hkdb, .mdbackup, .syncdb, .gho, .cas, .map, .wmo, .itm, .sb, .fos, .mcgame, .vdf, .ztmp, .sis, .sid, .ncf, .menu, .layout, .dmp, .blob, .esm, .001, .vtf, .dazip, .fpk, .mlx, .kf, .iwd, .vpk, .tor, .psk, .rim, .w3x, .fsh, .ntl, .arch00, .lvl, .snx, .cfr, .ff, .vpp_pc, .lrf, .m2, .mcmeta, .vfs0, .mpqge, .kdb, .db0, .DayZProfile, .rofl, .hkx, .bar, .upk, .das, .iwi, .litemod, .asset, .forge, .ltx, .bsa, .apk, .re4, .sav, .lbf, .slm, .bik, .epk, .rgss3a, .pak, .big, .unity3d, .wotreplay, .xxx, .desc, .py, .m3u, .js, .css, .rb, .p7c, .p7b, .p12, .pfx, .pem, .crt, .cer, .der, .x3f, .srw, .pef, .ptx, .r3d, .rw2, .rwl, .raw, .raf, .orf, .nrw, .mrwref, .mef, .erf, .kdc, .dcr, .cr2, .crw, .bay, .sr2, .srf, .arw, .3fr, .dng, .cdr, .indd, .eps, .pdd, .psd, .dbfv, .mdf, .wb2, .rtf, .wpd, .dxg, .xf, .pst, .accdb, .mdb, .pptm, .ppsx, .pps, .xlk, .xlsb, .xlsm, .wps, .docm, .odb, .odc, .odm, .odp, .ods, .odt
During the encryption process, Stampado will also create two files in the %AppData% folder that have 32 character hexadecimal names. One file will be used to store a list of the encrypted files and the other file will contain status information used by the ransomware.
When the encryption is finished, Stampado will display a lock screen that contains a unique ID that is associated with the victim and an email address that is needed to get payment information. The current emails used by the ransomware are ransom64@sigaint.com and paytodecrypt@sigaint.org. Victim's are told to email the associated email address for payment instructions and once payment is made, they will receive a key to enter into the lock screen to decrypt the files.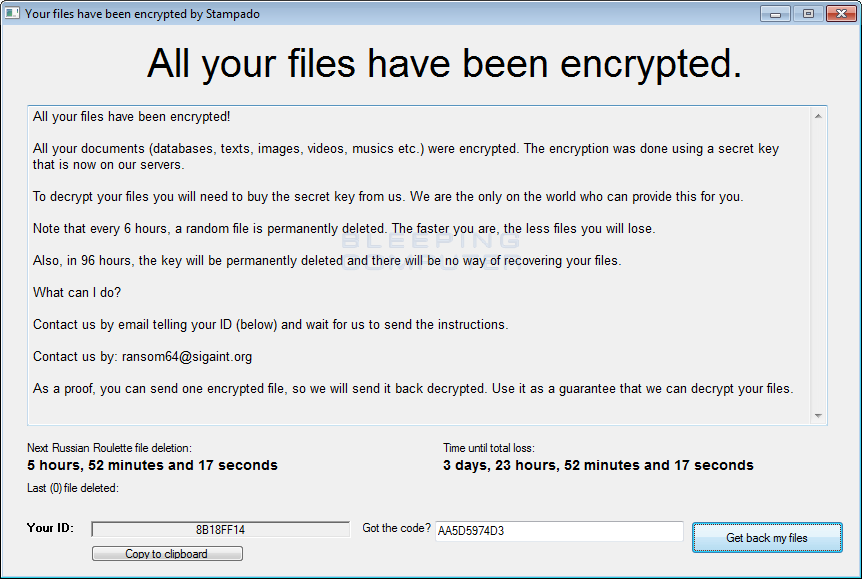 On the lock screen there will also be a timer called Next Russian Roulette file deletion and Time until total loss. When the Russian Roulette countdown reaches 0, a randomly selected encrypted file will be deleted. Each time the Russian Roulette countdown reaches 0, the amount of encrypted files deleted will be doubled. When the Time until total loss timer reaches zero, all of the encrypted data on the computer will be deleted.
As already stated, there is no need to pay a ransom to Stampado as a decryptor has already been made.
Files associated with the Stampado Ransomware:
%UserProfile%\AppData\Roaming\[random]
%UserProfile%\AppData\Roaming\[random]
%UserProfile%\AppData\Roaming\scvhost.exe

Registry entries associated with the Stampado Ransomware:
HKCU\Software\Microsoft\Windows\CurrentVersion\Run\Windows Update	%UserProfile%\AppData\Roaming\scvhost.exe
IOCs:
SHA-256 Hash: 342933cb4cbb31a2c30ac1733afc318a6e5cd0226160a59197686d635ec71b20
SHA-256 Hash: 78db508226ccacd363fc0f02b3ae326a2bdd0baed3ae51ddf59c3fc0fcf60669