Infamous hacking outfit Shadow Brokers announced today plans to retire and go dark after failing once more to sell the bulk of their hacking tools.
The group published a tweet today and an article on their website, hosted on the ZeroNet anonymous hosting service.
The message, pictured below, reveals the group's frustration with their inability to sell hacking tools and exploits that they claimed to have stolen from servers owned by The Equation Group, a nickname given by security firms to the NSA and its foreign cyber-espionage operations.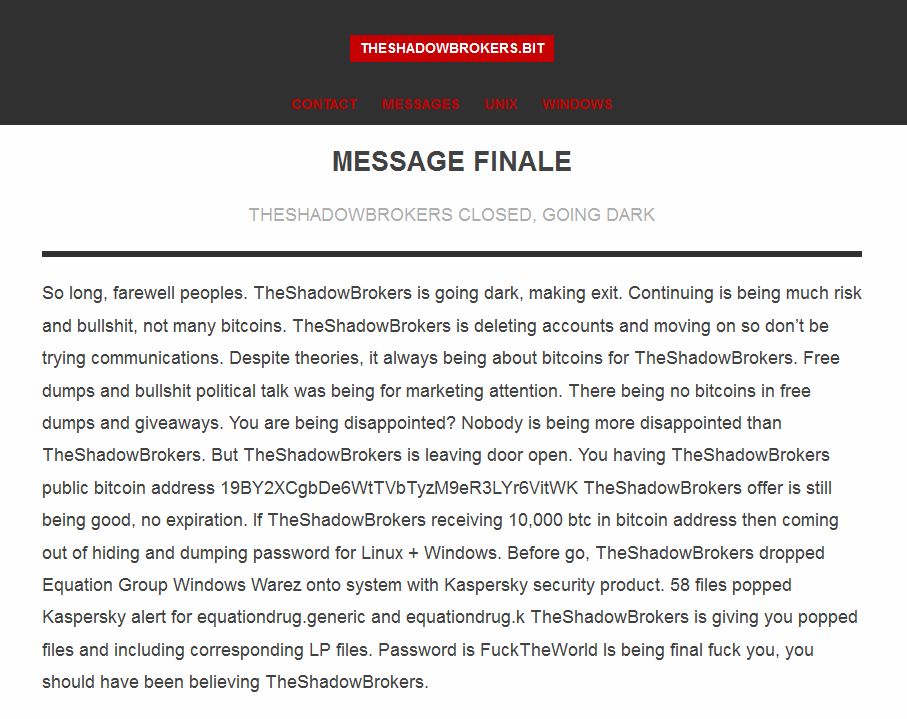 Further, Shadow Brokers bring into focus the risk associated with their business model, and reveal they'll be deleting accounts in the upcoming future in order to erase their tracks.
The mysterious group also admits that the free dumps and the "political talk" were always a marketing ploy to get more attention to their tools.
Six months later, Shadow Brokers made only $8,500
When the group appeared, in August 2016, they started a Bitcoin auction for their entire cache of stolen hacking tools. The group announced that if they received over 1 million Bitcoin ($568 million), they would eventually release more free tools on top of the ones they already have.
The auction managed to garner around $25 worth of Bitcoin, and in October, the group canceled the sale and opened a crowd-founding campaign, offering to give the unreleased stolen hacking tools to anyone who contributed to an end goal of 10,000 bitcoin ($6.3 million).
In December, the group canceled the failed crowdfunding attempt and began selling the hacking tools in smaller batches on a ZeroBin portal.
Two days ago, the group put up for sale a batch of Windows hacking tools capable of bypassing antivirus software for 750 Bitcoin ($675,000).
At the time of writing, the Shadow Brokers Bitcoin account holds only 10.34 Bitcoin (~$8,600), way under the group's goals.
Group releases more freebie hacking tools
Along with today's "retirement announcement," the Shadow Brokers also released a new batch of free hacking tools.
At the time of writing the download link was down, but according to the security researchers that analyzed some of the data, it contains 61 Windows hacking tools, some of which were detected by antivirus solutions.
The full verbatim message, recorded for posterity, is available below. Be advised, strong language included.
So long, farewell peoples. TheShadowBrokers is going dark, making exit. Continuing is being much risk and bullshit, not many bitcoins. TheShadowBrokers is deleting accounts and moving on so don't be trying communications. Despite theories, it always being about bitcoins for TheShadowBrokers. Free dumps and bullshit political talk was being for marketing attention. There being no bitcoins in free dumps and giveaways. You are being disappointed? Nobody is being more disappointed than TheShadowBrokers. But TheShadowBrokers is leaving door open. You having TheShadowBrokers public bitcoin address 19BY2XCgbDe6WtTVbTyzM9eR3LYr6VitWK TheShadowBrokers offer is still being good, no expiration. If TheShadowBrokers receiving 10,000 btc in bitcoin address then coming out of hiding and dumping password for Linux + Windows. Before go, TheShadowBrokers dropped Equation Group Windows Warez onto system with Kaspersky security product. 58 files popped Kaspersky alert for equationdrug.generic and equationdrug.k TheShadowBrokers is giving you popped files and including corresponding LP files. Password is FuckTheWorld Is being final fuck you, you should have been believing TheShadowBrokers.