A new tech support scam trick is underway that utilizes Facebook's Sharer dialog to scare a user into thinking that their Facebook account has an issue. The scammers then hope that the user will be scared into calling the listed phone number.
The Sharer dialog is a page on Facebook that is typically used by web site owners to share their content on Facebook. They do this by creating a https://www.facebook.com/sharer/sharer.php URL with an argument of the page they would like to share. This link is then assigned to a button or link on the publisher's site. If one of their visitors clicks on this button, then they will be prompted to share the page on Facebook.
For example, if you click on the https://www.facebook.com/sharer/sharer.php?u=https://www.bleepingcomputer.com/news/security/scammers-use-facebook-sharer-page-to-push-tech-support-scams/ link, you will be shown a page that asks you to share this article on your Facebook profile.
Scammers are now utilizing low quality ad networks commonly used by adware and unwanted software to redirect visitors to the Facebook Sharer page in order to share a page from fbsupport.pro. If a user is logged into Facebook, it will display the Share on Facebook dialog with a scary warning from the "Facebook Support Team" stating that "We've registered a suspicious activity on your page. You're account could be hacked. Please called Facebook support team to restore the access to your account."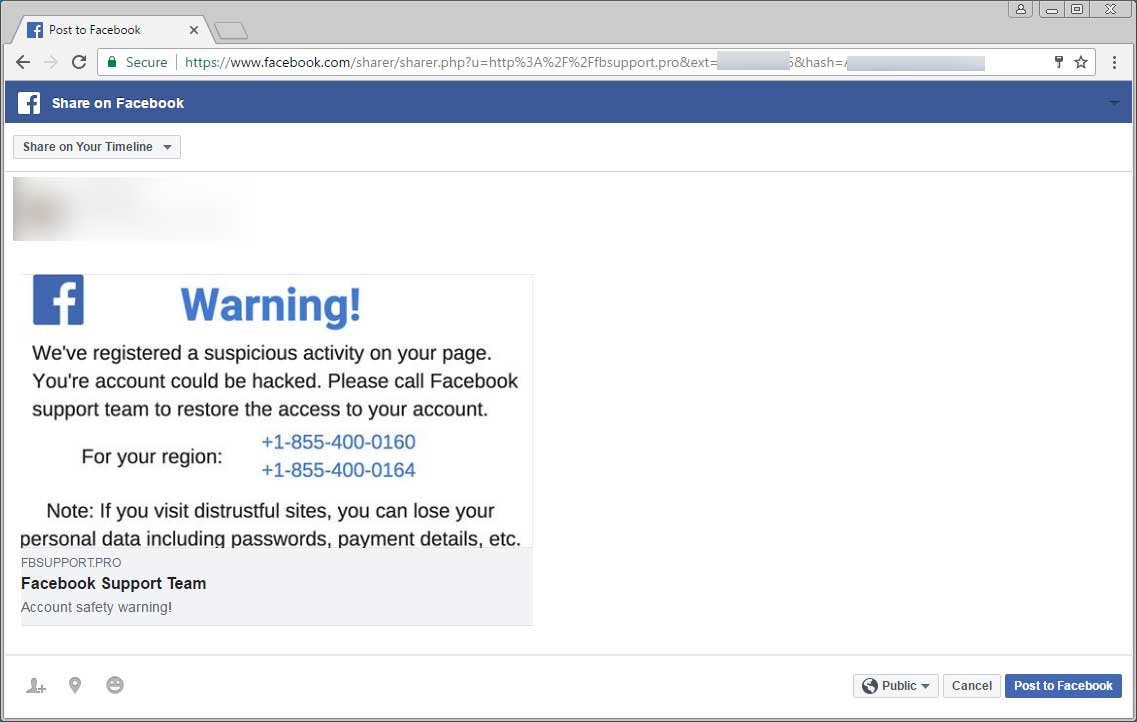 This warning is being shown to scare users into thinking something is wrong with their account so that they will then call the listed phone numbers.
When you call the listed phone number you will be greeted with a foreign person stating that they are Facebook Support and want to take over your computer to fix the problems. While I did not pursue it further, it is assumed they would have tried to sell me unnecessary services and software.
As you can see, scammers continue to evolve their tricks to make their scams look convincing. If you see a warning like this on the web, you should immediately be suspicious and do research before calling any displayed numbers.