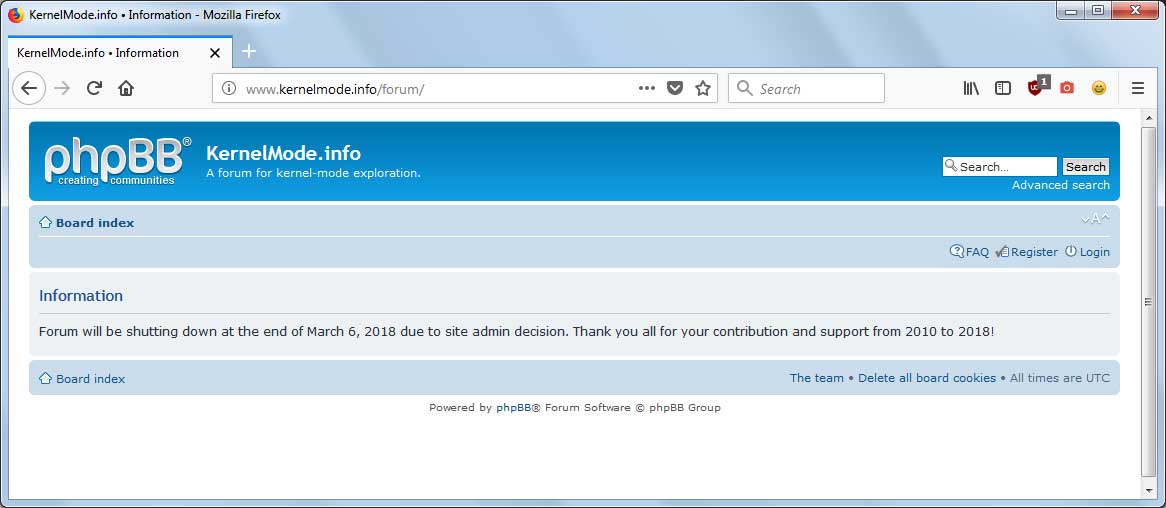 Today we mark the passing of a terrific information security site called Kernelmode.info. Created back in 2010 by a security developer named A_D_13, it quickly became a popular forum for the analysis of malware.
As a member of Kernelmode, it was always a place that I could go to discuss malware with people who knew far more than I did. If I discovered a particular infection, especially Rogues, or needed assistance in figuring out a solution to a particularly nasty rootkit, the members of Kernelmode were always ready to help.
While A_D_13 created Kernelmode, his presence was not always felt and the day to day running of the site fell to other well known security researchers such as FireF0X (EP_X0FF), Xylitol, and others.
According to FireF0X, as time went on A_D_13 become unresponsive and the administration of the site fell completely on the shoulders of the moderators. With the domain registration expiring today and with A_D_13's absence, the moderators have decided to close the forum and create the notification that it will be shutting down in order to warn its members.
Thankfully, some of the content from Kernelmode.info is available on the Wayback Machine, so all is not completely lost. Hopefully, someone will be able to grab the domain when it becomes available and continue to offer a neutral forum where those who are interested in information security can analyze malware together.
For now, farewell Kernelmode and thanks for all that you did!
Update 3/7/18: Right after we posted the news, we learned that the domain was renewed. According to FireF0X, the site should be back up later today.