An in-development ransomware named J. Sterling Ransomware has been discovered that targets the high school students of the J. Sterling Morton school district in Cicero, Illinois by pretending to be a student survey. While this ransomware currently does not encrypt files, it shows how a developer can make an effective & targeted ransomware attack.
When run, this ransomware will display a screen called the "J. Sterling Student Survey", which prompts the student to login into the survey and select their school grade. In order to make the survey look legitimate, the developer included the school's logos and slogans. Though the user interface is designed poorly, it could easily trick someone to interact with it.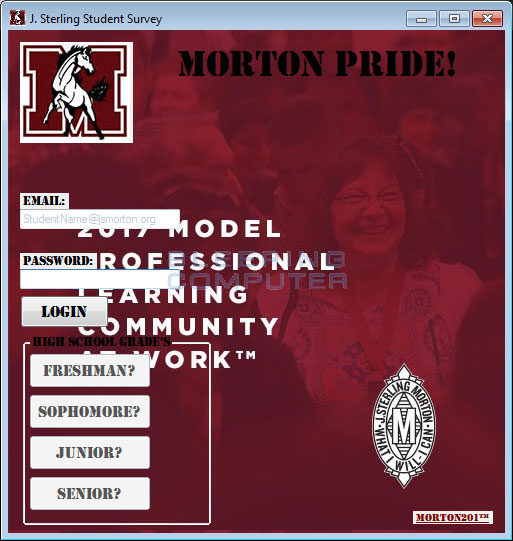 Once the student enters any email or password and selects their grade, the screen will change to a ransomware message. This message states that the files on the computer have been encrypted and that the student must pay $10 USD in bitcoins to get their files back.
As this ransomware is currently in-development, the files are not being encrypted. This could easily change, though, once the developer adds the required code, which can easily be found online.
Due to the low ransom demand, the basic coding, and the highly targeted victims, there is a good probability that this was designed by a student in the targeted J. Sterling school district.
Even though this ransomware is clearly still in-development and not currently a threat, I have contacted the school district to warn them of this potential attack and for further comment. At the time of this writing, Bleeping Computer had not heard back.
Targeted attacks are the future of ransomware
In the past attackers distributed ransomware using exploit kit attacks or malspam campaigns in order to throw out as wide a net as possible to capture as many victims as they could. Due to the increased protection to ransomware from security vendors and a stronger approach to email security from the larger email providers, this technique is not as effective as it used to be.
Due to this we have seen ransomware switching to using direct attacks such as hacking into Remote Desktop computers or using spear phishing campaigns. As targeted attacks like these are harder to detect and protect against, users need to become better educated on good computer security habits in order to properly protect themselves.
How to protect yourself from Ransomware
In order to protect yourself from ransomware, it is important that you use good computing habits and security software. First and foremost, you should always have a reliable and tested backup of your data that can be restored in the case of an emergency, such as a ransomware attack.
You should also have security software that incorporates behavioral detections to combat ransomware and not just signature detections or heuristics.
Last, but not least, make sure you practice the following security habits, which in many cases are the most important steps of all:
Backup, Backup, Backup!
Do not open attachments if you do not know who sent them.
Do not open attachments until you confirm that the person actually sent you them,
Scan attachments with tools like VirusTotal.
Make sure all Windows updates are installed as soon as they come out! Also make sure you update all programs, especially Java, Flash, and Adobe Reader. Older programs contain security vulnerabilities that are commonly exploited by malware distributors. Therefore it is important to keep them updated.
Make sure you use have some sort of security software installed that uses behavioral detections or white list technology. White listing can be a pain to train, but if your willing to stock with it, could have the biggest payoffs.
Use hard passwords and never reuse the same password at multiple sites.
For a complete guide on ransomware protection, you visit our How to Protect and Harden a Computer against Ransomware article.

IOCs
Hashes:
SHA256: 5e0b3b06ce66510da523344f963c592ec3d4acf97e5420512c667c6ee89d66b6