The creators of the encrypted email service, ProtonMail, have released a free version of their ProtonVPN VPN software for macOS. Even though the free version does not contain the full features that you would come to expect from a paid VPN service it is more than capable of obfuscating IP addresses and your location.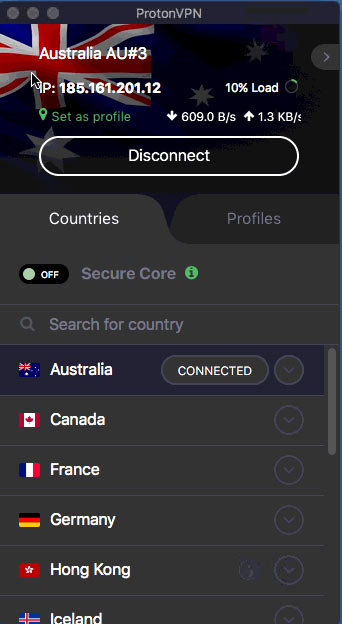 While ProtonVPN has already released Windows and Android versions, according to Dr. Andy Yen, CEO of ProtonMail, their reason for releasing the free macOS version "is to make the world a safer place by ensuring that citizens around the world have access to an Internet free of spying and censorship. Releasing a free VPN service for macOS is another important step in that direction."
ProtonVPN offers a free service and paid subscriptions, which are full featured such as multiple devices under one account, TOR routing, higher speeds, and a full range of countries to connect from. The free version on the other hand is supported by donations and the subscriptions of the higher service tiers and has a limited feature set. For example, the free version only has servers in three countries, only allows once device at a time, and has a lower speed.
At the same time, if you just wish to browse the web anonymously or circumvent censorship, then this free service should be more than adequate for your needs.
Furthermore, ProtonMail & ProtonVPN are well know for their strong adherence to privacy and state that they do not log user's traffic or content and do not discriminate against devices. They also state that since they are located in Switzerland, they are protected by some of the strongest privacy laws in the world. So for those who are looking for strict privacy, anonymity, and the ability to bypass censorship, this free version is a good fit if you do not want to pay for a paid subscription..