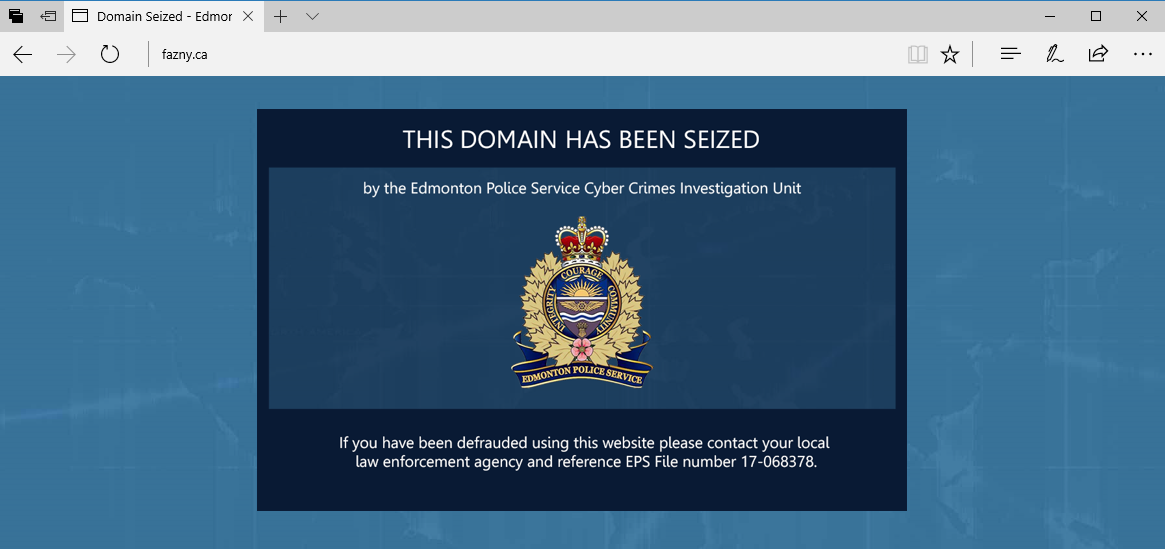 Canadian police have seized the domain of Fazny.ca, an online electronics store that stole users' payment card data and used it to make fraudulent purchases.
According to a statement from the Edmonton Police Service (EPS), its Cyber Crimes Investigation Unit started looking into the website after a user complained of fraudulent purchases appearing in his bank statements in May this year.
The complainant said the victim received repeated errors while trying to buy products via the Fazny.ca store, indicating that the payment could not be processed. The victim said that shortly after, several suspicious purchases appeared on his bank account's financial statements.
EPS says that following "a complex investigation," detectives "determined the complainant's information had been stolen at fazny.ca."
Officers seize site's domain
With a court order in hand, officers seized the site's domain to prevent other users from falling victim.
EPS says the website used Facebook ads to draw in users to its store. Police says the site was a fake and crooks used computer accessory product images stolen from legitimate sites.
The investigation is still ongoing, and authorities say they are trying to determine the number of affected users. Police are also asking users to step forward and make complaints if they've been on the site and seen suspicious transactions on their cards.
"Seizing the domain serves two purposes; to identify further victims and to prevent further fraud," said Const. Phil Hawkins of the Cyber Crimes Investigation Unit. "We believe others may also have been defrauded by this website and want to encourage them to report the incident(s) to their local law enforcement agency."
Police only seized the site's domain, and not its server, which most likely contains the clues they're looking for.