Opera will become the first browser to feature an anti-cryptojacking feature that will prevent websites from using your computer's CPU power to mine for cryptocurrencies.
This new feature is named NoCoin and is currently under development. Users can get it right now if they install Opera 50 Beta RC, and the feature is expected to land in the stable version of Opera 50, set for an official release in January 2018.
NoCoin is part of Opera's native ad blocker. The ad blocker comes disabled by default, and enabling the ad blocker also turns on the NoCoin cryptocurrency mining protection.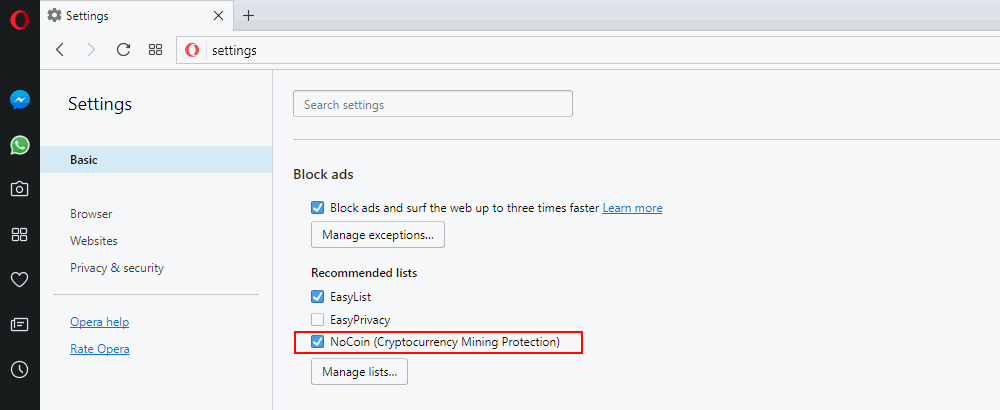 Opera's move comes after the practice of in-browser cryptocurrency mining —also known as cryptojacking— has taken off since mid-September, when an in-browser Monero mining service named Coinhive launched online.
The Pirate Bay currently uses this service, but also thousands of other sites. In the vast majority of cases, the Coinhive library is loaded without asking users for consent, or without their knowledge, usually, on hacked sites.
Since then, new Coinhive lookalike services have launched on a weekly basis. The latest of these was discovered yesterday and is called HashUnited.
Google also took notice
Besides Opera, Google engineers have also taken note of this abusive behavior, and in October have started discussions on the possibility of adding a browser permission for JavaScript code that abuses CPU power for long periods of time, like cryptojacking scripts regularly do.
Users of other browsers can stay safe from abusive in-browser miners by installing specialized browser extensions that block this type of behavior, or by installing ad blockers, most of which have added support for blocking cryptojacking services in recent months.
Other browser makers have not shared any public plans on how they plan to deal with cryptojacking services.