A new ransomware has been discovered that installs DiskCryptor on the infected computer and reboots your computer. On reboot, victims will be greeted with a custom ransom note that explains that their disk has been encrypted and how to pay the ransom.
DiskCryptor is a encryption program that encrypts the whole disk and then prompts the user to enter a password on reboot. This password prompt occurs before Windows even starts and a user must enter the password to decrypt the drive and start the computer's normal boot process.
Discovered by MalwareHunterTeam, this ransomware is being run manually or called by another script as it requires an argument to be passed to the program, which is used as the password for DiskCryptor. It is also possible that the attackers are hacking into Remote Desktop Services and installing the ransomware manually.
During the installation process, a log file will be created at C:\Users\Public\myLog.txt that shows the current stage of the encryption process.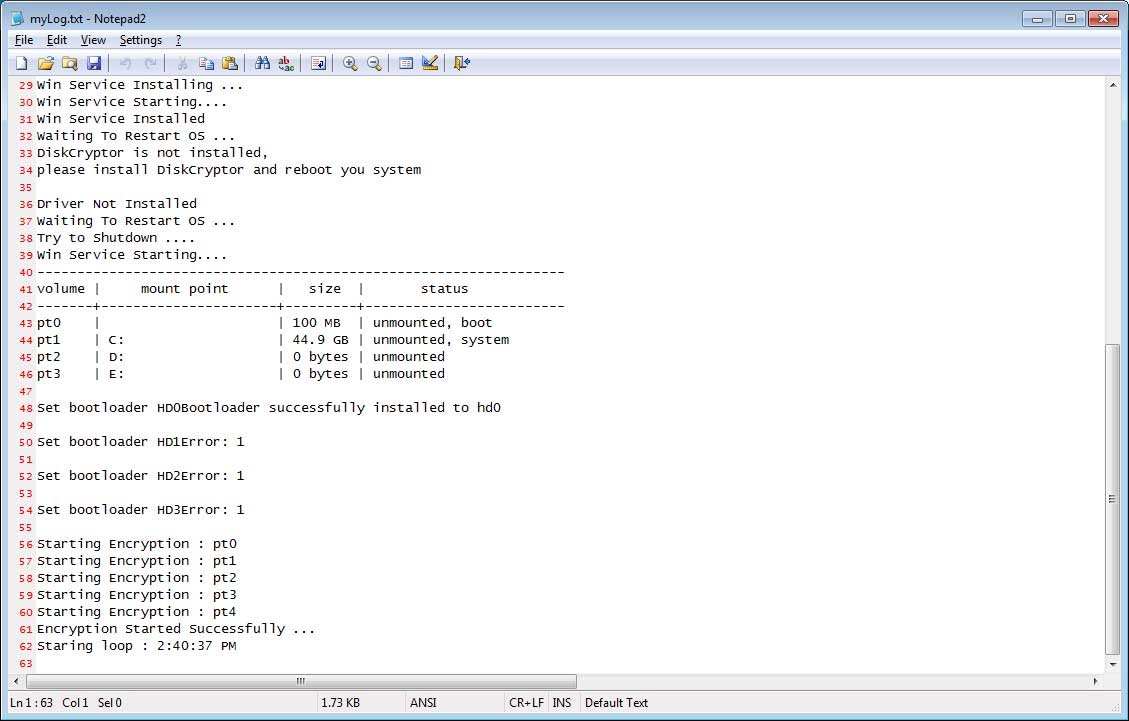 Once the entire drive has been encrypted, it will reboot the computer and the victim will be shown a ransom note to contact mcrypt2018@yandex.com for payment instructions. It will then sit there waiting for the user to enter the decryption password.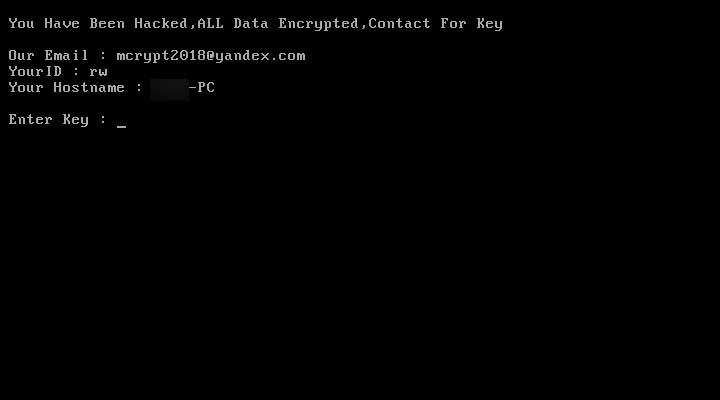 BleepingComputer has contacted the email listed by the ransom note, but had not heard back at the time of this publication.
DiskCryptor has been used by ransomware in the past
This is not the first time we have seen DiskCryptor used with ransomware.
In 2016, we saw the first use of DiskCryptor in a ransom infection called HDDCryptor, which has also been called Mamba. These ransomware infections also used custom ransom notes after encrypting the computer, but it does not appear that the current ransomware variant is affiliated with these older families.
The most publicized victim of a DiskCryptor infection was in November 2016 when 2,112 computers belonging to the San Francisco Municipal Railway system were infected with the Mamba ransomware. This effectively shut down their payment systems and caused the railway to allow passengers to use the trains for free over a weekend.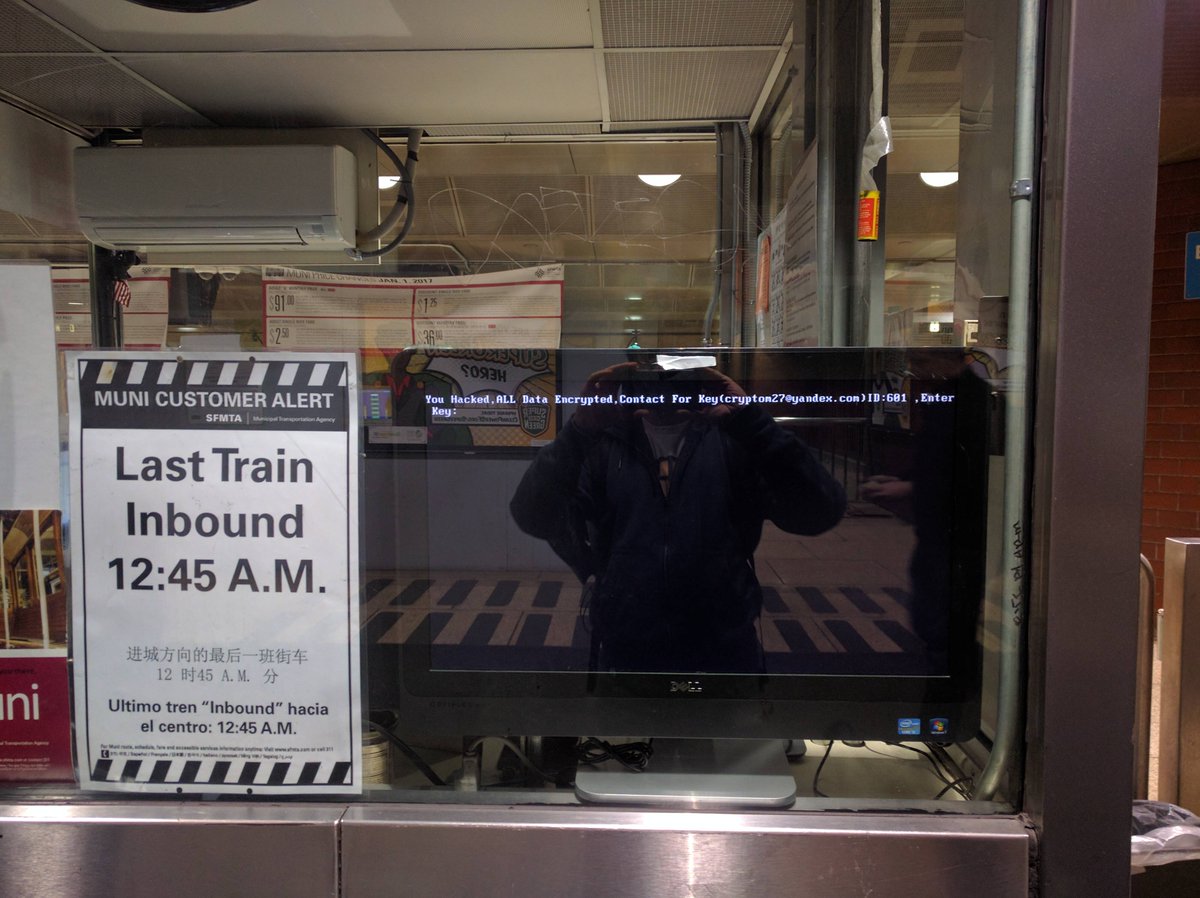 How to protect yourself from this Ransomware
In order to protect yourself from this ransomware, or from any variant, it is important that you use good computing habits and security software. First and foremost, you should always have a reliable and tested backup of your data that can be restored in the case of an emergency, such as a ransomware attack.
As this ransomware may be installed via hacked Remote Desktop services, it is very important to make sure RDP is locked down correctly. This includes making sure that no computers running remote desktop services are connected directly to the Internet. Instead place computers running remote desktop behind VPNs so that they are only accessible to those who have VPN accounts on your network.
It is also important to setup proper account lockout policies so that it makes it difficult for accounts to be brute forced over Remote Desktop Services.
For more detailed information, please see our guide on locking down Remote Desktop Services.
You should also have security software that incorporates behavioral detections to combat ransomware and not just signature detections or heuristics. For example, Emsisoft Anti-Malware and Malwarebytes Anti-Malware both contain behavioral detection that can prevent many, if not most, ransomware infections from encrypting a computer.
Last, but not least, make sure you practice the following good online security habits, which in many cases are the most important steps of all:
Backup, Backup, Backup!
Do not open attachments if you do not know who sent them.
Do not open attachments until you confirm that the person actually sent you them,
Scan attachments with tools like VirusTotal.
Make sure all Windows updates are installed as soon as they come out! Also make sure you update all programs, especially Java, Flash, and Adobe Reader. Older programs contain security vulnerabilities that are commonly exploited by malware distributors. Therefore it is important to keep them updated.
Make sure you use have some sort of security software installed.
Use hard passwords and never reuse the same password at multiple sites.
If you are using Remote Desktop Services, do not connect it directly to the Internet. Instead make it accessibly only via a VPN.
For a complete guide on ransomware protection, you visit our How to Protect and Harden a Computer against Ransomware article.
IOCs
Hash:
SHA256: f1d81ae5a4ea7a71d5d7147565fecca141a8e03148ef3c9e7583b9159923d17a
Associated Files:
C:\Users\Public\dcapi.dll
C:\Users\Public\dccon.exe
C:\Users\Public\dcinst.exe
C:\Users\Public\dcrypt.sys
C:\Users\Public\myConf.txt
C:\Users\Public\myLog.txt

Associated Registry Entries:
HKLM\SYSTEM\CurrentControlSet\services\dcrypt
HKLM\SYSTEM\CurrentControlSet\services\dcrypt\Type	1
HKLM\SYSTEM\CurrentControlSet\services\dcrypt\Start	0
HKLM\SYSTEM\CurrentControlSet\services\dcrypt\ErrorControl	3
HKLM\SYSTEM\CurrentControlSet\services\dcrypt\ImagePath	system32\drivers\dcrypt.sys
HKLM\SYSTEM\CurrentControlSet\services\dcrypt\DisplayName	DiskCryptor driver
HKLM\SYSTEM\CurrentControlSet\services\dcrypt\Group	Filter
HKLM\SYSTEM\CurrentControlSet\services\dcrypt\DependOnService	FltMgr
HKLM\SYSTEM\CurrentControlSet\services\dcrypt\config
HKLM\SYSTEM\CurrentControlSet\services\dcrypt\config\Flags	1408
HKLM\SYSTEM\CurrentControlSet\services\dcrypt\config\Hotkeys	BINARY SIZE=16 MD5=4AE71336E44BF9BF79D2752E234818A5
HKLM\SYSTEM\CurrentControlSet\services\dcrypt\config\sysBuild	846
HKLM\SYSTEM\CurrentControlSet\services\dcrypt\Instances
HKLM\SYSTEM\CurrentControlSet\services\dcrypt\Instances\DefaultInstance	dcrypt
HKLM\SYSTEM\CurrentControlSet\services\dcrypt\Instances\dcrypt
HKLM\SYSTEM\CurrentControlSet\services\dcrypt\Instances\dcrypt\Altitude	87150
HKLM\SYSTEM\CurrentControlSet\services\dcrypt\Instances\dcrypt\Flags	0

DiskCryptor Ransom Note:
You have been Hacked, ALL Data Encrypted,Contact For Key

Our Email : mcrypt2018@yandex.com
YourID: [executable name]
Your Hostname: [computer name]

Enter Key :