Facebook launched a new feature yesterday that will help account owners detect phishing attacks against their Facebook profile.
Users can access the new feature through their Facebook profile's Settings section, under "Security and Login."
The feature is titled "See recent emails from Facebook" and is a simple page that lists all the recent emails Facebook has sent.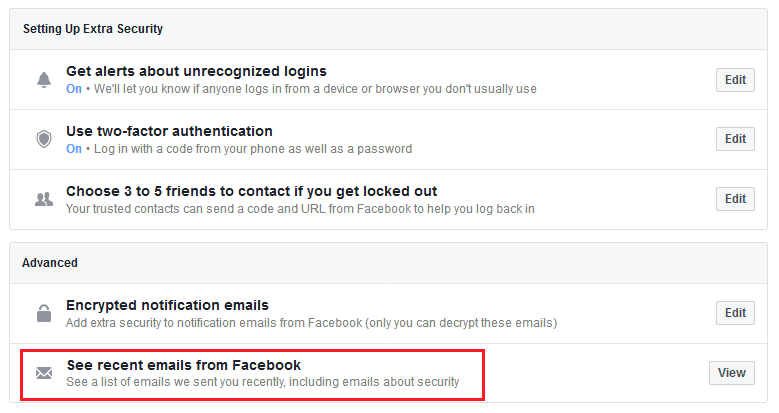 Users can visit this section and verify that the email they just received was actually sent by Facebook. If the email does not appear in the list, then it's a phishing email.
Facebook says that in spite of the fact that the company has been using the facebookmail.com domain to send email alerts for years, users are very often confused about the validity of the Facebook-themed emails they receive.
Furthermore, due to the ease with which an email spoofing attack can be performed these days, a new method to verify email authenticity was needed, and so the company created this.
The new feature will be rolled out gradually to all of the company's users in the coming days.
As for the worse case scenarios, Facebook recommends the following courses of action:
If you've checked this tool and determined that an email you received is fake, we encourage you to report it to phish@facebook.com, and if you believe your account has been compromised due to a phishing attempt, you may attempt to regain access to your account at: facebook.com/hacked.