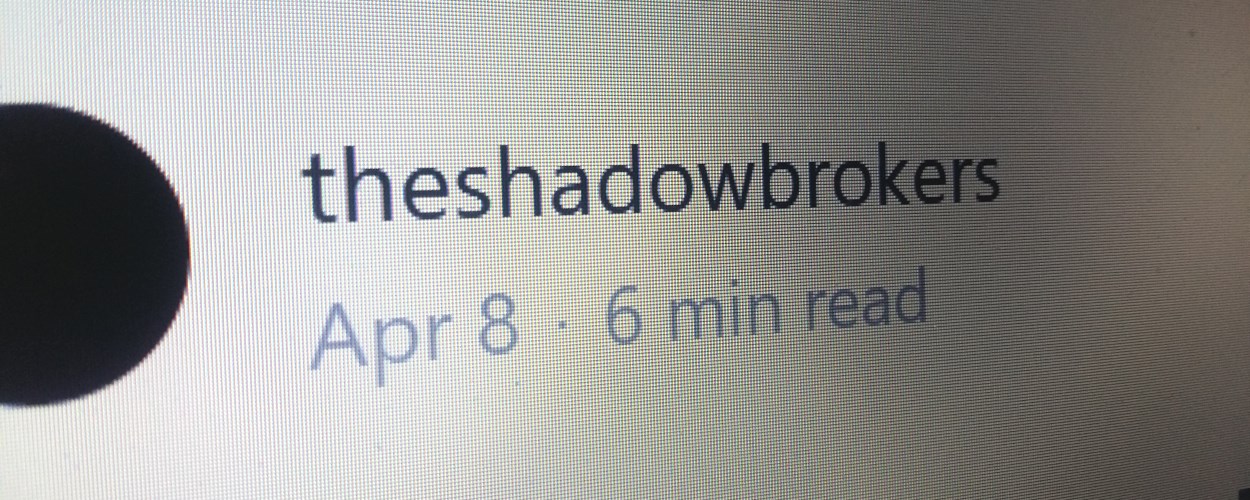 Earlier today, Microsoft concluded an investigation which it started yesterday after a mysterious group of hackers known as The Shadow Brokers dumped a trove of Windows exploits online, as part of a plan started last year and aimed at ousting the Equation Group cyber-espionage group as the NSA, and so, exposing the US' foreign hacking operations.
Yesterday's data dump contained tools for hacking various Windows OS versions, and documents revealing the NSA's alleged implication in the hacking of several banks around the world, and EastNets, one of the SWIFT departments managing and monitoring SWIFT transactions across Middle East banks.
A collective of security researchers have analyzed the leaked exploits yesterday afternoon, which helped us put a list of all the exploits, here.
As promised, the Shadow Brokers dumped a series of Windows hacking tools, some of which they put up for sale in a public auction last December and January.
Because of the broad spectrum of exploits and the large number of affected Windows versions, there was speculation that most Windows computers connected to the Internet were vulnerable to easy hacking. This was a fair assumption since it took around an hour to download the Shadow Brokers dump, install it, and start targeting any Internet-facing PC.
Microsoft concludes investigation
While EastNets vehemently denied it was breached just hours after the dump, Microsoft took a more proper approach and said it was reviewing and testing the exploits.
A day later, the Redmond giant says that most of the dumped exploits had already been patched in previous years, and some of them, even this year.
Below is a list of Equation Group (NSA) exploits that Microsoft says it patched.
ETERNALBLUE
An exploit targeting the SMBv2 protocol, which Microsoft patched this year via MS17-010.
EMERALDTHREAD
Another SMB protocol exploit, one which targeted versions since XP and Server 2003 to 7 and Server 2008 R2. Microsoft says it patched this one in MS10-061.
ETERNALCHAMPION
An exploit for the SMBv1 protocol that Microsoft patched last week, in April 2017's Patch Tuesday. Since this is the months Microsoft dumped the Security Bulletins format, you'll need to navigate to Microsoft's new Security Guidance portal and search for the fixes for CVE-2017-0146 and CVE-2017-0147.
ERRATICGOPHER
A SMBv1 protocol exploit that targeted only Windows XP and Server 2003. Microsoft didn't elaborate, and only said "Addressed prior to the release of Windows Vista."
ESKIMOROLL
Labeled as an Kerberos exploit targeting 2000, 2003, 2008 and 2008 R2 domain controllers, Microsoft said MS14-068 contains a patch for these attacks.
ETERNALROMANCE
Possibly one of the most dangerous exploits included in the Shadow Brokers dump, this is an SMBv1 flaw that can be exploited over TCP port 445, and which targets Windows XP, 2003, Vista, 7, Windows 8, 2008, 2008 R2. Successful exploitation gives an attacker remote SYSTEM privileges. If you installed MS17-010, the patch is sufficient to mitigate the risks.
EDUCATEDSCHOLAR
An SMB exploit that we know very little of, but Microsoft says it patched this back in 2009 via MS09-050.
ETERNALSYNERGY
An SMBv3 remote code execution flaw in Windows 8 and Server 2012, which Microsoft says it patched via the same MS17-010.
ECLIPSEDWING
An RCE exploit for the Server service in Windows Server 2008 and later, but this too, was patched years before, in MS08-067.
___
Microsoft says that exploits such as ENGLISHMANSDENTIST (Outlook), EXPLODINGCAN (IIS 6.0), and ESTEEMAUDIT (RDP) will not receive any patches since they don't work on supported Windows platforms.
"Customers still running prior versions of these products are encouraged to upgrade to a supported offering," Microsoft said.
Of all patches, the most critical to apply is MS017-010, which was part of the March 2017 Patch Tuesday. Now the question remains. Did the Shadow Brokers tell Microsoft in advance of the tools they planned to dump?